Designer Nicholas Daley Looks to Karate, Reggae, and the Scottish Highlands for Inspiration
The rising star of British fashion's latest collection was partially inspired by his lockdown activity of choice. By Jenny Comita
---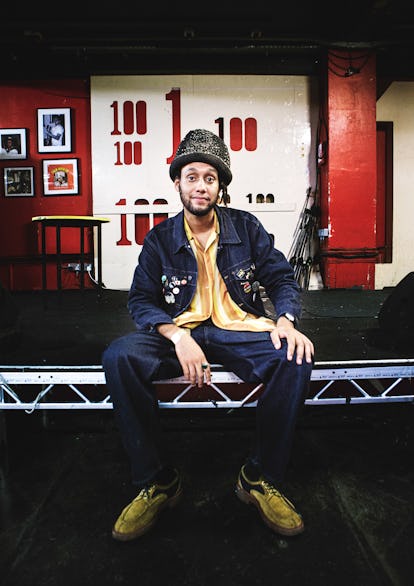 Fabrice Bourgelle.
If you happened to stroll through London's St. James's Park this past spring and noticed a 6'4″ man with extra-long dreadlocks doing karate kicks, you might have witnessed not just an unlikely sight but also a creative epiphany. The 30-year-old British men's-wear designer Nicholas Daley spent much of his Covid-19 lockdown staving off his anxiety about the future of his small business, and of the overall state of the world, by indulging a budding devotion to martial arts. Encouraged by his girlfriend, the musician—and black belt—Nabihah Iqbal, he spent hours studying (outdoors and socially distanced) with a sensei; poring over old photos of Bruce Lee on the Internet; and watching films like the 1976 documentary The Fighting Black Kings, which follows top African-American athletes as they prepare for the first World Open Karate Tournament in Japan. Then he channeled his newfound obsession into creating some really cool clothes.
Stepping Razor, Daley's forthcoming spring collection, borrows its name from Peter Tosh's 1977 single and counts the late reggae star as its primary muse. Tosh, a solo artist as well as a member of the Wailers, was, it turns out, also a black belt in karate and an enthusiastic consumer of kung fu culture. "I found all of these amazing photos of him onstage in his karate gi and wearing these Eastern styles," says Daley of Tosh. "And he was this Black man talking about revolution, so I thought he was an interesting character at this moment. He always had very strong political and social views. He was more the Malcolm X side of the reggae world, while Bob Marley was more peace and love, the Martin Luther King."
The reggae world—and music in general—is a creative home base for Daley. His Jamaican-British father and Scottish mother ran a reggae club in Edinburgh back in the late 1970s and early '80s. And growing up in the early aughts, Daley was immersed in what he describes as "lots of different soundscapes"—everything from West African highlife to Miles Davis and early British dub. It's no surprise, then, that as an adult, Daley became known for staging fashion shows backed by experimental jazz trios, outfitting his many musician friends for the stage, and hosting launch parties that doubled as freewheeling performances. "Music is my blood and my culture," Daley says. "For me, fashion is really a conversation I'm having with artists—those I know and consider my community, and others, like Jimi Hendrix or Peter Tosh, who have always inspired me."
Though Daley wasn't the sort of sartorially obsessed child who revered Karl Lagerfeld or made his sister's prom dress—"She would never have let me!" he says with a laugh—he's been interested in clothes and their power to shape and broadcast identity since he was a teen in Leicester, the small city in the English Midlands to which his parents moved before he was born, seeking better job opportunities than the ones they could find in Edinburgh. After school, he worked at a streetwear store called Wellgosh, surrounded by the sorts of garments and accessories that double as adolescent tribal signifiers: Adidas sneakers, Stussy T-shirts, Carhartt jackets. Meanwhile, at home, he was rooted in a family of creators. His Jamaican grandfather was a shoemaker. His mother and her family were serious knitters. "And then there was our West Indian community as a whole," he says. "For sure, no one liked to be underdressed. My grandad would always be wearing his suit and polished shoes and trilby hat and a big tie. In pictures from the '80s, my dad was in lime green suits and bright yellow jackets with big checks. It all fed into my sense that fashion was a great creative vehicle through which to say something, a way I could communicate my ideas."
That worldview came into sharper focus at Central Saint Martins, where Daley finished his degree in men's wear in 2013. His graduate collection, which was selected to be part of the university's highly competitive showcase, crystallized his singular aesthetic: an unlikely combination of Caribbean cool and traditional Scottish craft layered with an admiration for Japanese silhouettes and sartorial daring. Called Culture Clash, it was informed in large part by the photographs of Dennis Morris, best known for his images of the Sex Pistols, Sid Vicious, and—most famously—Bob Marley. Don Letts, a central figure of the 1970s London music scene who directed videos for the Clash and ran the legendary clothing store Acme Attractions, was another inspiration; he walked the runway in a floral jacquard-trimmed suit and dark shades, his knee-length locks swinging with every step.
Based on photos of the collection alone, buyers from the Japanese retailer Beams, which has stores all over Asia, took notice and ordered some pieces. Soon Daley had a business on his hands, and was turning out small runs for several Japanese shops while also freelancing for the British men's-wear designer Nigel Cabourn and working the sales floor at Dover Street Market in Mayfair.
In 2018, he was able to give up those day jobs when he was selected for NewGen, a British Fashion Council initiative that supports emerging talent with funding, mentorships, and shows during London Fashion Week. Featuring live jazz performances, musicians walking the runway, and cultural mash-ups like oversize baker boy hats—"to fit a big 'fro or a lot of dreads," Daley explains—his presentations were a joyful departure from typical catwalk tropes. "His shows become jam sessions with prominent artists at the forefront of the new jazz and psychedelic culture here," says Sarah Mower, the fashion journalist who serves as the BFC's ambassador for emerging talent and is the chair of NewGen. "But what I've always admired about him is that he has dedicated himself to using tweed and fabric from U.K. mills, and to working with traditional British suppliers like headwear-makers and shoe manufacturers, and he made that cool."
Mower isn't the only member of the fashion firmament to rank as a fan. Earlier this year, Daley was nominated for the LVMH Prize for Young Fashion Designers, which awards a year of mentoring and a 300,000 euro purse to a talent under 40 chosen by a jury that includes Marc Jacobs, Nicolas Ghesquière, and Rihanna. The contest, like most everything else, was eventually suspended due to the pandemic, but not before Daley was named one of eight finalists who ultimately split the prize money. That cash, in addition to emergency grants from the BFC's Covid relief fund, allowed him to stay afloat even as retailers canceled droves of orders for his winter '20 collection, ran behind on payments, or, in some cases, didn't pay at all. "I've been fortunate enough to have these organizations supporting my brand. I've been really, really lucky in that way," Daley says.
Lucky, yes, but also admirably determined. When it became clear that the world would not get back to normal anytime soon, Daley pivoted on a dime. With many of the traditional U.K. mills he relies on closed, he produced much of the Stepping Razor collection in Japan, where smaller suppliers outside of Tokyo were up and running. In July, Daley shot the pieces on British karate champ Jordan Thomas—whose West Indian parentage fits in perfectly with the season's dance hall at the dojo theme—and in the months since, he's been Zooming up a storm, walking buyers through the collection via virtual showroom. The orders are once again starting to flow in. "Things are, in general, not as terrible as we thought they were," allows Daly with a laugh.
Whatever the final sales numbers look like, the experience, Daley says, has been a confidence builder—he's proven his resilience. "I managed to pull together a collection in a pandemic, which is quite an achievement," he says. "I wanted to spend my time and energy doing what I'm meant to be doing, creating and telling stories. I knew I had to really focus."
Related: The Musicians Using Fashion as a Platform for Radical Self-Expression