Video Premiere: "Checkmate," the Latest From Dessert Unmasks the Buzzy L.A. Trio
Watch the emerging band's new fun-house horror video, complete with clowns and ghoulish masks.
---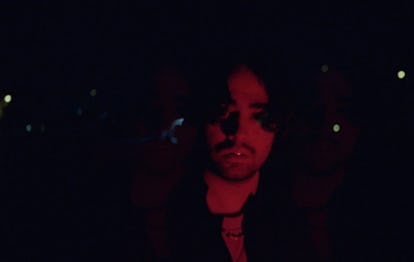 "Checkmate," the latest video from the buzzing L.A. trio Dessert, which is premiering exclusively here on W, begins with a shot of the band's front man, Luka, sitting cross-legged in the dirt, drenched in red light and accompanied by three small candles. It might not be devil worship—"I don't think we've ever met Satan," Jack, one third of the trio, asserts—but it's pretty close.
The director, Danica Arias Kleinknecht, chose to move through a myriad of fun house-like horror scenes throughout, complete with clowns and ghoulish masks.
The most striking scenes, however, come not from bloody nurses holding syringes (though there are those, too) but rather from intimate, vulnerable moments of unabashed, fleeting youth: giddy children trick-or-treating, Luka on his back staring at the sky while riding atop a fluffy bed of fur. Kleinknecht strikes a balance between the uncanny and the nostalgic; the song's woozy vocals are complimented by equally hazy lighting, and though Luka is smiling, his aura is calmly terrifying and slightly sadistic, like the way a cat feels bringing its owner a dead bird.
The band's last video, the sprawling, graphic, and stunning "Devil / Back Around," directed by Alex Lill (Mac DeMarco, Joey Bada$$), premiered in October to instant acclaim, with Vice projecting that it might be the greatest video of 2016. Since, the band released their EP, Songs for Children, in handmade wax bunnies—each one crafted by the band—designed with Kelsey Isaacs and built with Mike Gillham at the studio of the acclaimed and ultra-hip twin brother artists Simon and Nikolai Haas. The bunnies retail for $200 a pop, but they're very cute.
"Checkmate," the final piece from the EP, is the first time Luka's face is revealed. "We just needed to wait for the right time for Luka to be made evident to the world, because it needed to be in a really natural context," band member Henry explained. "A lot of the stuff we've done in the past couple releases was a bit more calculated. But that didn't seem like the right environment to introduce us as people."
So, here you have Dessert, unmasked.