Two Dev Patel Period Pieces Are Better Than One
The actor stars in two forthcoming period pieces, The Green Knight and The Personal History of David Copperfield.
---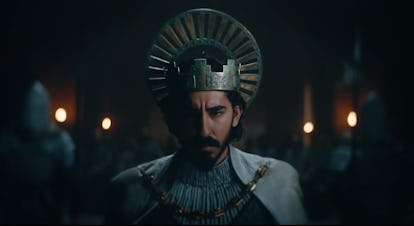 What's better than a movie trailer that prominently features Dev Patel? How about two movie trailers that prominently feature Dev Patel.
First up, the trailer for David Lowerey's medieval fantasy film The Green Knight reveals Patel as Sir Gawain, the bad-boy nephew of King Arthur. After the success of Midsommar, A24 has decided to descend further into the folk horror genre with The Green Knight.
"In a time when honor was everything, when courage made kings," the trailer begins, then introduces the self-immolating Sir Gawain on a throne.
Patel embarks on a journey to slay the Green Knight, played by Ralph Ineson. Joel Edgerton, Barry Keoghan, Alicia Vikander, and Sarita Choudhury costar in the film, which is to be released on May 29, 2020.
Second, there's The Personal History of David Copperfield, a film based on Charles Dickens' David Copperfield in which Patel stars as the title character.
When it was announced in 2018 that Patel, an English actor of Indian descent, was cast as the Victorian-era protagonist, some critics raised their eyebrows and decried the film's "historical inaccuracy." In reality, however, to make a period piece with an all-white cast would actually be historically inaccurate. And Patel is not the only actor of color to star in the film. Alongside Hugh Laurie, Tilda Swinton, and Ben Whishaw, there is also Benedict Wong as Mr. Wickfield, Rosalind Eleazar as Agnes, and Nikki Amuka-Bird as Mrs. Steerforth—all of them the top tier of British talent.
The Personal History of David Copperfield premiered at Toronto International Film Festival in September 2019 and will be given a wide release date in the United States on May 8, 2020.
Both The Personal History of David Copperfield and The Green Knight employ a type of color-blind casting that is not as popular with historical films as it should be, and the way people online are thirsting over the decision proves that Patel should have been cast in such vehicles a long time ago.
Related: Dev Patel Has a Very Unusual But Very Effective Tip for Winning on Oscars Night