Remember the Name Devon Halfnight LeFlufy
The fast-rising young Canadian with the funny name and a penchant for quoting Jacques Derrida is Antwerp's latest success story.
---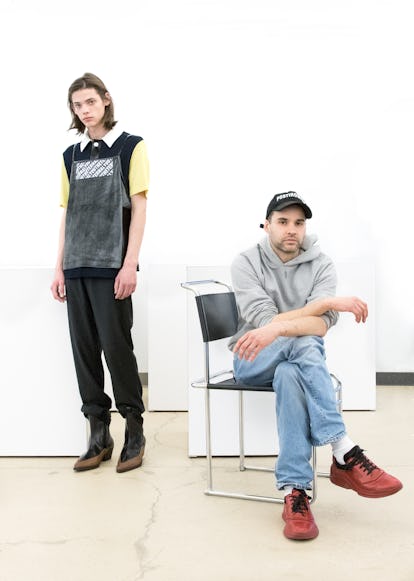 On a Tuesday morning, two days before his highly anticipated presentation at New York Fashion Week: Men's, Devon Halfnight LeFlufy was in a show space in Lower Manhattan rattling off the laundry list of prizes he's won in the last couple of years. There was the the H&M contest in 2014, where he was a finalist. And then there was the Louis Prize, given to the graduating bachelor with the best collection at Antwerp's Royal Academy of Fine Arts.
He talked about the prize he won for his masters' collection there with particular relish. "It was a really cool year to do my masters because it was the 50th anniversary of the fashion program, so they got a really star-studded jury with the Antwerp Six and Suzy Menkes, who awarded me something called the International Jury Award," he recalled.
And then, lest one forget, there was the big one: shortlist for the LVMH Prize, although he casually dropped this almost as an afterthought, not a 300,000-euro coup that most young designers would kill for.
"That was two years ago, which is crazy, right? Sometimes it feels like a week and sometimes it feels like 10 years," he said.
It's all very impressive for a designer of any age, but especially for a Canadian with a funny name. Hailing from Vancouver, LeFlufy, looks like your average scruffy 31-year-old, clad in faded jeans and a grey hoodie. (The name is real, by the way – he's had it since birth.) He started out studying at the Fondation de la Mode de Montreal, a business-oriented fashion program that had its uses, but is not exactly known for launching great careers in fashion. A quick search on Wikipedia reveals LeFlufy as its most noted alumnus.
So he quickly pole-vaulted out of there and took his first trip to Europe just to take the three-day in-person entrance at the Royal Academy of Fine Arts, the school that gave rise to the Antwerp Six, the breakthrough group of '80's graduates that included Ann Demeulemeester and Dries van Noten.
"I felt extremely well prepared with the practical side of fashion, and I wanted to balance it out with the most creative education I could get," he said.
Two of the Six, it turned out, were still around, and LeFlufy benefitted from the proximity, rubbing elbows with Dirk Van Saene, who now teaches at the Academy, and interning with Walter van Beirendonck, who even brought him along to Paris Fashion Week. "There's such a strong history of Belgians going to Paris," LeFlufy said.
Although LeFlufy clearly has the ambition of his famous predecessors from Antwerp, like Raf Simons, he broke with tradition in one significant way. After Opening Ceremony did a capsule of his senior collection and he landed sponsorship from Milk Made and support from the CFDA, the designer decided to split his time between Antwerp and New York, where he showed women's for the first time last September.
"It's been a great decision and I haven't regretted it for a second," he said. "Even though a lot of people say that my design is Belgian, I'm North American, and I like the openness here."
When he shows his fourth collection ever on Thursday afternoon at Skylight Clarkson North, he will do so with just 14 looks split between men's and women's, a selection concise enough that LeFlufy could bring them overseas himself. With his studio and production still based in Belgium, when fashion week rolls around, he literally packs his bags. "I'm too nervous to ship it, so I actually check it in my luggage and show up at the airport like some sort of strange refugee," he said, laughing.
Youth culture has long been an inspiration for LeFlufy, and his last show in New York took cues from the rave scene, using patent leather patchwork and even prints of cheering crowds. LeFlufy develops most of his materials himself, and this season he brought back what he describes as a ribbed viscose, a sort of rayon synthetic he created as a house fabric. There's another printed viscose, too: an Italian jacquard design inspired by circuit boards that's a nod to youth culture's ties with technology.
While inspiration comes from something as simple as images on the Internet, sometimes LeFlufy gets more high-minded: "I was really fascinated with a famous quote from Jacques Derrida that says 'justice is deconstruction,'" he says, name-checking the __ intellectual French semiotician.__ "Another way to say that is that you can find something extremely simple in chaos, which I think is a metaphor of how culture exists now."
It's a lofty comparison, and perhaps it's best for the collection to speak for itself: USB cords act as artfully crocheted handbag straps and belts, and tailored pants and sweats alike are peacefully adorned with buttons made out of shell.
"The way I design is about pushing aesthetics, and I wanted to find the calm in that chaos," he said.
NYFW Men's: Backstage at Devon Halfnight LeFlufy Fall 2016
NYFW Men's: Backstage at Devon Halfnight LeFlufy Fall 2016
NYFW Men's: Backstage at Devon Halfnight LeFlufy Fall 2016
NYFW Men's: Backstage at Devon Halfnight LeFlufy Fall 2016
NYFW Men's: Backstage at Devon Halfnight LeFlufy Fall 2016
NYFW Men's: Backstage at Devon Halfnight LeFlufy Fall 2016
NYFW Men's: Backstage at Devon Halfnight LeFlufy Fall 2016
NYFW Men's: Backstage at Devon Halfnight LeFlufy Fall 2016
NYFW Men's: Backstage at Devon Halfnight LeFlufy Fall 2016
NYFW Men's: Backstage at Devon Halfnight LeFlufy Fall 2016
NYFW Men's: Backstage at Devon Halfnight LeFlufy Fall 2016
NYFW Men's: Backstage at Devon Halfnight LeFlufy Fall 2016
NYFW Men's: Backstage at Devon Halfnight LeFlufy Fall 2016
NYFW Men's: Backstage at Devon Halfnight LeFlufy Fall 2016
NYFW Men's: Backstage at Devon Halfnight LeFlufy Fall 2016
NYFW Men's: Backstage at Devon Halfnight LeFlufy Fall 2016
NYFW Men's: Backstage at Devon Halfnight LeFlufy Fall 2016
NYFW Men's: Backstage at Devon Halfnight LeFlufy Fall 2016
NYFW Men's: Backstage at Devon Halfnight LeFlufy Fall 2016
NYFW Men's: Backstage at Devon Halfnight LeFlufy Fall 2016
NYFW Men's: Backstage at Devon Halfnight LeFlufy Fall 2016
NYFW Men's: Backstage at Devon Halfnight LeFlufy Fall 2016
NYFW Men's: Backstage at Devon Halfnight LeFlufy Fall 2016
NYFW Men's: Backstage at Devon Halfnight LeFlufy Fall 2016
NYFW Men's: Backstage at Devon Halfnight LeFlufy Fall 2016
NYFW Men's: Backstage at Devon Halfnight LeFlufy Fall 2016
NYFW Men's: Backstage at Devon Halfnight LeFlufy Fall 2016
NYFW Men's: Backstage at Devon Halfnight LeFlufy Fall 2016
NYFW Men's: Backstage at Devon Halfnight LeFlufy Fall 2016
NYFW Men's: Backstage at Devon Halfnight LeFlufy Fall 2016