How British Artist Diana Chire Uses Her Body as a Feminist Medium
The performance artist Diana Chire tackles issues of gender, identity and race through her work.
---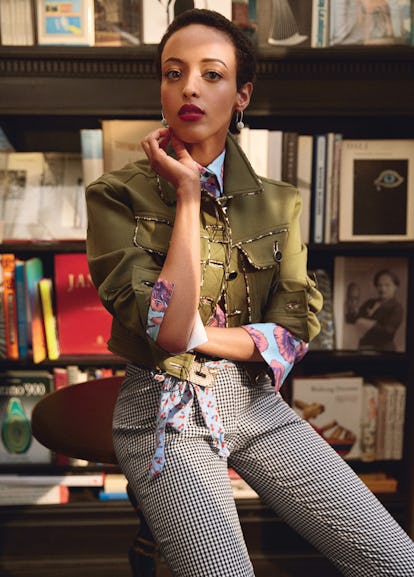 Photograph by Alexandra Leese, Styled by Gianluca Longo; Hair by Kota Suizu at Caren; makeup by Gina Blondell for Chanel; manicure by Ami Streets for Chanel at lmc worldwide; Special thanks to the Society Club Soho
About a year ago, Diana Chire invited some friends to her London studio to watch her have her hair buzzed off. The experience proved eye-opening for the Egyptian-born Ethiopian-British artist. "You're taught growing up as a black girl that having European hair is attractive and that your hair isn't okay, so you get it straightened. I think that's crap," she says. "The moment I shaved off my hair, I let go of all the parts of me I had rejected in my natural state." It also spawned a one-day performance that will be part of the forthcoming group exhibition "Touch Sensitive," at London's Guest Projects from March 21 – 26. "I'm making a hair manifesto," declares Chire, who will compose a message using the locks she sheds.
Chire, 30, first became interested in performance art as a student at Westminster University. She stumbled upon a book about '60s and '70s era female performance artists and it struck a chord.
"I became obsessed with using myself and my body as a medium," she says.
Chire gained notice in 2015 when she co-curated "Take! Eat!," a guerrilla exhibition featuring all female artists, which condemned the exclusivity of the Frieze Art Fair. And in videos like Tutorial, a subversive riff on YouTube makeup how-tos, and Tell Me What to Swallow, a continuous loop of footage of herself eating, she continues to explore themes of gender, identity, and race.
"When I'm making work, it's about accepting my own body. I want women who watch the pieces to have that, too," says Chire, who is also the founder of the feminist art publication SheZine. The first issue, which dropped in fall of 2016, featured an interview with Turner Prize-winner Gillian Wearing and the second installment has a profile of British painter Chantal Joffe. "I always thought artists had to be men who painted, like Jackson Pollock. But when the penny dropped, I was like, 'I can do it. I don't have to be a guy with a beard.'"
How Performance Artist Diana Chire Cultivates Her Strong Feminist Outlook
Chire wears Altuzarra jacket, shirt, pants, and belt; Lagos earrings.

Photograph by Alexandra Leese, Styled by Gianluca Longo; Hair by Kota Suizu at Caren; makeup by Gina Blondell for Chanel; manicure by Ami Streets for Chanel at lmc worldwide; Special thanks to the Society Club Soho
Chire, in her studio, right after shearing off her hair, 2016.

Courtesy of Diana Chire
March Most Wanted stills (2016-11-30)201703 > Most WantedCaption: HyperFocal: 0

Josephine Schiele
Photograph by Josephine Schiele, styled by John Olson at Halley Resources
Photograph by Josephine Schiele, styled by John Olson at Halley Resources
Photograph by Josephine Schiele, styled by John Olson at Halley Resources
Photograph by Josephine Schiele, styled by John Olson at Halley Resources
Photograph by Josephine Schiele, styled by Leigh Gill
Watch W's most popular videos here: