Dialect Coach Queen
How talent manager Diane Kamp turned the Hollywood dialect coach into a star's must-have accessory.
---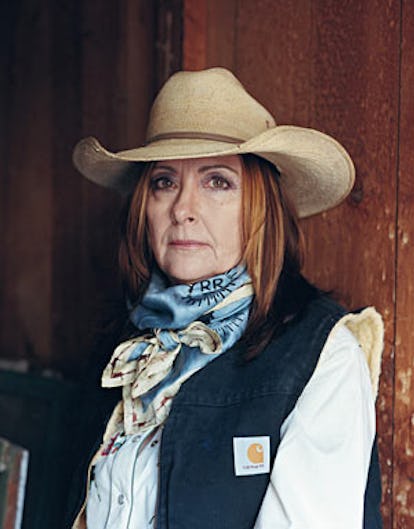 It's dusk in Big Timber, Montana. Talent manager Diane Kamp, queen of the arcane market of dialect coaches for movies and television, is walking through boot-high prairie grass and explaining how, exactly, it came to be that she works for Hollywood but lives on a 1,700-acre cattle ranch with her taciturn fifth-generation-cowboy husband.
It all started in 1991, Kamp recalls, when she was stationed in Los Angeles as an agent at Triad Artists (later bought by William Morris), representing Emma Thompson, Alan Arkin and Stanley Tucci, not to mention the industry's "grand pooh-bah" of dialect coaches, Tim Monich. That summer Kamp and a colleague went to Montana to visit Monich on the set of Far and Away as well as Carla Meyer, another Triad dialect coach, on the nearby set of A River Runs Through It.
"We stayed at a little dude ranch," says Kamp, 60, a former actress and theater director whose early stage training enabled her to scrub the nasal Midwestern accent ("like Hillary Clinton's") from her voice but never smoothed the urban edge from her fast, almost relentless speech. "They didn't have a liquor license, and we asked the lady who ran it if there was anywhere to get a beer. She said the Road Kill Café was the place."
There, at a bar beneath a mounted elk head, Kamp met Mike Clayton, who is now ambling alongside her on their ranch—the very property where he was raised—his windburned face aglow with the flamboyant sunset over the Crazy Mountains to the north. ("Named after a woman," he notes with humor as dry as seasoned firewood.) They got to know each other over a game of pool. She moved in nine months later.
Ever since, Kamp has conducted her business from a 100-year-old ranch house in a county (population 3,800) 600 square miles larger than Rhode Island, but she's nevertheless at the dead center of the film industry's vital—if largely invisible—world of below-the-line technical talent. When Australian Nicole Kidman needed to sound like a Charlestonian aristocrat in Cold Mountain and an all-American weathergirl in To Die For, when Josh Brolin wanted to adopt George W. Bush's Texas patois in Oliver Stone's W., and when Paul Giamatti sought the right voice for a Colonial patriot with ancestral roots in Anglia for HBO's Emmy-sweeping miniseries John Adams, Kamp's phone at Big Timber Management rang. Her 18 clients may not get thanked at the Oscars, but they have been behind the trophy-winning performances of Frances McDormand (in Fargo, the masterpiece of dialect films), Javier Bardem (No Country for Old Men), Russell Crowe (Gladiator) and Charlize Theron (Monster).
"She has a total monopoly," says industry veteran John Lyons, president of production for Focus Features. "Before her, the dialect coach hadn't become a star accessory; it was very unusual for an actor to say, 'And I need a dialect coach.' Diane was the first to identify a niche and make it into a business. Over the years she's accumulated more and more coaches, and now she's the one-stop shopping."
From above: A Big Timber landscape; inside a local taxidermist's workshop.
"Diane's really the only one whose entire work life is dialect coaches," adds Monich, a former Juilliard instructor who was one of Kamp's clients for a decade. (Monich left Big Timber Management after 1995's The Scarlet Letter to represent himself, although he and Kamp remain close friends.) Screen actors as far back as Vivien Leigh in Gone With the Wind have worked with voice coaches, but Kamp's singular focus on the industry has helped dialect experts become a familiar part of the extended "creative family" on film sets. "When I go on a movie these days, I'm no longer the first dialect coach people have met," Meyer explains during a break on the set of Tim Burton's Alice in Wonderland, starring Johnny Depp, Anne Hathaway and young Australian actress Mia Wasikowska, all of whom have had to learn the proper English spoken in Wonderland. "Now instead of saying, 'What do you do?' people say, 'Oh, you're the dialect coach.' That's the effect of Big Timber Management."
Surprisingly, dialect coaches—who instruct actors in the basics of pronunciation, cadence and tempo—are directly descended from George Bernard Shaw's inspiration for the persnickety professor Henry Higgins in Pygmalion: Henry Sweet, a 19th-­century linguist. Sweet's Australian student William Tilly went on to teach phonetics at Columbia University after World War I, and Tilly's pupil Edith Skinner in turn taught Monich, who trained Meyer and several of Kamp's other clients. But dialect coaching began to emerge as a bona fide field only after Meryl Streep's 1982 Oscar-winning performance in Sophie's Choice, in which she established her reputation as the master of accents. (Streep herself didn't work with a dialect coach, although she had voice training at Yale University.) Around the same time, the rise of global mass communication made far-flung accents more familiar to audiences, who came to expect pitch-perfect results—and not generic, let alone comically clichéd, versions—from any actor playing a character in a place-specific film, something Monich calls "the CNN effect." Before, Lyons notes, "there was a lot of room for error. There wasn't an insistence on technical perfection."
"You had this convergence of needs," explains Meyer, whose more unusual recent assignments included instructing actors in the pronunciation of a made-up language for the second Pirates of the Caribbean. "The best actors wanted dialect coaching, and so did those who wanted to be the best."
Kamp's expertise is vital for her clients because, unlike many of the technical workers on a movie, dialect coaches are free agents with no union protection. Big Timber Management has therefore become a mini guild unto itself. In addition, Monich explains, Kamp has become the doyenne of dialect for producers and directors seeking guidance on whom to call to make a film sound authentic.
In the Eighties, when Kamp still aspired to become an above-the-line talent, she worked in the Acting Company, a professional troupe spun off from Juilliard's acting program, and later joined a sketch comedy group doing political satire, where her most notable role was playing Nancy Reagan opposite her then husband, Anderson Matthews, as the president. ("It's the first time I got my picture in The New York Times," Kamp says.) But after realizing that she was probably not destined to be the next Kate Hepburn, Kamp took a job at Triad. In 1990 Triad sent Kamp to work in the company's L.A. office; just a year later she fell in love at the Road Kill Café.
Kamp figured that if she could take her Triad dialect-coach clients with her—and sign a few more, to boot—she could make ends meet thanks to Montana's low cost of living. "I sat down with a friend, and we penciled out how much money I needed to make," Kamp says. "I was like, 'Well, I'll have a house on 1,700 acres, which is not so bad. I can figure it out.'" (Kamp gets a 10 percent cut of her clients' paychecks, and top dialect coaches earn up to $7,500 a week on the set of a big-budget movie.)
During her early years in Montana, Kamp worked hard to fit in, drinking beer and even joining the local bowling league. These days, however, she's let her true colors re-emerge—sipping white wine at the nearby Grand Hotel's bar and even flaunting her deep blue politics by cofounding the Sweet Grass Democrats (Sweet Grass is the name of her county) and hosting a weekly radio broadcast, which she calls the only liberal talk show in the state. She describes herself as a mellower version of the go-getter Hollywood agent she used to be. (Although the locals might disagree: "What would we talk about without her?" asks a waitress at the Grand.)
"Producers love to call me and say, 'Look out your window. What are you looking at?'" Kamp says. "I say, 'Oh, my goodness, the cows are in the haystack. I have to go!' They'll say, 'You're kidding.' And I say, 'Yeah, I'm kidding, but I do have to go out and help birth a calf right now.'" And Kamp's base in the 406 area code hasn't hurt her clients. Meyer has spent an unprecedented two years on James Cameron's digital juggernaut Avatar, and other Big Timber coaches have recently worked on the films The Lovely Bones and Angels and Demons and on the television shows Little Britain USA and True Blood (both on HBO).
Having a monopoly on a Hollywood industry while living a Far and Away lifestyle, Kamp readily admits, is almost too good to be true. "As soon as you write this story, someone will try to steal my business," she says with a look of exaggerated angst. "That's why I keep it a secret."