Diane Keaton Is So Good at Her Job, Jack Nicholson Thought She Loved Him for Real During Something's Gotta Give
She's that good at her job.
---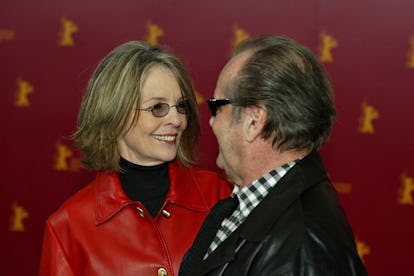 Franziska Krug/Getty Images
Diane Keaton and Jack Nicholson may both have a lifetime achievement award from the American Film Institute, but Keaton can still out-act Nicholson. At least, that was the case when the pair reunited for 2003's Something's Gotta Give, in which Keaton plays Nicholson's unexpected love interest. In the film, Keaton's acting was so convincing, Nicholson actually walked away from one scene in which she says "I love you" thinking she meant her lines.
"We're rehearsing that scene in the street, where he's running after her, and he calls me over after one rehearsal. He's all rattled," the writer and director Nancy Meyers said at Tribeca Film Festival, as Vulture notes. "I said, 'What's up?' And he goes, 'Diane just told me she loves me.' I couldn't tell if he was horrified or thrilled. So I was like, 'Yes, I know, I wrote that line. It's in the script, Jack.' And he said, 'Oh, okay.' He thought she meant it. It's really funny. That's her."
That's not to say Nicholson didn't get carried away himself during filming. He was particularly heartbroken after one scene, in which he serenades Keaton with "La Vie en Rose," didn't make the final cut. Meyers joked about it on Instagram recently, posting the clip with the caption, "#tbt to a deleted scene from SomethingsGottaGive. They were so great! Why did I ever delete this? Well, you can see it now. #JackAndDiane. Play with ?!"
Meyers also previously talked about how upset Nicholson was when he learned the scene wouldn't be included in the film. "He gets up to sing for her [Keaton's character], and it's 'La Vie En Rose,' which he sings to her in French. He worked really hard on it," she told WENN in 2012. "I had to cut the scene out because it just didn't fit the following scene, where he goes out with another woman. When it came time to tell Jack I was cutting out the scene, he didn't hold back his disappointment. He said, 'Chief, what do you mean?' He brings it up to me every time I see him, and recently I saw him for his birthday and he cornered me [and said], 'Now, about that scene…' To make it up to him, I put it in the DVD, so at least he can watch it on there."
Ironically, it was Keaton during filming who was worried about living up to Nicholson's acting abilities. "I mean, I hadn't seen Jack, besides passing him, like, twice in 25 years," she told Venice magazine. "So I didn't know what he would be like. Because in that span of time, you know, Jack became larger than legendary. He became a national treasure, which has not exactly happened to me. You know, I would see him on television peripherally at a Lakers game or read about him on the cover of Time magazine or see him at an awards show. I didn't know who he was."
Nicholson isn't completely off in thinking his former fling actually fell for him during filming, though. Keaton did enjoy their more intimate scenes. "In between takes, we were continually worried about how many kisses were we actually going to have to perform in front of everyone," she added. "But it was heaven to perform. Once the camera goes, you can just let those inhibitions go and you just enjoy it. I had a fabulous time." Jennifer Lawrence is so jealous right now.
Related: Diane Keaton, 71, Is the Most Underrated Celebrity on Instagram
An Appreciation of Diane Keaton's Kooky, Suit-Friendly Style, from Annie Hall to The Young Pope
Diane Keaton and Woody Allen after filming Annie Hall on Madison Avenue, ca. 1977.

Getty Images
Diane Keaton at the 50th Annual Academy Awards in 1978.

WireImage/Getty Images
Warren Beatty and Diane Keaton at the opening night of Richard Avedon's exhibition "Avedon: Photographs, 1974-1977" at the Metropolitan Museum of Art in 1978.

WireImage/Getty Images
Diane Keaton in New York, ca. 1980.

Getty Images
Diane Keaton at the opening of A Mom's Life in Hollywood in 1992.

WireImage/Getty Images
Diane Keaton at a Los Angeles screening of Fallen Champ: The Untold Story of Mike Tyson in 1992.

WireImage/Getty Images
Diane Keaton at the "Cool Comedy—Hot Cuisine" Scleroderma Research Foundation Benefit in 1993.

FilmMagic, Inc/Getty Images
Diane Keaton at the 51st Annual Golden Globe Awards in 1994.

WireImage/Getty Images
Diane Keaton at a Los Angeles screening of Amelia Earhart: The Final Flight in 1994.

WireImage/Getty Images
Diane Keaton at the 52nd Annual Golden Globe Awards in 1995.

WireImage/Getty Images
Diane Keaton at New York screening of Unstrung Heroes in 1995.

WireImage/Getty Images
Diane Keaton at the Los Angeles premieres of What Women Want in 2000.

WireImage/Getty Images
Diane Keaton at the Los Angeles premiere of The Score in 2001.

WireImage/Getty Images
Diane Keaton at the 61st Annual Golden Globe Awards, where she won Best Performance by an Actress in a Motion Picture—Musical or Comedy for Something's Gotta Give, in 2004.

WireImage/Getty Images
Diane Keaton at the 54th annual Berlinale International Film Festival screening of Something's Gotta Give in 2004.

Getty Images
Diane Keaton at the Los Angeles premiere of The Family Stone in 2005.

WireImage/Getty Images
Diane Keaton at the L'Oréal Legends Gala benefiting the Ovarian Cancer Research Fund in New York in 2006.

FilmMagic/Getty Images
Diane Keaton on the street in Soho, New York in 2013.

FilmMagic/Getty Images
Diane Keaton at the L'Oréal Paris' Women of Worth Awards in 2013.

WireImage/Getty Images
Diane Keaton at the Carousel of Hope Ball in Beverly Hills in 2014.

Getty Images
Diane Keaton at the New York premiere of And So It Goes in 2014.

WireImage/Getty Images
Diane Keaton at the L'Oréal Paris' Ninth Annual Women of Worth Awards in 2014.

FilmMagic/Getty Images
Diane Keaton at the Hammer Museum Gala in Garden sponsored by Bottega Veneta in 2015.

Getty Images for Hammer Museum
Diane Keaton at the L'Oréal Paris Women of Worth Celebration in 2016.

Getty Images for L'Oréal