Solway Selects: May 2013
Arts and Culture director Diane Solway's must-see for May.
---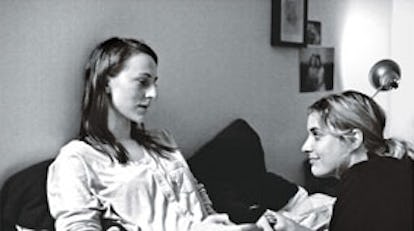 Noah Baumbach's Frances Ha is as much a valentine to New York, the classics of Woody Allen and Jean-Luc Godard, and the grainy, on-the-run feel of black and white film as it is a celebration of the ferocity of female friendship in all its intensity and richness. The movie stars Greta Gerwig (she cowrote the script with Baumbach) as the endearing, scattered 27-year-old Frances, who lives in Brooklyn with her best friend, Sophie, "like a lesbian couple that doesn't have sex anymore." But unlike the more focused Sophie (the wonderful Mickey Sumner), Frances has trouble finding her footing postcollege: Determined to become a modern dancer, she's all gangly limbs and faux pas in Gerwig's exuberant performance.
Mickey Sumner and Greta Gerwig
When Sophie takes off for fancier digs in TriBeCa, Frances momentarily loses her bearings. Naturally, a man or two enter the picture, but I love the way the film centers not on Frances's redemption through new romance but on the drama of the women's relationship as they lurch toward adulthood and sort themselves out. Which they do, kind of.
Solway Selects: portrait photographed by Victoria Will; Frances Ha: IFC Films