Solway Selects: Summer Reading
Arts and Culture director Diane Solway's musts for summer.
---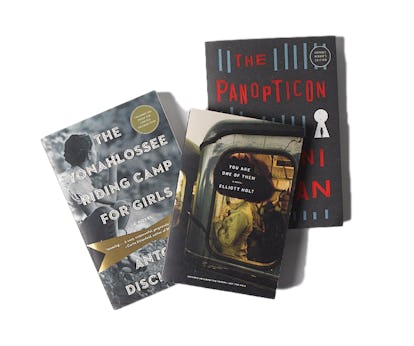 Remember how, back in our teenage years, summer vacation was an opportunity for transformation? After a few mercifully unobserved months, we hoped that we might somehow return funnier, cooler, better-looking. Well, this year, three coming-of-age stories by three female first-time novelists perfectly capture that unruly season. Anton DiSclafani's The Yonahlossee Riding Camp for Girls (Riverhead, June 4), which set off a seven-figure publisher bidding war, is a Depression-era story about a young equestrienne with a scandalous secret. Elliott Holt's You Are One of Them (Penguin Press, June 3) takes place in another fraught American period—the Cold War—during which a teen friendship becomes complicated thanks to the Kremlin. And Scottish poet Jenni Fagan's novel The Panopticon (Hogarth, July 23) is driven by the peculiar voice of a fierce foster care outlaw who seemingly can't count on anyone but herself.
Speaking of mavericks, Encores! Off-Center, a promising musical-theater series, pairs today's new guard with groundbreaking Off Broadway plays from the past. (The series runs July 10–27 at New York's City Center.) First up is the prolific Sam Gold, who directs The Cradle Will Rock, an allegory of corruption first directed by Orson Welles in 1937. Another highlight is Violet, set in the Deep South in 1964, which features a stunning score by Jeanine Tesori (Encore's artistic director) and a star turn by the ever versatile Sutton Foster. Summer in the city is looking up.
Solway Selects: portrait photographed by Victoria Will; Books: Biel Parklee