That's a Wrap
With an artistic retrospective and a tribute collection, Diane von Furstenberg fetes the 40th birthday of her iconic frock.
---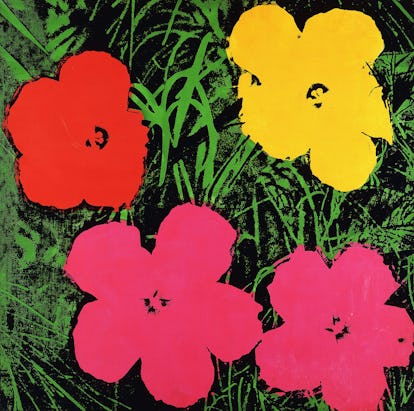 Like a butterfly in amber, the dress flutters without moving, embedded in 4,800 pounds of layered glass. Up close, you realize that what appears to be a chain-link print is actually cutout bits of scanned magazines and newspapers; and then, if your eyesight is sharp enough, you will detect that all of those articles relate to Diane von Furstenberg. The artist Dustin Yellin says he configured the designer's wrap dress to look like a floating ghost. "It's an apparition—as if it just materialized in a dreamlike state," he says. Accustomed to working with collages on sheets of glass that he then laminates to produce colorful tableaux as deep and glowing as aquariums, Yellin decided to leave the dress empty. It can stand alone. The wrap dress, after all, has clothed innumerable women for four decades, making it a witness and a participant through a period of dramatic change. It has also propelled the career and accompanied the evolution of the woman who invented it, from whose archive Yellin gathered the plentiful residue of many years of media coverage.
"The 40th anniversary of the wrap dress is in 2014," von Furstenberg says, explaining why she commissioned Yellin and other artists to address the legacy of her signature creation. "It's never happened to a dress before—for the same style to have survived so many generations and still appeal to young people. So we wanted to celebrate that."
But how? Von Furstenberg opted to introduce a commemorative fashion collection and to stage an exhibition of DVF related artworks. The perfect anniversary collection, she decided, would meld her own fashion heritage with the iconography of Andy Warhol, who had been a friend. The concept was to combine a couple of the artist's famous emblems—the flower and the dollar sign, which nicely sum up von Furstenberg's credo—with some of her best-known patterns. She used the hybrid prints and Warhol's logos for T-shirts and frocks. "It just felt very Pop, more than ever," she says. "The genius of Warhol is he predicted it all. He saw the branding and the fame and the reality shows—he saw it all coming. To imagine what Warhol would have done with Instagram is mind-boggling."
Surely, the project with DVF would have appealed to the artist. "Andy would have thought it was fabulous!" says Eric Shiner, the director of the Andy Warhol Museum in Pittsburgh. "He loved Diane, and he loved fashion." Shiner points out that Warhol started his career as a fashion illustrator in the '50s and that he collaborated with Halston and Stephen Sprouse.
Although the Warhol project proceeded straightforwardly, the planning of the exhibition followed a more circuitous route. Von Furstenberg didn't want to situate the show in New York, because she felt that she was too closely associated with the city. She first contemplated Washington, D.C., to honor the national capital and to make the most of the flow of tourists, but she eventually shifted her sights to Los Angeles "because of the pop culture and because of the light," von Furstenberg says. Having selected the city, she then serendipitously found the perfect venue. The former May Department Store on Wilshire Boulevard is slated to undergo a transformation by Renzo Piano to become the Academy Museum of Motion Pictures. Located on the edge of the campus of the Los Angeles County Museum of Art, the site literally blurs the boundaries between fine art and retail. Conceptually speaking, it was almost too good to be true; and the vast space, with 20-foot ceilings and a sight line 150 feet long, provided a visually exciting environment. The exhibition will open there on January 10 and run through March.
Like any subject worth chronicling, the wrap dress has had its ups and downs. It was famously showcased on the cover of Newsweek back in 1976 as a symbol of the newly powerful liberated woman who could excel in a work environment without sacrificing her femininity. Perhaps a victim of its own ubiquity, the wrap went out of production a few years later, and many felt it would become a historical footnote. But in 1997, observing that younger women were wearing original dresses they had bought in secondhand stores or lifted from the back of their mothers' closets, von Furstenberg revived it. It was obvious to her that the dress was once again timely. (In fact, as subsequent history would demonstrate, its relevance was more lasting than Newsweek's.) "That dress has paid the bills," she remarks. "In French it is called a robe portefeuille, which is very appropriate, because portefeuille means 'wallet,' and it certainly filled mine. I used to be annoyed that my name was always associated with this one dress. I thought, It's not the only thing I've done. Now I think, This is pretty amazing. I created something that has been part of many generations." Indeed, she has even designed a "miniwrap" for her recent collaboration with GapKids.
In the years since the dress was reborn, von Furstenberg has mounted three small exhibitions: in Moscow, São Paulo, and Beijing. Bill Katz, who is a favorite designer of the art world (he has done homes or studios for Jasper Johns, Cy Twombly, Anselm Kiefer, and Francesco Clemente, as well as several for von Furstenberg), worked on all of them, and he's also at the helm of this biggest rendition. He conceived a central salon, measuring about 40-by-40 feet, with a gallery space along its perimeter. Von Furstenberg's mantra "Be the woman you want to be" will be emblazoned on the outside of the ring wall. A timeline on the inside will track the history of the dress in the context of what was happening in the world, especially for women. In the core of the large exhibition hall, there will be an array of mannequins "made to look not exactly like Diane but something like her," Katz says. The central group will be clothed in black and white versions of the wrap, and smaller assemblages on the sidelines will be color-themed.
"I wanted an army, like the Terra Cotta Army in China," von Furstenberg says. "The wrap dress is associated with the empowerment of women, and blah-blah-blah." She wants you to know that she takes her achievement seriously without being pompous about it. In her office, she has a photograph of herself introducing the dress in the original pattern. "An iconic print," she says. "It's a little pretentious of me to say so, but it has lasted a long time. Thirty-four years later, I reissued that print, and Michelle Obama wore it in her first Christmas card from the White House." (The dress's crisp black and white chain-link pattern—the same one that Yellin used for his sculpture—coordinates beautifully in the photo with the Obamas' Portuguese water dog Bo.) A separate room of the exhibition will contain seven vintage portraits of von Furstenberg by Warhol, as well as others of her by Chuck Close and Zhang Huan. There will also be new paintings commissioned for the exhibition from Barbara Kruger and Robert Wilson.
Combining feminine sultriness and womanly strength, the wrap dress—which emanates both a zipless sexual readiness and a businesslike assertiveness—truly is a metaphor for its creator, who embodies a blend of steel and flirt that seems out of a former century. Even the decades-long hiatus that perforates the 40-year history of the dress bears an intriguing similarity to another enduring relationship in von Furstenberg's life: the one with her second husband, the media mogul Barry Diller. The two met in 1975 and dated for five years, at which point they parted to pursue different passions. In the late '90s, they got back together, and in 2001 they married. So what anniversary do they celebrate? She has a ready answer when asked that question about the wrap dress, and it applies to Diller, too. "It's not about an anniversary but a continuation," she says. "It's not about something in the past but something that is ongoing." When the toasts are over (and, for that matter, even while they are being raised), von Furstenberg will be working to make sure that things keep dancing forward.
Diane von Furstenberg with the artist Dustin Yellin's tribute to the wrap, A Ghost May Come, 2013.
Warhol's Flowers, 1970, which inspired the new prints.
A DVF dress from the anniversary Pop Wrap collection, with Andy Warhol's 1974 portraits of the designer in the background.
Portrait of the designer by Julian Opie (2011).
More variations on DVF's Warhol theme.
Portrait of the designer by Anh Duong (2011).
Portrait of the designer by Francesco Clemente (2011).
Portrait of the designer by Chuck Close (2011).