The Tycoon Next Door
Diego Della Valle is perhaps Silvio Berlusconi's most outspoken critic. Following him from the colosseum to his palatial home, Andrea Lee asks: could the man who made Tod's a household name become the next great Italian emperor?
---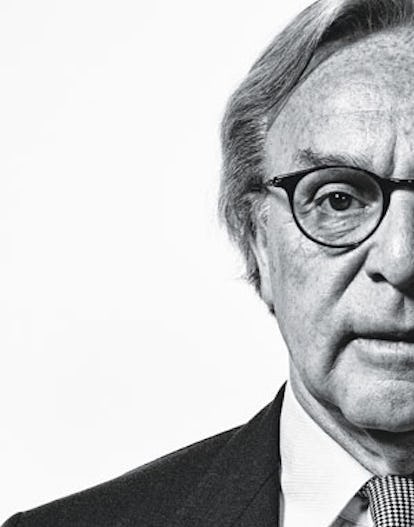 One of the interesting things about Diego Della Valle, the charismatic head of the Tod's shoe and leather goods empire, is how very Italian he is…becoming. He has always been Italian, of course, but of late the mercurial entrepreneur, who, in a stroke of late-20th-century marketing genius transformed a moccasin with rubber pimples into an international object of desire, seems to be consciously and energetically branding himself Mr. Italy. As his $1 billion company spreads across the globe, Della Valle, fired by a mixture of idealism and the highly evolved pragmatism of a self-made man, has become the latest standard-bearer for his appropriately boot-shaped native land.
On a cold January morning, he held a press conference in the center of the Colosseum. With a forest of TV cameras looming in front of him and Rome's mayor, Gianni Alemanno, beaming at his side, Della Valle announced a $35 million gift from Tod's to help restore the crumbling monument. Impeccable in one of his many Caraceni suits, he had added his usual casual touch with professorial horn-rimmed glasses and an armful of colorful leather­ Tod's bracelets. He's not tall, but exuded the relaxed confidence of a man who arrived by his own helicopter and private jet. His matter-of-fact expression suggested that sprucing up one of the great architectural wonders of the world was as simple as putting a new roof on the family house. After a solemn speech defining the gift as an expression of respect for the nation, an irreverent gleam crossed his shrewd dark eyes: "Don't worry," he said. "You won't see a giant Tod's shoe stuck on the side of the Colosseum!"
The intervention was just one in a recent series of high-­profile moves that placed Della Valle squarely in the international spotlight over a period that—even for a hyperactive tycoon—seems an annus mirabilis. In September 2010 Tod's Group bestowed $350,000 on Milan's La Scala theater; a $7.4 million gift followed in June. Meanwhile Della Valle had the privilege of using the fabled theater and its ballet troupe for a short film with extravagant choreography depicting the cobbling of a Tod's driving shoe, produced by his media-guru eldest son, Emanuele. The film, "An Italian Dream," was shown last fall at a Tod's megaparty in Beijing, where Della Valle hosted movie stars and celebrated the vast emerging market of moneyed mainland consumers that is proving to be the salvation of European luxury manufacturers. (The company has 25 stores and counting in China.)
In New York soon afterward, Della Valle stepped up to receive Fashion Group International's Brand Visionary Award and partied at Barneys New York, which had been decorated with shoebox sculptures of his bespectacled face. A week earlier he one-upped the world's richest man, Carlos Slim Helú, by acquiring a 19 percent interest in Saks Fifth Avenue, a coup that finally brought home to Americans the fact that the Italian shoemaker has ambitions well beyond leather. (So far the Saks deal, which cost Della Valle $170 million of his personal fortune and sent shares skyrocketing, has netted him almost $200 million in profits on paper.)
In Italy Della Valle has been visible for decades as a canny businessman whose instincts have kept Tod's in steady expansion even through the global economic crisis and the consequent sag in the luxury goods market. He is also known as an emerging billionaire (he just made the Forbes richest list with a comparatively modest $1.3 billion) who relishes the perks of his wealth with public gusto. Della Valle's toys include two megayachts; John F. Kennedy's mahogany launch, the Marlin; a Gulfstream 2000 jet; a twin-engine Dauphin helicopter; an important modern art collection; residences in New York, Paris, Capri, Milan, and Le Marche; and ownership of the famous Tuscan football club ACF Fiorentina.
Only in the past five or six years, however, has he truly emerged as a public figure. It has been a troubled period for Italy, which, in the shadow of the global slowdown, has suffered from alarmingly stunted economic growth, as well as from a series of explosive political and sex scandals centered around Prime Minister Silvio Berlusconi (recently described by The Economist as "the man who screwed an entire country"). In this time Della Valle has made a name for himself as a feisty crusader against corruption and an aggressive spokesman for such solid values as patriotism, hard work, and respect for tradition. Bloggers refer to him as Don Diego Della Vega—after the daytime name of Zorro, who, one recalls, was also an active patriot—and he pops up frequently on popular talk shows, where he is notorious for going for the jugular in live confrontations with the highest officials in the land, including Berlusconi.
Della Valle has credibility because of his wealth, and also because his omnivorous interests outside of Tod's touch so many spheres of Italian life. Besides supporting La Scala and the Colosseum, he has invested in Rome's fabled Cinecittà, the Italian Hollywood, which in the Sixties was the birthplace of such classic films as Cleopatra and La Dolce Vita. He sits on the board of LVMH and in 2006 relaunched the historic French shoe label Roger Vivier—now made in Italy, with Bruno ­Frisoni as chief designer and Inès de la Fressange as muse. He also owns the legendary label Schiaparelli, which he plans to relaunch this year. In the world of motorsport, he is a board member of ­Ferrari—whose chairman, Luca di Montezemolo, is a longtime friend—and he has a stake in Piaggio, which makes Vespas. He also plans to put his stamp on mass transit: He and di Montezemolo intend to debut a high-speed train service that will compete with the shambolic government-owned Trenitalia. Della Valle has even taken on the print-media establishment as a highly vocal shareholder in RCS, owner of the historic Rizzoli publishing house and the legendary liberal newspaper Corriere Della Sera, and he constantly fans rumors that he intends to acquire a controlling interest.
What is striking about this list is that it holds so many Italian icons. It's hard to think of any other businessman in any country who has so dedicated himself to supporting powerful national images. In fact, at a time when Italy's prestige is tarnished and the official international face of the country has been for some time the grinning, perma-tanned visage of Berlusconi, Della Valle seems almost to be trying out for the symbolic role of the virtuous anti-Berlusconi.
The two men were not always at odds. In the early Nineties Della Valle was a backer of Berlusconi's populist Freedom Pole coalition, but soon bowed out, citing differences in values. By 1999 he'd already stepped forward as an early and outspoken critic of Bank of Italy governor Antonio Fazio, one of the old guard of Italian politics. Since then Della Valle has established himself as a political moderate who fre­quently skirmishes with the flamboyant right-wing prime minister. ("Shame! For shame!" shouted Della Valle in 2006, when Berlusconi burst into a conference of industrialists to stump for his own re-election. In another confrontation over Berlusconi's alleged meddling in Corriere Della Sera editorials, Berlusconi threatened that Della Valle would end up "with his bones broken.")
Though Della Valle swears he won't enter politics, it is hard not to reflect that nowadays he is in a position somewhat similar to that of Berlusconi 20-odd years ago, when, as a hugely successful media tycoon, Berlusconi began to propose himself as a defender of his country's core values. Della Valle's rhetoric does sometimes have a campaign-trail ring. "We Italians are a proud people," he declared in a 2010 television interview. "We don't like to hear people speak badly of our country. What we need is to be governed in a serious, respectable way, to be able to say to our young people: 'Here is work for you,' and to have our old people live with security and dignity."
Della Valle often describes himself as un tipico maschio Italiano—a typical Italian guy. Yet in Italy, being an outspoken patriot is far from typical. Italians are not natural flag-wavers; the real Italy—Bel Paese, or "beautiful country"—is a place of localized passions for the aromas and tastes of one's province, one's village, and one's tight-knit family. And this is where the quirky genius of Della Valle becomes apparent: He is genuinely an international player who observes his country from a global standpoint and, at the same time, a homeboy who considers his own small corner of Italy to be the heart of the habitable world. Despite his frenzied schedule and international array of residences, he remains loyal to his provincial roots in his birthplace, near the hamlet of Casette d'Ete in Le Marche. "The market is everywhere in the world," he told an Italian journalist in 2008. "But life is in Casette d'Ete."
I met Della Valle in Milan months ago, when he was hosting a candlelit dinner for fashion press nabobs at the grand Villa Necchi Campiglio, the modernist mansion that was the setting for Tilda Swinton's moody film I Am Love. Della Valle was full of bonhomie that evening, joking and forking up nettle risotto with gusto. Even when relaxed, he radiates an almost dangerous intelligence and the kind of electric vitality peculiar to power-­driven men who sleep, as he does, only four or five hours a night. Highly charismatic, he is a born communicator, able to establish what feels like a personal bond with everyone he meets. His management style is rumored to include, in the fine old Italian patriarchal tradition, fearsome tactical outbursts of wrath. During his rare vacations, Della Valle appears as a down-to-earth bon vivant who enjoys hanging out in his castlelike Capri house, Villa Materita, with his family and a group of old friends who include television journalists and newspaper editors. He's been observed eating pizza and even warbling Neapolitan songs at Capri nightspots. He adores the company of women and has been married three times (his first wife, Simona, is the sister of his present wife, architect Barbara Pistilli); in the Nineties he had a high-profile romance with fashion designer Donatella Girombelli.
Over dessert he reminisced about a spin he took with Lee Radziwill on the Bay of Naples in the boat that used to belong to Kennedy—one of Della Valle's idols, along with former Fiat head Gianni Agnelli. In some ways the two men represent the dual sides of Della Valle: Kennedy, the idealistic Democrat and ultimate American hero; Agnelli, the princely industrialist sans illusions and the symbol of manhood for a generation of Italians.
That evening I began a series of conversations with Della Valle that continued during the next few months. We skimmed through the familiar tale of Tod's: small artisanal company flourishes during the Italian economic miracle of the Sixties and Seventies until a family wunderkind begins to create objects of desire that fuel the cult of consumption, uses advertising wizardry to multiply desire, and finally goes global. Italy has produced as many of these great creative-­marketing empires as it seems to have Renaissance dukedoms, and most were dominated by a single visionary figure, like Luciano Benetton, Giorgio Armani, and certainly Della Valle.
The Adriatic region of Le Marche, where he was born in 1953, has a long history of shoemaking, and its citizens are known to be honest and tough. Della Valle grew up as his province labored its way from postwar poverty in the Fifties to industrialized prosperity in the Seventies. His grandfather Filippo and his father, Dorino, made shoes, and young Diego used to nap near piles of hides in the family footwear factory. He designed his first pair of shoes when he was 15. "They were kind of…special," he said with a smile. "Pointy, a little flashy—and I had to ask my father to get them made because I didn't think the artisans would listen to a kid." By this time his family was already established in the middle class, and he was thinking big. "I had a lot of dreams about nice places, and that in these nice places would be beautiful women, beautiful cars….It was a bella ginnastica, a good exercise in wanting to make it all come true."
Around the same time he took his first trip to New York with his father. There he fell permanently under the spell of skyscrapers and cathedral-esque department stores (such as Saks) and hustling Yankee ambition. He also made an observation that formed the foundation of his whole career: namely, that sportswear could be extremely stylish. "In Italy at that time, you got dressed up on weekends," he said. "America gave birth to the informal lifestyle. Now things are different, but it all started with America."
Della Valle enrolled in law at the University of Bologna, but left in 1975 to join the family business, which by then was a fully industrialized company.
At 21 he married and became a father. "The clearest memory I have of my dad from when I was a kid was how he used to get up way before sunrise," Emanuele told me. "Sometimes I'd wake up at four or five in the morning and come downstairs in the little house we had then in Casette d'Ete and find him at work at the kitchen table, surrounded by papers. At 7:30 he'd drive me to school and then go off to the factory."
About the same time, Della Valle made his prize discovery, a leather moccasin from Portugal that had, instead of a sole, a grid of rubber nubs, or gommini, meant to grip the sensitive foot controls of sports cars. Della Valle was certainly not the first to produce a driving shoe—Car Shoe, an Italian company currently owned by Prada, had been making its own version of the gommino since 1963. But he saw its possibilities. Not only comfortable, the moccasin also exuded a sporty chic that spoke of a whole glamorous world, as a hacking jacket glimpsed on a city street hints at country-house stables. He created his own high-quality gommino, under a name literally picked out of a Boston phone book: J.P. Tod's (the initials evaporated as the brand grew).
Afterward came Della Valle's second stroke of inspiration, when he convinced his friend di Montezemolo, a protégé of Agnelli, to give the great industrialist a pair of Tod's gommini. Agnelli was a much copied fashion plate, and when he was photographed in Tod's, thousands of Italians went out to buy the shoes for themselves. Della Valle—the upwardly mobile young provincial kid whom acquaintances from that time recall as the quintessential Italian yuppie—had perfectly understood the desires of his equally aspirational countrymen.
By the Nineties Tod's were the shoes you brought for a weekend at Portofino and what rich young Italian mothers wore to wait outside private schools. Soon Princess Diana and the King of Spain were walking on nubs, and when Sharon Stone became a fan, the United States joined the craze. By then the company had expanded to encompass the younger Hogan brand and Fay, a line of outerwear. Today there are 107 Tod's stores around the world, and such emerging consumer frontiers as India and China are crammed with recently moneyed customers who think like Italians did in the Seventies. The brand is marketed not as fashion but as luxury. Derek Lam, Tod's creative director since 2006, has added his own twist to each collection but has been wise enough to stay faithful to the core concept: the European interpretation of the sporty American elegance that Della Valle discovered as a teenager.
The more one gets to know Della Valle, the more impressed one is by the staying power of his early dreams. I thought of this when I visited him in Le Marche, and we talked about bamboo. Della Valle loves bamboo, not because it represents those fabled Asian consumer markets, but because, during his village boyhood, the plant grew on the estate of the local aristocrat, Count Brancadoro. Della Valle and his friends used to sneak onto the grounds to steal stalks for fishing rods and sometimes were chased off by the keepers. When Della Valle became the local magnate, he bought the Count's estate, Villa del Palombarone, and all that desirable bamboo—which he also planted around the Tod's headquarters down the road.
Villa del Palombarone itself, once a monastery, has been exquisitely restored by Pistilli and expanded into a Hollywood-style compound that includes a gym, indoor and outdoor pools, a helipad, a regulation-size soccer pitch, a guest mansion, and an architectural studio for Pistilli. With affectionate pride, Della Valle guided me through a labyrinth of luminous frescoed spaces filled with antique and contemporary art as well as family souvenirs. His father and brother Andrea, as well as other Della Valle relatives, live nearby. "I'm lucky enough to have most of my family in one place," he told me. "We might have dinner together tonight, and then I'll have to go to Paris, but we'll definitely eat together on Sunday. It's a type of life where we have managed to render the abnormal normal."
Italian craftsmen long ago coined the expression casa e bottega, which means to combine home and workspace. Della Valle's bottega is practically in his huge backyard: the monumental white marble Tod's headquarters, which combines offices, design studios, and factories, where all of Tod's, Hogan, and Roger Vivier shoes—two million pairs a year—are made by artisans whose skills are part of the company legend. Designed by Pistilli, the structure resembles a university, or even a shrine—a sort of mecca of leather goods. (In the office wing, the worn cobbler's bench of Della Valle's grandfather is displayed like a holy relic.) Much has been written of the utopian setup. Employees have access to an ultramodern gym and cafeteria and a free day care center that rivals the glossiest private schools. Though the company has been criticized for the low percentage of union members in its workforce, there is a palpable atmosphere of well-being and high company loyalty, with many workers employed by Tod's for decades.
Still in many respects a family business, the place teems with Della Valle relatives in various capacities. At 86, the white-haired patriarch, Dorino, still works most days and often checks on production by riding a bicycle around the plant. He told me that he made his first pair of shoes at age 12. "But I was already working on shoes when I was five or six. They talk nowadays about child labor in Asia—Italy before the war was the same. Childhood? What childhood? We were poor, and we had to deal with reality."
When I asked how such a strong clan functioned in a publicly traded company, Andrea, Tod's vice president, said the key was achieving the right mixture of family and hired managers. Diego added: "We work together, elbow to elbow. The managers might think it's a little bit too closely, but it works. And we have our roles: My father is the real expert, the source, and the boss who makes everyone do his best. Andrea is the one who does all the work, gets together with the managers, crunches the numbers. And I," he added, "well, I go around talking."
Later I watched Della Valle interact with the family's newest generation. His younger son Filippo stood in the rustic kitchen of Villa del Palombarone, resembling any 14-year-old boy just home from school: hair flipped up, jeans low on the butt, and no burning desire to go on an afternoon outing with his dad. Della Valle's fatherly urge to spend some time with his son had the usual larger-than-life touch: The proposed activity was not to kick around a ball or watch a Jackass video, but to take the family helicopter—and jet—to Della Valle's Ferrari board meeting, where he needed help deciding custom details on his latest model.
Father and son finally cut a deal to go but still be back home for dinner. They gave me a lift as far as Bologna, and as we took off from the backyard helipad, I settled into the soft leather seat (Derek Lam once joked to me that sitting inside Della Valle's chopper is like "being in a handbag") and looked down at the medieval walled towns and the factories of Le Marche. Somewhere below was the new Casette d'Ete elementary school, given to the village by Tod's last year, and designed by Pistilli, who, early in her career, was also the environmentally active mayor of a nearby town. I asked Della Valle whether there had been a moment when he had consciously decided to become active in helping his country. "It came naturally," he said. "When a company is doing well, it is almost obliged to look after the welfare of the community. It's completely practical: A better quality of life means better business, and better business improves the quality of life.
"What I learned traveling," he continued, "is that everyone in the world envies the lifestyle of Italy. I call it the 'Italian touch': that mixture of beautiful places, family values, good food, art, craftsmanship, style, and history that you only find in this country and that we are in danger of losing. So I had a banal idea: We businessmen are always talking about how we are helping our country and defending 'Made in Italy'—what if we actually tried to do what we say we are doing?"
We had switched from helicopter to jet in Ancona when I asked whether he would ever run for office. Della Valle sighed, and then said, "The world of politics isn't the world where you are making things, where someone says something and then follows through. It's complicated….It's more satisfying to do things directly, where you see results the next day, without having to go through someone else." He added with a grin: "There are other ways to do things besides politics."
In 2009, a year darkened for Italians by surfacing political scandals and the devastating earthquake in L'Aquila, Della Valle published a book of photographs titled Italian Touch. It is a collection of portraits depicting upper-class Italian families at home. Like other designer books, the intention, of course, is to elevate a brand image to the level of art. The greyhound beauty of the sleek aristocrats—each wearing some discreet Tod's article—and the easy opulence of their surroundings inevitably evoke the frequent comparison of Della Valle to Ralph Lauren.
However, the fact is that these gorgeous people, unlike Lauren's sculptural American beauties, are not models, and they actually live in those historic villas. Italian Touch marks the awareness of Della Valle that his brand image can draw on the reality of Italian life. The imagery hints that the survival of a real class of aristocrats in Italy is linked to that of a group of unique artisans (like shoemakers) who are likewise graced by a halo of tradition. Italian Touch is Della Valle's first attempt to weave a redemptive myth of Italian beauty and heritage and go beyond style. This is clear in the dedication, which reads: "To the many Italians who love their country."
This past March Della Valle was in London, cohosting, alongside Jude Law, the annual Tod's-sponsored Art Plus Drama party at the Whitechapel Gallery. The evening was a three-ring charity bash whose 800-­person crowd was a glittery eclectic mix that included Barbara Hershey, Dinos Chapman, and Prince Nikolaos of Greece. A refreshing pinch of small-town Italy was added by a high quotient of Della Valles, including Andrea and family, Pistilli, and Filippo, who, with his younger cousins, roamed through the glitzy crowd as if fooling around at a family baptism. The climax of the entertainment was a screening of "An Italian Dream," with a dramatic addition: Marta Romagna, prima ballerina at La Scala, had flown in to perform a ballet composed especially for the evening.
Few at the party knew that the jovial Italian host was waiting to put the final touch on an aggressive campaign he had mounted during the past few months to change the balance of power at the pinnacle of his country's economic life. Only the Italian business press had been following Della Valle's ongoing battle with Cesare Geronzi, an ally of Berlusconi and chairman of the giant insurance company Assicurazioni Generali. Geronzi, 76, is a legendary power broker who has been involved in major financial scandals. To many he symbolizes the murky intrigues of Italy's political old guard. He wielded huge clout through the shares that Generali holds in major Italian businesses such as Mediobanca and RCS. Last year Della Valle, a board member of Generali and RCS, began a series of sharp verbal attacks on what he deemed Geronzi's improper management of the Generali board and his outrageous attempts to manipulate the content of Corriere Della Sera. "A menacing cloud has appeared on [Geronzi's] horizon in the form of Generali board member Diego Della Valle," the Financial Times wrote. In interviews, Della Valle drew a withering picture of Geronzi as a corrupt old man, a cat's paw of government interests. To further provoke, Della Valle mischievously parked his megayacht Altair in the harbor right in front of Generali headquarters in Trieste. On April 6 headlines announced Geronzi's resignation, an exit forced by a threatened no-confidence vote by the Generali board, led by Della Valle. della valle wins and sends geronzi home trumpeted Il Tempo. Geronzi would be replaced by a respected top manager, Gabriele Galateri di Genola. Many saw the ouster as a major blow for Berlusconi. "This is clearly good news for the entire Italian system," wrote an industry analyst, according to Bloomberg. "It is a triumph of management governance against political power games." Della Valle himself simply commented: "This is an example of what we Italians can achieve when we get together to do something."
The Generali battle soon seemed like history as Della Valle continued his whirlwind of activity throughout the spring. He flew to Shanghai to host the world premiere of his company's latest film, "Red Touch"—the fictional story of a friendship between a young Chinese ballerina and the daughter of an Italian shoemaker, also produced by Emanuele. Then he dashed to that other crucial Asian market, Japan, to present a $1.1 million Tod's Group donation in aid of earthquake victims. Somewhere in between was the test launch, in Shanghai, of the next big Tod's player, the Signature Collection, a line of leather goods embossed with a pattern inspired by gommini, whose spokesperson is actress Anne Hathaway. Finally Della Valle returned to Italy to step into yet another spotlight with his nomination to the board of directors of La Scala.
His beloved Bel Paese had, meanwhile, undergone a spring of bumpy transitions. Berlusconi's power dwindled further as his party was defeated in May mayoral elections across Italy. Though the deepest recession seemed past, international credit watchdog Moody's threatened to demote Italy's rating because of the country's large debt and low growth. The Naples piazzas filled with activists protesting piles of uncollected rubbish, and a Migrantes Foundation survey revealed that 40 percent of young Italians now consider it a misfortune to live in Italy. The most flourishing sector of the economy was, as always, small to medium companies, like Tod's. Last year's figures for the company showed a gain of 10.4 percent over the previous year, with total sales of $1.1 billion.
At the end of June Della Valle returned to the Colosseum to celebrate the launch of his restoration project. During an evening of festivities, a group of Italian celebrities and international press enjoyed a candlelit dinner under the arches at the top of the monument, as a spectacular light show played on the arena far below. Della Valle announced that the Colosseum work was the first step in il progetto Italia—the Italy Project. "Soon we'll present a proposal to restore Pompeii—then Venice, Florence. And not just Tod's; there are other great businesses happy to join in. I do think businessmen are the right people to take care of these things," he added with a grin. "We have that kind of pragmatism—it's part of our nature. And we work fast."
The party buzzed with conjecture. Was Della Valle suggesting that the landmarks of Italy be privatized? Would neon advertising soon flash on the Tower of Pisa? Would the whole country turn into a brand? What, in the end, would be enough for the ambitious Don Diego? When Della Valle, relaxed as always, appeared at the buffet to grab a quick plate of pasta, a guest cornered him with the inevitable question: Why? Why this year of frenzied achievement?
"It has to do with the future, and with the family," he said after a pause. "This is a particular moment in our country, a time when things need to change and when they can change. I don't want to feel regret 20 years from now when my sons or my grandchildren ask me: 'What did you do when Italy turned the corner? Tu c'eri? Were you involved?' I don't want to have to say, 'Well, no, ragazzi, I just stuck to my job." As he picked up a forkful of pasta, Della Valle stared down into the spotlit arena, where a huge white balloon (sans logo) was being launched ­toward the stars over Rome. He observed quietly: "To make shoes—even the most beautiful shoes in the world—well, that's not quite enough these days, is it?"