Diesel and Nicola Formichetti Take Tokyo
Diesel creative director Nicola Formichetti staged a see-now, buy-now show in Tokyo today, followed by an after party where he unveiled the brand's new project, photographed by Terry Richardson.
---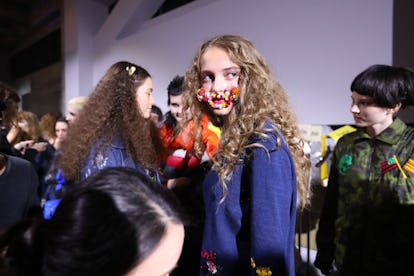 Diesel is currently celebrating 30 years of business in Japan, and in Tokyo today, creative director Nicola Formichetti threw one hell of runway show-turned-rager to display his love for the city and country. (As it happens, Tokyo is also Formichetti's birthplace—he is half Japanese, half-Italian.) It was Diesel's first foray into the "see now, buy now" trend sweeping the industry. Everything on the futuristic runway, which took place in an elevated warehouse along Tokyo's waterfront beneath electronic billboards and brand new posters photographed by Terry Richardson, is available for purchase now. Within the mega-event, too, Diesel launched two new denim capsule collections: a bias-cut jean and a "Jogg" model, which is essentially a faux-denim cotton pant that is – in theory, anyway – workout worthy. (Just don't call them jeggings.) And lastly, the brand unveiled three new collaborations: with the menswear brand N. HOOLYWOOD, knitwear specialist Yuko Koike and accessories line Porter-Yoshida & Co. Whew.
"You walk around here and there's an incredible feeling. Tokyo will continue to define the future," said Formichetti after the show. The night before, during dinner at the clubby Park Hyatt hotel (recognizable as the backdrop for Scarlett Johansson and Bill Murray's dalliances in 2003's Lost In Translation), Diesel founder Renzo Rosso admitted his love of exploring the metropolis with Formichetti for inspiration. "We have two sets of eyes, we see this city differently. Because of that, it's exciting," he said. As Formichetti would add later: "I think Renzo started Diesel because of his love of Japan."
Exciting is a fitting word to describe the sprawling, kinetic and sometimes intimidating megalopolis. Tokyo is overwhelmingly modern, alive with neon and energy, yet it's quiet—you don't hear the cacophony of Manhattan or the cars of Los Angeles. The city literally and audibly hums with efficiency. From the Park Hyatt's New York Bar, 52 stories up, Tokyo extends to the horizon in every direction. At night, red warning lights for helicopters blink on and off in an arhythmic sequence. Yet alongside the clinical there's the colorful—seedy dive bars in Roppongi, ridiculous robot shows in Shinjuku, electronics warehouses and owl cafes side by side in Akihabara. In that, Diesel complements Tokyo fluidly; the brand is also massive, productive and varied, but, thanks to Formichetti, it's also provocative and polyglot. It feels right at home in the city.
As the night bore on, so did the revelry. Front and center were a mob of androgynous Tokyo scenesters; one performed a suggestive lap dance to Kanye West's "Famous." "This is meant to be how people live now, not overdone. The styling, designs, the idea. Like, these are my friends in Tokyo," said Formichetti. "Being oneself is what matters now—not being a projection." Given the relaxed mood and the no-inhibitions dancing that would continue, we'd say Formichetti did his hometown very, very proud.
Olivier Zham and Renzo Rosso.

Courtesy of Diesel.
Nicola Formichetti, Kiko Mizuhara, Renzo Rosso, and Rola.

Courtesy of Diesel.
Watch the beautiful people of the AfroPunk Music Festival here: