Don't Miss: Dieter Roth at Hauser & Wirth
"Dieter Roth. Björn Roth," is the inaugural exhibition at Hauser & Wirth's new mega-gallery in New York's Chelsea.
---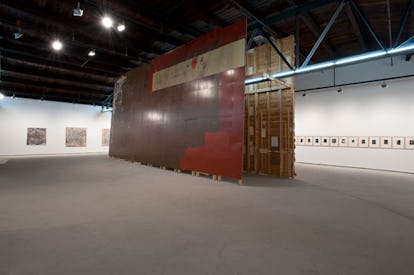 "You like some Jägermeister?" asks Björn Roth, a Marlboro Red burning in an ashtray next to his coffee at half past noon on a recent afternoon. "It's healthy."
Roth, the son and sometime collaborator of the late German-born Swiss art polymath Dieter Roth, is standing behind the bar he built — with the help of his sons, Oddur and Einar, and a retinue of assistants — for "Dieter Roth. Björn Roth," the inaugural exhibition at Hauser & Wirth's new mega-gallery in New York's Chelsea, in the former Roxy roller rink-cum-nightclub on West 18th Street. A majestic survey of the Roths' three-decade meditation on the art-making process through accumulation, decadence, and decay, the show opens tomorrow though Björn Roth and company have been working since mid-December to install it. They have been filling Hauser & Wirth's massive 25,000 square foot space with a suite of Dieter's Clothes Pictures— paintings made with the late artist's hand-tailored suits (he lost 75 pounds in the early 90s)— and two abstract murals painted on the white siding of portable classrooms in Aesche, Switzerland. "All the other buildings were sprayed with graffiti, but they had so much respect for Dieter they didn't touch ours," says Björn, who lives in Iceland, where he is working on some new pieces with his own son Oddur.
But Dieter is never far from this thinking. Shortly before Dieter Roth died in 1998 at the age of 68, he asked Björn to imagine they were on a train ride.
"If I get off on the next station, will you continue with the train?" he asked his son.
He was not pressing me at all," Björn says. "It was a question, and I said, 'Of course' because the only thing I know is to ride this train."
For the New York show, Björn, in an homage to the Manhattan skyline, is reprising Dieter's chocolate and sugar factory with two ceiling-high towers, one of Guittard chocolate, the other of rainbow-hued sugar crystal busts of Dieter with human, lion and sphinx heads. "The funny thing is that you can't use cheap chocolate, or it will break," says Björn, grabbing a handful of wafers. "There's not enough oil."
Anchoring the exhibition are two floors extracted in 1992 and 1998 from Roth's Mosfellsbaer, Iceland studio and the ever-expanding process piece "Large Table Ruin" —made from three-decades worth of drills, hammers, work tables, film, projectors,paints, beer bottles, and lamps and various installation tools. "It doesn't look like it, but it's a very chronological piece," says Björn, laughing. "This table is in high danger of getting glued. Though that would be sad because these are the spare bulbs for the projectors." And while the 128-screen video installation "Solo Scenes," a document of the last year of Dieter's life, speaks —like so many Rothian pieces — to impermanence, the bar, made of bits of machinery (and a harpoon) from and old Icelandic whaling factory, candle sculptures, and relics of the old Roxy, is intended to stay open for the life of the gallery.
"I've had carte blanche," says Björn of installing the show, conceding that this latest exhibition is rather spare compared to his first show with Hauser & Wirth in Zurich in 1998, a week before his father died. "It became a hangout for artists and all the guests were filmed," he recalls. "I remember Paul McCarthy and Jason Rhoades having fun there. Christopher Wool came with his father. Urs Fischer worked there as a bartender. At that time he a young artist and probably needed the money and possibly he liked to [bartend]."
The original bar — and subsequent iterations — were meant to function as a cosmos in itself. But just because it's a work of art doesn't mean that you won't be able to grab a drink. "Maybe we'll fly in a braumeister from Germany for the opening, but it has to be done in the right way," says Björn, pouring a second round of Jägermeister. "A lot of people try to make their own beer and it tastes like vomit."
But imbibers beware: the Hauser & Wirth saloon (and all its patrons) will be filmed. As will the opening: guests will be invited todrive remote controlled cars outfitted with cameras to make short, ankle-level videos. Adds Roth. "They make really great films."
Installation shots: © Dieter Roth Estate, courtesy Hauser & Wirth, photos: Bjarni Grímsson; Hauser & Wirth saloon: Diane Solway