Dior Uploaded Its 1949 Couture Show to YouTube
It's like "Phantom Thread," minus the mushrooms.
---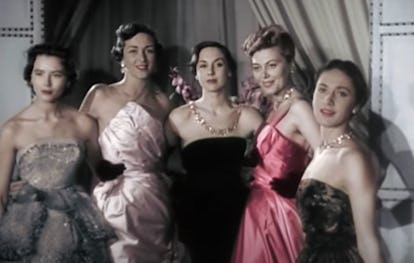 No one knows when we'll see anything resembling a normal fashion show again, but that doesn't mean we have to live in a total drought of beautiful things. The House of Dior went into the archives and pulled out a little-seen documentary short about the creation of their 1949 Haute Couture collection and put it up on YouTube, free for all to enjoy.
Clocking just shy of 14 minutes, the film titled simply Haute-Couture is narrated completely in French. Though, this is fashion, so the visuals alone tell you a lot of what you need to know. Featuring Monsieur Christian Dior himself, the film follows the designer through the process of sketching the collection, its creation in the famed atelier, model fittings, and ultimately, the runway show.
Back then, fashion shows weren't quite the celebrity-filled extravaganza they are today. That's not to say they didn't have their own glamorous charms. Held at Dior HQ, models casually make their way through rooms showing the house's latest creations before clientele. The elevated ash trays to accommodate guests' smoking really get us. We would not be surprised at all if Paul Thomas Anderson came across this footage when doing research for Phantom Thread.
1949 was a banner year for Dior. Two years removed from the blockbuster "New Look" collection, Dior was expanding worldwide into the fashion power player it is today. By that year it accounted for five percent of the total export revenue of all of France (this is pre-globalization, of course, but that's still quite a number).
Even just as something to put on in the background, the short should add a little bit of glamour to your day.