Dior Takes On Tokyo, While Harry Styles Confronts His Solo Career
Maria Grazia Chiuri will design a couture capsule collection celebrating the new Japanese boutique, and former One Direction member Harry Styles opens up for Rolling Stone.
---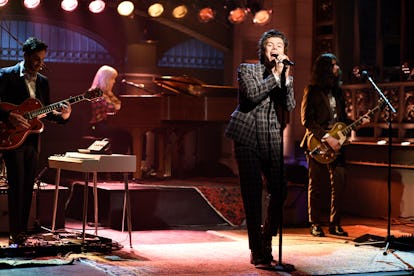 NBC/Getty Images
Blanchard, Rowan
The former Girl Meets World star and 15-year-old activist is a fan of Maggie Nelson, chocolate milkshakes, and thoughtful engagement with politics. In _Nylon'_s new cover story on the young actress, photographed by Gia Coppola, she opens up about being politically outspoken in real life and online and where her acting will take her from here. (So far, to the set of A Wrinkle in Time, shadowing none other than Ava Duvernay before joining the cast.)
Dior
Setting down roots in Japan. In celebration of the brand's new boutique opening in the Ginza district of Tokyo later this week, artistic director Maria Grazia Chiuri and menswear creative director Kris Van Assche will each present new collections in Tokyo — for womenswear, a small, Japan-specific couture collection, and for menswear, Dior's first-ever Pre-Fall show, which will be available in the boutique the next day.
Banks prepares for a magical Guggenheim gala, with Dior's Maria Grazia Chiuri playing the role of dark fairy godmother:
Hervey, Jillian
When the singer, songwriter, and dancer needs to feel powerful, she slips into her mom's silver sequined leotard. In the first of a series of videos in which fashion insiders discuss their most meaningful pieces, the woman behind Lion Babe explains how the leotard helped her come into her own.
Hutton, Lauren
At 73, Lauren Hutton is Calvin Klein's newest underwear model. Move over, Kendall Jenner.
Ossoff, Jon
When Congressman Tom Price was selected as Trump's Secretary of Health and Human Services, he vacated a seat in Georgia's Sixth District. Jon Ossoff, a documentary filmmaker and Democrat, stepped into the ring, facing off against several Republican contenders in a district that has not elected a Democrat since the late '70s. With 48.1 percent of the vote, Ossoff ended up just shy of the 50 percent margin required to win the seat; he'll face Republican frontrunner Karen Handel in a runoff this summer.
Richardson
Late-'90s erotica magazine. Still relevant.
Roberts, Julia
Most beautiful woman on earth. For the fifth time, because just one superlative just doesn't cut it for the Pretty Woman star.
Styles, Harry
After One Direction, one of the most visible boy-banders on the planet is breaking out on his own. Harry Styles opens up about his forthcoming self-titled debut album, life post-One D, and a few high-profile romances (looking at you, Taylor Swift), in a new interview with Rolling Stone emeritus and director Cameron Crowe.
Harry Styles' Fashion Style Evolution: See 32 of the Pop Star's Best Looks
Harry Styles attends the "DUNKIRK" premiere in New York City.

Getty
Harry Styles attends "Dunkirk" Premiere at Ocine on July 16, 2017 in Dunkerque, France.

Getty
Harry Styles attends the 'Dunkirk' World Premiere at Odeon Leicester Square on July 13, 2017 in London, England.

Getty
Promoting his new album, Styles wears a red plaid suit out in London.

Getty
Styles stays committed to Gucci in a logo sweatshirt while out in Paris in 2017.

Getty
Styles performs on NBC's "Today" at Rockefeller Plaza wearing a shocking pink suit.

Getty
Harry Styles performs "Sign of the Times" in a Gucci suit on Saturday Night Live.

Getty
Styles shows off his dramatic haircut, but keeps it classic in his fashion choices with a perfect fitting black suit and crisp white shirt.

Getty
For the BBC Music Awards, Styles wore black and white vertical striped pants and a black shirt. Here he is on the red carpet with his bandmates from One Direction.

Getty
Not ever afraid to take a risk on the red carpet, Styles wears a floral Gucci suit with wide-legged trousers.

Getty
Styles greets his adoring fans in a navy spring coat and gray jeans on his way into BBC Radio 2.

Getty
Fearlessly wearing a Gucci geometric print two-piece suit and black leather boots, Styles attended an event in London.

Getty
Styles wears a bold Saint Laurent bomber jacket to perform One Direction's latest single as part of Good Morning America's summer concert series.

Getty
Attending the Capital FM Summertime Ball with One Direction, Styles wears a chevron-printed shirt with a skinny scarf.

Getty
Styles attends the Glam Rock Christmas Party in London in a revealing black shirt and long, striped trousers.

Getty
Taking a major fashion risk on the red carpet, Styles wears a Lanvin striped suit and black boots.

Getty
Performing with One Direction at the 2014 American Music Awards, Styles wears a gold embellished jacket and low-rise jeans.

Getty
Styles, along with the other boys of One Direction, attend the Royal Variety Performance with the Royal family. Styles wears an animal print jacket over a black low-cut shirt.

Getty
Styles goes full rock-and-roll at LAX in all black jeans and t-shirt, accessorized with a blue scarf, wide-brimmed hat, and sunglasses.

Getty
At the launch for One Direction's fragrance, Styles wears a oversized plaid shirt, unbuttoned in his usual manner, tight jeans, and a large hat.

Getty
Seen out with friends (Hi, Ed Sheeran), Styles wears a Calvin Klein sweatshirt and a head scarf wrapped around his famous locks.

Getty
For the 2013 British Fashion Awards, the London megastar shows up in a sheer black shirt, blazer, and a scarf.

Getty
Styles wears a dark wool coat over an animal print shirt and black jeans at the Burberry Spring/Summer 2014 show.

Getty
For the World Premiere of One Direction This is Us, Styles wears a heart print Burberry shirt under a black suit.

Getty
Styles, showing off his tattoos in an unbuttoned shirt, and Miley Cyrus pose together backstage at the 2013 Teen Choice Awards.

Getty
Seen in Miami Beach to film a One Direction music video, Styles steps out in unbuttoned plaid shirt and a tan hat.

Getty
Styles gets buttoned up in a double-breasted suit and patterned shirt at a dinner in London.

Getty
Harry Styles' fashion for a 2012 taping of the Late Show With David Letterman with his band One Direction featured a monochromatic ensemble completed by leather moto boots.

Getty
True to the trends, Styles wears a blazer with pushed up sleeves over a gray shirt at BBC Radio 1 Teen Awards.

Getty
Styles goes casual with black jeans, a gray t-shirt and Converse while hanging out with Nick Grimshaw at the Shoreditch House in London.

Getty