THIS IS WHAT A FEMINIST LOOKS LIKE
Dior's Latest Campaign Has A Feminist Message
Maria Grazia Chiuri recruited photographer Brigitte Lacombe and twin models Ruth and May Bell to channel her ideas of modern feminity.
---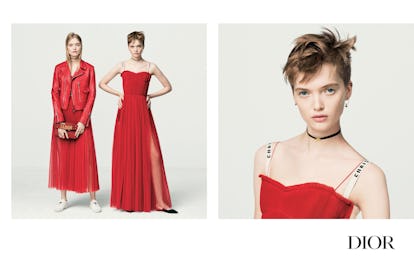 Maria Grazia Chiuri is the first female Artistic Director in Dior's 70-year history, and she's not shy about using her appointment to make a point.
When she unveiled her debut collection for the house in September she sent a model down the runway in a white t-shirt emblazoned with the words "We should all be feminists." Now, she's taking those girl power ethos even further with Dior's first advertising campaign under her purview.
Chiuri recruited French photographer Brigitte Lacombe to shoot the ads, which is in and of itself a message. Female fashion photographers aren't exactly unheard of (there are Ellen Von Unwerth, Annie Leibovitz and Inez van Lamsweerde of the duo Inez and Vinoodh, after all), but fashion photography is still very much a man's world. Lacombe has photographed everyone from President Obama to Iman, and her work has been featured in many a fashion publication but also news magazines like The New Yorker. Though she's shot a fragrance campaign for Dolce & Gabanna before, this is perhaps her biggest work to date on an advertising campaign.
Twin models Ruth and May Bell star in the campaign, and Chiuri intended for them to convey her sense of femininity.
Dior's Feminist Spring 2017 Campaign
"I strive to be attentive and open to the world and to create fashion that resembles the women of today. Fashion that corresponds to their changing needs, freed from the stereotypical categories of 'masculine/feminine,' 'young/ not so young,' 'reason/emotion,' which nonetheless also happen to be complementary aspects," said Chiuri of the aim of her first collection.
Indeed, the Bell sisters sport toned down nude makeup looks by Peter Philips, the creative and image director of Dior makeup, and are meant to convey the mix of "sporty agility with sensuality,"
"For the campaign [Chiuri] had decided on the models Ruth and May, twin sisters, with a particular feminine quality: delicate and solid, and of course with a strong bond as sisters," said Lacombe in a statement. "It made it very easy for me to relate to and to portray them."
Lacombe will not be the only female photographer that Chiuri champions at Dior. In fact, the campaign is the first introduction to a new Dior project entitled "The Women Behind the Lens." Other female photographers will also contribute to create "a body of photographic work made exclusively by women delivering their personal vision of the collection."