Totally DISsed
A post-internet art collective is out to remake the world in its own distorted image.
---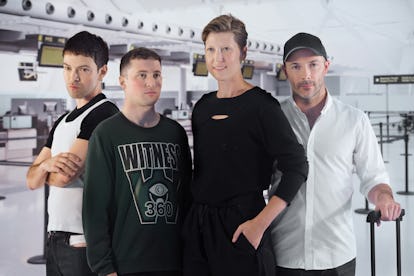 In the winter of2009, the artist Ryan Trecartin was living in Miami, in a house so overrun with energetic young friends—all of whom were working on and romping through his videos—that an RV had to be parked on the lawn, a tent pitched in the backyard, and mattresses lined up in the driveway to accommodate everyone. Among this happy extended family were Solomon Chase, 31, and David Toro, 35, two recent art school grads who, having seen their freelance work on fashion shoots dry up with the recession, were excitedly incubating, and talking up, their own publication, which they called, in a sort of defiance of everything else out there, DIS.
"I just assumed they meant a regular print magazine or PDF," recalls Trecartin, the poster boy for the current generation of artists reared on, and working in the patois of, the Internet. "I was like, Okay, whatever." But after receiving his first assignment for DIS, a fashion editorial in collaboration with Buntah, a coder, and modeled by virtual characters from the video game the Sims, Trecartin realized that Chase and Toro were thinking bigger. "They wanted to encourage transactions between people who have no reason to collaborate. They were bending the concept of what a magazine is."
DIS isn't, in fact, a magazine. What DIS is, however, remains open to question. It has been described by artists, critics, fans, and its own contributors as "a social network," "a wormhole," "a cultural reparations racket," "a kind of 21st-century end game of counterculture," and "an incredible hub of context invention." Artforum went so far as to suggest that the creators of DIS may one day prove to be "the most important artists of the decade." DIS is, or may turn out to be, all those things. But it might be simpler to think of it as a virtual incarnation of that overstuffed house in Miami—an online space where a bunch of like-minded cohorts can riff and egg one another on, which is how most important artistic movements tend to start.
On a hot afternoon this past July, the DIS team—Chase, Toro, along with cofounders Lauren Boyle, 31, and Marco Roso, 42, who are married—convened at an unassuming Chinatown bar near their office in New York. The collective, which had started out with seven members (Patrik Sandberg, S. Adrian Massey III, and Nick Scholl were also there at the beginning), was taking a breather from a hectic workday. Like almost every day for the past few years, the DIS crew was juggling five or six projects at once. Since launching Dismagazine.com, in 2010, with the Labor Issue, they have assumed multiple roles, acting as artists, retailers, image purveyors, and marketing creatives, sometimes simultaneously. Last year, they were tapped to be curators of the 2016 Berlin Biennale, an honor usually reserved for those who are already well established in the institutionalized art world. "People who know us from the magazine, which has a youthful facade, think we're going to be younger," Chase says. "With the biennial, it's the opposite: People expect older. "
The core members of DIS are, in fact, all over 30, but they have a youthful mind-set, stimulated by their many contributors, who include forward-thinkers like the designers Telfar Clemens and Hood by Air's Shayne Oliver , as well as the artists Josh Kline and Simon Denny. "There are so many people involved that we say the magazine has a revolving cast," Chase says. More than merely a culture nanny, DIS has cultivated a strong artistic vision, blithely merging the worlds of art and fashion with mass media and commerce. (If DIS has a patron saint, it might very well be Kim Kardashian; it even staged a Kim look-alike contest at Art Basel Miami Beach, in 2011.) Last year it opened DISown, a temporary retail installation at the Red Bull Studios, in New York. "'DISown—Not for Everyone,' is an exhibition posing as a retail store," the press release cautioned. "Or maybe it's the other way around. As Karl Lagerfeld for H&M is a diffusion line for fashion, DISown is a diffusion line for art."
Inside the bright white pop-up shop—a mini–department store, really—there was a feeling of familiarity coupled with a discomfiting sense of the uncanny. There were furnishings (a beanbag by the artist Bjarne Melgaard); unisex clothing (a sweatshirt by Trecartin, jeans by the artist Korakrit Arunanondchai); home wares (Hood by Air salad bowl, anyone?); even a branded shopping bag not unlike Ikea's famous blue Frakta carry­all, only this version came in white, with the DIS logo. Many artists, when approached by a mass brand like Red Bull, might seek to downplay the association as much as possible, but DIS embraced it enthusiastically. "We wanted to do something as commercial as the space," Chase says. "Using existing aesthetics and structures, only for another purpose—that's the definition of all our different platforms." Or, as Roso broke it down, it was "an attempt to connect a critical thought with Ikea."
DIS is not the first group of artists to apply critical thought to mass commerce; it was also an obsession of spiritual predecessors like the pre-Internet artist collective Bernadette Corporation. But what makes DIS radical is how it interprets those thoughts into the language of retail, throws in a flair for service and utility, and pushes Internet buttons (click-bait images, LOLs) to create something you might want to consume on an everyday basis. Regarding DIS's contribution to the New Museum's recent triennial—a kitchen island that doubled as a bath, created in collaboration with Dornbracht, a high-end German manufacturer of bathroom and kitchen fixtures—Trecartin, who co-curated the exhibition, says, "It exists as a design object but has a functional utility. It's a poetic merger of ideas." The piece was installed, appropriately enough, in the lobby, next to the museum shop.
With DIS, every idea, no matter how esoteric, becomes accessible, humorous, and immediate. The video installation it created for "ProBio," a 2013 exhibition at New York's MoMA PS1 curated by Kline, starred three very pregnant women who caressed their swollen bellies under gauzy lighting, while a soothing voice-over proclaimed, "The world is waiting/For someone/The next artist/The next genius/The next legend/The world is waiting for something/To fill their white cubes…" A critique of the art world's preoccupation with youth, the piece was called Emerging Artist. And at the closing party for Trecartin's 2011 "Any Ever" exhibition at MoMA PS1, DIS sent out models sheathed in full-body zentai suits covered with the logos for Apple, Vita Coco, Kmart, Under Armour, Target, Whole Foods, and, of course, DIS. It was the punch line to a joke about the banality of step-and-repeats, and unabashed corporate sponsorship, but also a brilliant opportunity for self-promotion.
That same year, DIS created another franchise, DISimages, a stock agency like Getty—except, of course, weirder. (Boyle has expressed the desire to create a stock image to represent "the public apology," so that the next time a shamed politician has to make a speech, DISimages will be prepared.) "DIS images are shot in a very generic style, but they are also very confrontational," says Roxana Marcoci, a senior curator at the Museum of ­Modern Art (MoMA) who has included DIS among the 19 artists and collectives in "Ocean of Images: New Photography 2015," which opens in November. "The pictures are odd; they're unsettling; they provoke in ways that make you look twice."
DIS is participating in the MoMA show in more ways than one. The museum has commissioned the collective to create the publicity campaign as well. Shortly after our meeting, Roso flew to Vienna to shoot Conchita Wurst, the Austrian singer and drag queen who became famous overnight after winning Eurovision 2014. Wurst will feature heavily in the ads, a new symbol of what Marcoci calls "the age of the image"—someone whose work you may not know but whose face you have definitely seen.
Despite its appropriation of a commercial aesthetic, DIS's main demographic is still a subsection of art world observers who get the conceptual joke. It will be interesting, therefore, to see just how popular DIS can make the Berlin Biennale. The collective is aiming directly at the masses and, to that end, plans to strategically install artwork in hugely trafficked, touristy public spaces all over the city: soccer stadiums, shopping malls, corporate headquarters, memorial sites. DIS has commissioned the Prancing Elites, a male cheerleading squad from Alabama that has a reality show on Oxygen, to get the word out on the streets of Berlin next summer, and has recruited an old friend, the DJ Ashland Mines (who was in that house in Miami in 2009, during DIS's infancy), to create an album of anthems that will be the Biennale's de facto soundtrack. Says Boyle, disarmingly, "What if you could get a biennial stuck in your head?"
A DIS portrait, with David Toro, Solomon Chase, Lauren Boyle, Marco Roso. Portrait by Logan Hackson.
Hood by Air salad bowl, for DISown. Courtesy of DIS.
"Shoe layering," a DIStaste style option. Courtesy of DIS.
Shoulder Dysmorphia, a "style suggestion". Courtesy of DIS.
Simon Fujiwara's Gay Wedding Ring, for DISown. Courtesy of DIS.
"Competing Images," a 2012 photo project. Courtesy of DIS.
The Island (KEN), an installation at the New Museum 2015 Triennial. Courtesy of DIS.
A still from Emerging Artist, 2013. Courtesy of DIS.
An intentionally watermarked image from the MoMA "New Photography 2015" show. Courtesy of DIS.
Hair by Braydon Nelson at Julian Watson Agency; Makeup by Kat Reyes for Chanel; photography assistant: Tim Schutsky.