Gone, Baby, Gone
When a favorite lipstick or shampoo disappears from shelves, beauty addicts take desperate measures.
---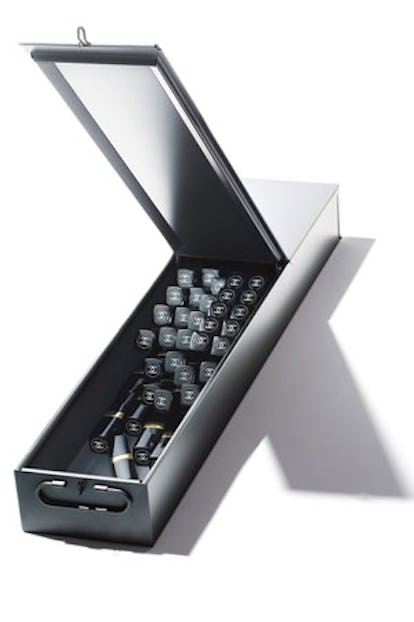 When Jamee Gregory's favorite shade of nail polish, Chanel Rose Baby, was discontinued five years ago, the socialite and author tried to be a good sport about it. She bought every remaining bottle she could find and, once she'd worked through them, began experimenting with some of the brand's other hues. But her quest to find a new color came up short; a white shade "turned yellow in the sun," Gregory says, while she decided Black Satin was "fun on the toes, tiresome on the hands." Before long she developed a serious yearning for her old standby. "It's truly an addiction," she admits, "and I had gotten my mother hooked on it too!" So Gregory did what any Park Avenue princess worth her Birkin would when faced with such a desperate situation: She called the boss, fellow benefit-scene regular Arie Kopelman, then president of Chanel. And what did she learn? That not even groveling to the man in charge could revive her precious polish from the cosmetics graveyard. The best Kopelman could do was send her a measly four bottles. Says Gregory: "Now it's a lost cause."
Just about any beauty junkie can relate to the experience. After years, even decades, of devotion to a product, you head to the store for a refill and find it missing from the shelves. There are many perfectly logical reasons for such discontinuations: Colors go out of fashion; technology improves, prompting changes in formulations; the rest of the populace doesn't share your passion for a particular item, so it's just not selling; sometimes an entire brand goes out of business. But logic is cold comfort when you find yourself deprived of, say, the only hair serum that ever rid your ringlets of frizz. And because most women don't have a direct line to the president of Chanel, they develop other strategies for coping with their losses.
My own attack of product-separation anxiety was triggered by the disappearance of Helmut Lang Cuiron Pour Homme cologne. Just months after I co-opted the meant-for-men scent from my husband, the label decided to get out of the fragrance business. Once I finished our one and only vial, I took to wandering longingly past the now shuttered Lang perfume store on Greene Street in New York's SoHo, remembering a time when the shop brimmed with bottles of the leathery elixir. Finally, I discovered that a few shady-sounding online retailers with names like Perfumes 4 U still stocked the juice, and I loaded up. I have four bottles left, enabling me to accept my fragrance fate slowly.
Sadly, New York public relations executive Lauren Branche didn't have the luxury of time. Four years ago she went to the Chanel counter looking for the peachy-nude lipstick she'd been wearing since her teens and was told she was out of luck. Unwilling to admit defeat, Branche wasted much of her subsequent vacation in Saint Martin and Martinique combing through cosmetics shops in search of the ultraflattering tone. "I skipped the excursions and beaches and went shopping," she recalls. "But I never found it again." In fact she has yet to find any lipstick—Chanel or otherwise—that compares to her old favorite. Lately she's taken to mixing foundation (she prefers Jane Iredale's Amazing Base) with clear lip gloss to mimic the effect. "It isn't the nude that I fell in love with, but it does the trick," she says with a sigh.
Christine Dagousset, Chanel's executive vice president of fragrance and beauty, says such tales of woe are never far from her mind when she's making the decision to eliminate a makeup shade—though she still manages to put the kibosh on about 40 hues every year. "We anticipate [upset customers], so we always come up with a new shade to replace colors that aren't fashionable anymore and communicate the suggested replacement to beauty counters so they can advise their customers," she says. Discontinued products are turned over to charitable organizations like Look Good…Feel Better and to the company store, where only Chanel employees can buy them. "If they're not sold there, then they're destroyed," says Dagousset.
The mere thought of the products they're so desperate to get their hands on—or get on their hands, in Gregory's case—being thrown in the trash is enough to make some devotees of the discontinued tear up. Take Mary Bonanno, a home-product design executive from Manhattan. Her drugstore love, Coty Stop It! Anti-Feathering Stick, a lipstick primer, used to be available for the price of a venti mocha Frappuccino at Starbucks—until 2004, when Coty stopped manufacturing cosmetics. "There was never bleeding or smudging, and your lips would never dry out," Bonanno recalls. "I've tried to find a replacement, oblivious to price points, but nothing compares to that thin white tube with the little red stop sign that was always by my side."
Indeed, an exclusive price and glitzy packaging are not prerequisites for product obsession. Socialite Helen Schifter bought four dozen bottles of Vidal Sassoon's Moisture Rich shampoo and conditioner almost a decade ago, after she noticed them dwindling from shelves. She stores the booty at her Sagaponack, New York, country house, transporting a bottle to Manhattan when needed. "Sometimes they get warped or distressed, maybe from age, and the products need to be 'rebooted' into new containers," she says. "It's crazy, but the formula still rocks." Because she has only one bottle left, Schifter saves her stash for special occasions. "I ration it out depending on the weather," she explains. "If it's a very humid day and I'm going to wear my hair straight, I'll use it, but I'll pump sparingly."
And sparingly is also the name of the game for hairstylist David Evangelista when it comes to L'Oréal Professionnel Tecni.art hairspray, which was discontinued in the U.S. more than five years ago. He keeps his last two canisters under lock and key in the salon, reserving them for celebrity clients like Eva Longoria Parker. "I'll tell my assistant, 'Go get the can,'" he says. "You can't show it to anyone because they'll start running to your station." Though he's achieved a similar result with L'Oréal Professionnel Texture Expert Infinium 4, he points out "bigger and better isn't always the best. Look at Hellmann's mayonnaise! It's been the same for how many years? And it's still great."
Evangelista and Schifter are members of a particularly tragic subset of discontinued product addicts, those obsessed with bygone hair-care formulations. Short of earning a chemistry degree and opening their own labs, they have little chance of re-creating their spritzes and rinses of choice. Happily for those fixated on a fragrance or a makeup shade, customized perfume and cosmetics companies like Three Custom Color Specialists, Giella and Sarah Horowitz Parfums can provide some hope. And Sephora's new in-store Scentsa Fragrance Finder computers, which can access a database of more than 5,000 scents, will recognize discontinued fragrances and recommend similar blends. Still, no matter how close the match, the truly attached have a unifying complaint: It's not exactly the same. With that in mind, the experts from Studio at Fred Segal's Memoire Liquide Bespoke Perfumery try to capture a scent's essence instead of aiming for a carbon copy. "We prefer to compose something in the spirit of the scent that conjures a strong memory of the former favorite but leaves room for new associations," says Robin Coe-Hutshing, founder and creative director of Studio at Fred Segal.
But unfortunately for Gregory, they don't do nail polish—and she has only three bottles of Rose Baby left. "I have them stored in my refrigerator," she says. "And my mother is down to her last bottle. I don't know if I'm a devoted enough daughter to sacrifice one of mine."