Discover Mateo Harris, Rihanna's Go-To Jeweler in the Heart of Nolita
The pop icon's favorite jeweler opens his first shop in New York, a "little maison in the heart of downtown."
---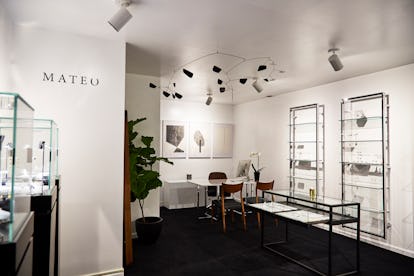 When Rihanna needed jewelry for an upcoming trip to the Middle East and then Barbados, she and her stylist Jahleel Weaver turned to jewelrer Mateo Harris, whose sleek and elegant pieces are minimal yet make a strong statement. And now, on a charming street in New York's Nolita, he offers his full range of pieces, for both men and women. "I love having a physical store as you never truly know who is buying your creations via the web. We have had customers who we did not think we catered too. But each day we are surprised," the Jamaican-born designer said. "Opening our flagship store is a monumental moment. It is our little maison in the heart of downtown."
Tribes Jewelry lovers who visit Nolita for its great jewelry shops like Broken English and Love Adorned. Visitors and locals alike who appreciate Nolita's charm and local spots. Men and women of all ages. "I sold several pieces to the most lovely couple from San Francisco," Harris said. "They have been together for 39 years. I believe we are attracting people that truly love beautiful jewelry and appreciate art and simplicity." Fans of the Brand Rihanna. Enough said.
The Mix For the first time, Harris can display both the men's and women's collection side by side. "The juxtaposition of both collection works beautifully and in harmony," he said. "While the woman is shopping for the perfect piece, her boyfriend is for sure not bored as he is finding his personal treasures from our mens collection." There are 14-karat Gold and diamond earrings, necklaces, and bracelets for women, as well as some gemstone pieces. Sterling Silver is offered for men.
Best-Sellers Earrings, hands down. The graduated pearl earrings, diamond hoops, and half moon diamond hoops are best sellers, and our geometric shape studs with and without diamonds. For men, the B1 bracelet, anchor leather bracelets and razor blade bracelets are favorites.
Prices For women, $150 – $750 in 14-karat gold and diamonds. For men, prices begin at $45 and go up to $500 for solid sterling silver bracelets.
Pièce de Résistance The Alexander Calder inspired mobile installation in the boutique.
For those who wish to shop from home Mateonewyork.com
'Tis the Season…to Break Out Colorful Jewels for the Holiday
Photo: Matthew Priestley, styled by Caroline Grosso. Produced by Biel Parklee. Hair by Blake Erik at Jed Root Inc, makeup by Joshua Ristaino for TheOnly.Agency. Digital Technician: Evan Browning. Fashion Assistant: Alexandra Pastore.
Gucci, GucciGhost Sterling Silver Rainbow Pendant, $180, barneys.com
Hailee Steinfeld Danced All Night on Her 18th Birthday