Disney's The Nutcracker and the Four Realms Trailer Debuts
It's got intense drama and intense wigs.
---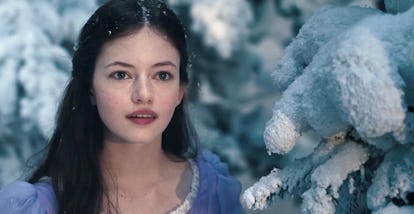 Walt Disney Pictures
2017 may be the last time you'll think of The Nutcracker simply as a sweet, sugar plum–filled ballet put on every year by your local K-12 ballet studios during the holiday season. The first trailer for The Nutcracker and the Four Realms, Disney's live-action film adaptation of the famous ballet, dropped on Tuesday morning, and now you may think of it as a dark fantasy epic set in a strange land full of people in amazing wigs.
The trailer starts much like the traditional ballet: Clara's family is having a huge Christmas Eve party in their mansion when Clara's godfather Drosselmeyer (played by Morgan Freeman, in a wig that extends into an exaggerated beard) gives Clara (Interstellar's Mackenzie Foy) the end of a golden thread zigzagging across the house. In a Narnia-esque twist, however, when she reaches the end of the thread, Clara steps into a snowy new world. Once there, she comes across the Rat King and his soldiers, is whisked away by the Sugar Plum Fairy (Keira Knightley, in a pink wig that, appropriately, calls to mind Cotten candy), and gets to watch a performance by IRL ballet superstar Misty Copeland, in a white wig situation we sadly don't get enough time to view.
But the four realms don't only contain kind fairies and American Ballet Theatre principal dancers. The trailer also shows a collapsing carousel, countless soldiers preparing for battle, and, most frightening of all, Helen Mirren as the evil villainess Mother Ginger, who is shown only briefly and unleashes a pack of mice to do her bidding. She too, of course, is wigged in the form of a Heat Miser-esque red hairpiece.
According to Entertainment Weekly, Clara is traveling through the four mystical worlds—the Land of Snowflakes, Land of Flowers, Land of Sweets, and creatively titled Fourth Realm, where Mother Ginger resides—on the hunt for a magical key that will unlock a gift from her late mother. Of her evil character, Mirren told EW, "She's a fierce character with a modern edge." She added, "Pretending to be in these imaginative worlds, it's why I wanted to become an actress. It's my dream come true, really."
The film is set for release on November 2nd, 2018. In the meantime, be sure to review the trailer at least ten times to spot all the amazing wigs on the background actors.
The Beautiful Ballerinas of Instagram