Why Misty Copeland's New Estée Lauder Deal Is Such an Important Moment in Beauty
The American Ballet Theater star is the first dancer-spokesmodel in Estée Lauder's history.
---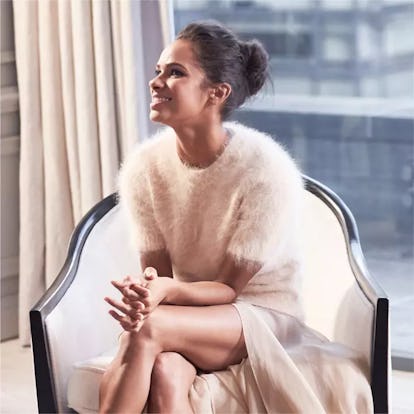 Courtesy Estée Lauder
Misty Copeland, the American Ballet Theater star who happens to also be its first woman of color to be elevated to principal dancer, has landed a contract with Under Armour. She's signed an endorsement deal with Diet Dr. Pepper. She has represented Coach and Seiko.
But on Monday, she may have scored the most important endorsement deal of all when Estée Lauder announced Copeland would be the new face of its Modern Muse fragrance, Copeland's first beauty contract and the latest development in the fashion and beauty world's quiet embrace of ballet.
Estée Lauder debuted Copeland's new role with a short campaign video in which Copeland speaks of how she has broken new ground for women—and especially women of color—throughout her career. "I can only hope that my life inspires other women to change the world," she says, "in their own way."
In an accompanying interview, Copeland discusses how dancing has made her disciplined, confident, and determined, and how even non-dancers can embrace these principles. At the same time, Estée Lauder gets to reap the benefits of casting a non-white, non-supermodel face of its fragrance who happens to be a supremely gifted performer—she is, if you will, the anti-Kylie Jenner.
Modern Muse launched in 2013, and it's previously been represented by the likes of Kendall Jenner and Arizona Muse. As the New York Times pointed out, such contracts with major fashion and beauty brands, involving multi-year partnerships and massive campaigns, are often offered to supermodels and actresses—but Copeland, according to Estée Lauder, is the first dancer to serve as spokesmodel for one of its products.
Leaving aside its pseudo-empowering messaging—instructing women, yet again, that this product is finally the one that will offer them the confidence they're sorely lacking—it reflects the increasing social capital (and especially social media capital) of dancers, many of whom maintain strong Instagram presences and offer followers an insider's perspective on the ballet world. She's no Jenner, but Copeland has a stunning 1.4 million followers on Instagram who are not all following her for her backstage insights. She's also been the subject of a documentary, written a memoir, appeared in a Prince video, become involved in nonprofits, and spoken out on issues of social justice: Earlier this year, she criticized Under Armour chief executive Kevin Plank's pro-Trump statements, prompting Plank to distance himself from his earlier remarks.
And while Copeland is certainly a pioneer in that regard, earning the kinds of endorsement contracts that have placed her alongside the likes of basketball star Steph Curry and golfer Jordan Spieth, the fashion world has increasingly allied itself with ballet in other regards, too. For several years, the New York City Ballet has worked with various fashion houses to outfit its season-opening gala; previous collaborators include Valentino Garavani, Dries Van Noten, Marques'Almeida, and Humberto Leon and Carol Lim of both Kenzo and Opening Ceremony.
Choreographer Justin Peck is a regular collaborator with Leon; Opening Ceremony staged a ballet in lieu of a traditional Spring 2017 show earlier this year. This year, Monse, Tsumori Chisato, Off-White, and Jonathan Saunders for Diane Von Furstenberg will do the honors. Joffrey Ballet star Fabrice Calmels made an auspicious modeling debut alongside Karlie Kloss in Versace's Fall 2016 campaign. Copeland's American Ballet Theater peer Coco Lavine appeared in a 2016 campaign for Chanel fine jewelry, and David Hallberg, another ABT star, is part of the new Tiffany & Co. campaign that stars Zoë Kravitz.
Ballet has been perceived by many as a stale art, one bound by so many formal conventions that it has only limped into the 21st century. Yet its stars are wholly contemporary athletes and celebrities. Copeland has refused to accept ballet's notoriously homogeneous conventions, setting a different beauty standard for both dancers and campaign models.
Playing A to Z with Fabrice Calmels, Joffrey Ballet star, model, and the world's tallest dancer: