Amid Outcry Over Refugee Ban, Opening Ceremony Stages a Ballet Celebration of Immigrants
As protests against Trump's refugee ban played out all over the country, Opening Ceremony and New York City Ballet's resident choreographer and dancer Justin Peck staged a different kind of demonstration at Lincoln Center. "It was about empowering," Humberto Leon said.
---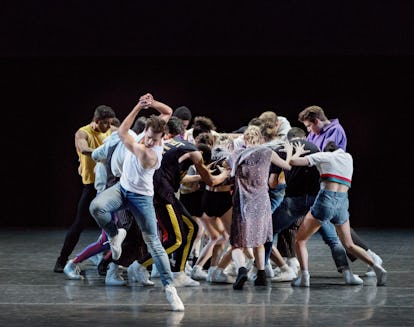 Paul Kolnik
In September, Opening Ceremony designers Carol Lim and Humberto Leon staged a politically charged pageant at the Javits Center, where hosts Carrie Brownstein and Fred Armisen emceed a lineup that also included actress and activist Rowan Blanchard, Whoopi Goldberg, Aubrey Plaza, and comedian Ali Wong, who each stepped on stage with playful, yet ultimately serious meditations on the social and political crises facing the United States. And that was before the election of Donald J. Trump. Amid it all, the brand also showed its Fall II 2016 collection, its first on-season collection, which was inspired in part by the immigrant experience and old portraits of immigrants entering the United States through Ellis Island.
The crises that gave shape to last season's show have only grown more urgent in the ensuing four months, lending contour to the brand's latest project—a collaboration with the New York City Ballet's resident choreographer Justin Peck, whose new piece "The Times Are Racing" was costumed by Leon and scored by Baltimore-based electronic musician Dan Deacon's four-part opus, "America." The ballet made its debut on Thursday night but by the second show on Saturday night at the David H. Koch theater, it took on a new resonance against an altogether different and disturbing political backdrop.
On Friday afternoon, Trump signed an executive order prohibiting entry to the United States from seven predominantly Muslim countries—Iran, Iraq, Syria, Yemen, Somalia, Sudan, and Libya. The refugee ban trapped many arrivals at the airport and left many more fearing the deportation back to their own, oftentimes repressive, home countries. However, it led to a fresh new wave of protests at airports around the country, including New York's own John F. Kennedy International, where crowds gathered outside Terminal 4 to protest at the same time as Peck's own theatrical demonstration was playing out at Lincoln Center just eight miles away.
"The Times Are Racing" is both a thrilling piece in its own right and a first glimpse of the new Opening Ceremony Spring 2017 collection, "the second part of this idea of journeys of our parents and then our journey as Americans," Lim said after the performance. (The collection launched on the Opening Ceremony website Sunday, in advance of New York Fashion Week.)
"Our parents are first-generation immigrants—we're second-generation," Leon said, gesturing to his design partner. "We were thinking about that this whole time anyways—I think that this piece is so much more meaningful to us now."
The Ellis Island inspirations were still there, in trench coats and quintessentially American textiles like denim. The dancers, sprinting across the stage in white-soled sneakers and t-shirts that read "Act," "Defy," "Protest," "Shout," and "Change," seemed to reflect a bold, explicit commitment to action—"there's a reality to the whole thing," Leon said. More abstractly, it's also all about movement—movement from nation to nation, movement of bodies, even, perhaps, political movements.
Politically-inspired though they may be, Lim and Leon also weaved a fantasy world into the collection—several pieces adapt the work of W.W. Denslow, an illustrator and frequent collaborator of Wizard of Oz writer L. Frank Baum, into whimsical printed kimonos; delicate floral patterns adorn dresses, skirts, and tops. Leon's costumes don't map directly onto the Spring collection, but there's a "succinct" dialogue between the two projects, Lim explained.
The design duo has a knack for scheduling—Opening Ceremony's Fall II 2016 collection debuted on the 15th anniversary of the World Trade Center terror attacks that rocked New York in 2001; the dance party-slash-runway show that launched Kenzo's collaboration with H&M kicked off on the night of the last presidential debate before the Nov. 8 election; and the Spring 2017 Opening Ceremony show, a collaboration with the New York City Ballet, took place one week after Donald Trump took the oath of office. These dates are no accident; just as Leon noted last season that they knew Fall 2016 would show on the anniversary of Sept. 11, he explained on Saturday, they knew Spring 2017 would show with the ballet just days after the inauguration.
"First it was this idea of celebrating our journey and being American; the dialogue started changing as we were experiencing things real-time," Lim said.
"It was about empowering," Leon added. Then, he turned back to the ballet. "These are all amazing kids on stage."
Solange Knowles, Dev Hynes and More Take in Opening Ceremony's Ballet
Carol Lim and Humberto Leon of Opening Ceremony at the New York City Ballet's "The Times Are Racing."

Maggie Shannon; courtesy Opening Ceremony
Maggie Gyllenhaal at the New York City Ballet and Opening Ceremony's "The Times Are Racing."

Maggie Shannon; courtesy Opening Ceremony
Tiler Peck in "The Times Are Racing."

Paul Kolnik; courtesy New York City Ballet
Carol Lim, Dev Hynes, and Humberto Leon at the New York City Ballet and Opening Ceremony's "The Times Are Racing."

Maggie Shannon; courtesy Opening Ceremony
Carol Lim, Humberto Leon, Claire Danes, and Hugh Dancy at the New York City Ballet and Opening Ceremony's "The Times Are Racing."

Maggie Shannon; courtesy Opening Ceremony
Robert Fairchild in "The Times Are Racing."

Paul Kolnik; courtesy New York City Ballet
Justin Peck and Robert Fairchild in "The Times Are Racing."

Paul Kolnik; courtesy New York City Ballet
Gretchen Smith in "The Times Are Racing."

Paul Kolnik; courtesy New York City Ballet
See W's most popular videos: