The Dixie Chicks Have Changed Their Name to "The Chicks"
Ahead of dropping their first album in 14 years, the trio is cutting ties with the nickname for the Civil War-era South.
---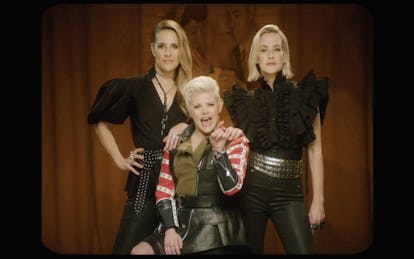 Courtesy of YouTube
The Dixie Chicks have been known as one of the most progressive acts in country music since at least 2003, when the genre essentially disowned them for taking a stand against the Iraq War and then-president George W. Bush. The irony, as Jeremy Helligar pointed out in an op-ed for Variety last week, is that the trio did so while performing under a name in line with the racism of the Bush administration: "Dixie" is an age-old nickname for the Civil War-era South. Or, as Helligar put it, "the epitome of white America, a celebration of a Southern tradition that is indivisible from Black slaves and those grand plantations where they were forced to toil for free."
The band's four original members—which include two of the current trio, Emily Strayer and Martie Maguire—took the name "Dixie Chicks" from Dixie Chicken, a 1973 album by Little Feat. The original reference wasn't explicitly political. But amidst demands that they cut ties with the word's legacy, Strayer, Maguire, and lead singer Natalie Maines have officially changed the band's name to a shortened version fans have called them for years: "The Chicks."
Neither Maines, Strayer, nor Maguire have directly addressed the change, but the latter two have updated their Instagram bios. The band's official website, which bears the slogan "we want to meet this moment" above all three of its members' signatures, has also been updated. So has its merch section, which now hosts an altered version of the Gaslighter t-shirts, hoodies, and onesies they dropped just last month.
Still, the Chicks made their politics clear in another way on Thursday: They released the third single from Gaslighter, the band's first album in 14 years set to drop July 17. The music video for "March March," which they've been promoting with the quote "if your voice held no power, they wouldn't try to silence you," features archival footage of protests in support of LGBTQ+ rights, gun control, and the ERA, as well as against climate change and the Iraq and Vietnam wars.
A significant portion of the video is devoted to the Black Lives Matter movement, featuring scenes from protests that took place just this month. For more than a minute, the names of more than 100 Black victims of police killings—including George Floyd, Breonna Taylor, Sandra Bland, and Amadou Diallo—flash across the screen, preceded by the hashtag "#EndWhiteSilence" and a sign that reads "Say Their Names." The vide ends with links to a dozen nonprofits also found in its YouTube page description, including Black Lives Matter, Planned Parenthood, March for Our Lives, White People for Black Lives, the Innocence Project, and the ACLU.
If segments of the Chicks's fanbase is anything like it was circa 2003, there's a good chance they won't be pleased. But at least their name change has gone over more smoothly than that of Lady Antebellum, which proceeded with its rebrand to Lady A despite learning that it already belonged to a veteran Black singer. "A sincere and heartfelt thank you goes out to 'The Chicks' of NZ for their gracious gesture in allowing us to share their name," Maines, Strayer, and Maguire said in a statement. "We are honored to co-exist together in the world with these exceptionally talented sisters. Chicks Rock!"
Related: The Black Trans Lives Matter Rally in Brooklyn Drew Thousands