Four DIY Hair Masks to Remedy Dry Locks at Home This Winter
We turned to four esteemed hair experts—who've worked with Bella Hadid, Hailey Bieber, Reese Witherspoon, and more—for their secret recipes.
---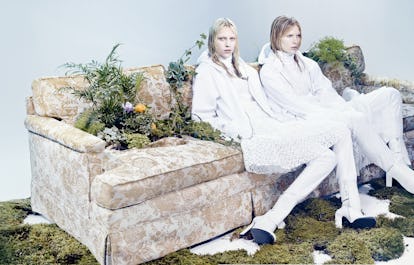 Craig McDean
If you're experiencing dull, listless hair in these colder months, you're not alone. A seesaw of temperature shifts—from the frigid temperatures outside to the dehydrating elements of indoor heating—contributes to uneven moisture balance. And without protection, these environmental elements dry out the hair, causing it to become lifeless, and frankly, uncooperative. The smartest route is to remedy your hair with weekly moisturizing treatments; these solutions don't need to be too complicated, nor must they be excessively expensive.
We turned to four esteemed hair experts to give us their easiest and most hydrating DIY hair masks using the simplest, cleanest items we have at home. These hair pros share their recommendations (leaving out the coconut or castor oil trends this time) to help give your hair some life and vibrancy this winter.
Lorri Goddard
Collagen, Egg, Honey, and Olive Oil Hair Mask
"I like avocado in this mask because it's rich in vitamins and has natural oils for the hair to absorb. Raw egg is a super nutrient for strands, and honey has natural humectants for moisturizing. It is very hydrating. Olive oil is added because it will soften hair, help provide shine, and provide nourishment for tresses. Lastly, the collagen will help strengthen your hair and reduce your split ends."
Instructions:
In a small blender or NutriBullet, combine one raw egg yolk, one cup of honey, two tablespoons of olive oil (you can substitute with avocado oil or sunflower oil), the meat of two small or medium very ripe avocados, and one heaping tablespoon of your favorite collagen powder. Mix until smooth. Apply this mixture from the scalp through hair ends. Start of the nape of your neck and then apply mixture towards your hairline using 1-inch sections until hair and scalp are saturated. Apply a plastic bag or a shower cap. If you would like better absorption, you can always hop into a hot bath with your favorite cup of herbal tea, giving a nourishing self-care, spa-like feel to your hair mask. Allow to absorb at least 30 minutes, then rinse your hair until all the dry product is out. Follow with shampoo and use a detangling conditioner.
Ted Gibson
Banana Honey Egg Mask
"This is a reviving hair mask that restores luster, moisture, and gives a lot of shine to hair. The raw egg provides nourishment to the scalp and locks, while the honey gives additional moisture to dry hair follicles. Banana is especially amazing for hair because it's rich in potassium, so it protects against breakage. The natural oils from the banana are also great for the scalp and help prevent dandruff."
Instructions:
Take one ripe banana, one tablespoon of raw honey, and one raw egg and combine well. Use from root to tip on hair and leave on for 20 minutes.
Clients: Kristen Stewart, Charlize Theron, Jennifer Garner
Pumpkin Honey Hair Mask
"One of my favorite at-home hair masks for the holidays is a pumpkin and honey hair mask. If you are looking to make a hair mask at home and you have leftover ingredients from your pumpkin pie, this is the perfect combo. This hair mask is rich in vitamins A and C, and is super moisturizing to the hair. That said, if you're looking for real science that will strengthen your hair, use Virtue Restorative Treatment Mask."
Instructions:
Take ¼ cup canned pumpkin puree (or raw pumpkin), one to two tablespoons of honey, one tablespoon of avocado oil, a couple drops of your favorite essential oil, and mix. Distribute through strands and leave in for 20 minutes.
Alex Brown
Clients: Kendall Jenner, Hailey Baldwin, Bella Hadid
Greek Yogurt, Honey, Egg, and Avocado Hair Mask
"Avocado is rich in vitamins B and E, which help nourish the scalp and the hair, while honey stimulates hair growth and fights frizz. I add a raw egg to soften and moisturize the hair follicles and help with shine. Finally, the most essential element: Greek yogurt is packed with protein that your hair absorbs to stay strong and healthy. The fat also conditions the strands."
Instructions:
Combine equal parts of the ingredients into a blender or food processor and apply to your hair from scalp to ends, taking small sections to properly saturate your hair. Cover with a plastic cap and leave on for 15-20 minutes. Gently shampoo the mask out and feel how soft and healthy your hair is.
Related: The 5 Best New Treatments for Damaged, Overprocessed Hair