DJ D-Nice Envisions the Future of Club Quarantine
After creating a weekly Instagram event that attracts the likes of Rihanna, Drake, J. Lo, and Michelle Obama, DJ D-Nice aims to take Club Quarantine on the road—when it's safe to do so.
---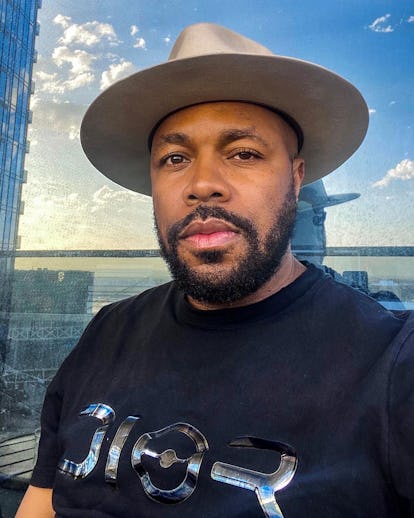 A number of philosophical questions have emerged as a result of the coronavirus pandemic: How will we feel, congregating with people in the future? What will work look like when all this is done? The overarching unknown hovering above these questions is whether the world will be the same once things have settled. It's a somewhat frightening thought, but for DJ D-Nice—the DJ and hip-hop musician who came up in the '80s, and who recently regained huge notoriety through his Instagram Live series, Club Quarantine—the idea of change might not necessarily be a negative thing.
"I learned a lot through this experience," D-Nice said over the phone last week from his home in Los Angeles. "And honestly, I don't believe I could ever go back to what I was doing in the past."
D-Nice, a Bronx, New York native whose given name is Derrick Jones, cut his teeth in the emerging hip-hop world of the mid 1980s as a member of the group Boogie Down Productions with KRS-One, the producer Lee Smith, and Scott La Rock. He released a couple of solo albums before the group split in 1992. Since then, D-Nice settled into his niche as a party DJ and celebrity photographer; he DJ'ed President Barack Obama's 2012 inauguration, and has shot portraits of Idris Elba, Tyra Banks, John Legend, and many more.
But quarantine changed all that. In early March, DJ D-Nice experienced the ennui and solitude that most others have felt while sheltering in place—he was alone in his house, and missed his friends and family. Back in 2007, he hosted a YouTube series called "True Hip-Hop Stories," where old-school artists would tell the story behind a particular hit of theirs. D-Nice decided to combat his loneliness with a reinvention of that idea, using Instagram Live as his platform. He hit up Bun-B and Black Thought, two friends of his, and 200 viewers watched them talk and listen to music together on Instagram.
"The next day, I hit John Legend up, and I hit Dave Chappelle up," D-Nice said. "It totally went away from what I initially thought it was gonna be, this hip-hop interview series. And it became this cool little club, and I would just invite my friends. I wasn't even DJ'ing at that point, I was strictly playing songs from my laptop into the phone. And every day, it just started to change."
Soon, word of the new "Club Quarantine," caught fire, and hundreds of thousands of spectators entered the "rooms" as D-Nice calls them—including Rihanna, Drake, J. Lo, former First Lady Michelle Obama, and Mark Zuckerberg.
"I didn't even know I was on their radar," D-Nice said.
Club Quarantine became the proverbial place to be on Friday nights, and spawned a handful of musical Instagram Live shows after it—including Verzuz, the Live "battle" helmed by Swizz Beats and Timbaland (D-Nice has "pretty much watched them all," and for the record, liked Erykah Badu and Jill Scott's episode best). It also led D-Nice to head up a charity event with Michelle Obama, and make appearances on The Tonight Show With Jimmy Fallon—arguably morphing what began as a way for him to play music and chat with friends into a cultural phenomenon.
If there's one thing he'll take away from from the experience of doing Club Quarantine, it's to "stay authentically true to who I am," D-Nice said. He had opportunities early on to monetize the show, and was offered partnerships from "huge chicken companies" (he did not specify which one), which sent him t-shirts and baskets of fries to feature on IG Live. Major record labels have reached out to him, volunteering their top-tier talent to share the screen with D-Nice during a Club Quarantine night.
"I had this feeling that I was selling out for money," D-Nice said. "And I was like, man, this is not how you do it. So I never did the deal with the record company, I never wore the chicken company's t-shirt. I just did me. I never switched up from that."
Prior to quarantine, D-Nice DJ'ed for his celebrity friends and did two hour-long sets at bottle service clubs. Going from a lifestyle of steady gigs to nearly shutting down Instagram Live with a record-breaking audience seems like it might be the ultimate goal for an artist like D-Nice, setting him up for a future of stadium tours and big-name collaborations. Instead, Club Quarantine has ignited more intimate visions. He sees the future of his club as a show that he takes on the road, playing at outdoor amphitheaters where friends and family can come together to dance, experience the music played live, and connect. It's a picture of the world pre-coronavirus, and although it seemed like a fairly harmless idea seven months ago, feels like an impossible feat now.
"If people want the Club Quarantine tour, then I'll do it," D-Nice said, noting that he's unsure whether he'll keep the word "quarantine" in the name, in case there are negative associations with it, post-COVID. "I could tell you right now, I would want an old-school artist and newer artists to be on a show with me. So for instance, if I had a full-on DJ set on stage, and I'm playing my kind of set, when I play Sister Sledge, Kathy Sledge would walk out on stage and just start performing three songs with me. Then, all of a sudden, bam, I pop on an Anderson Paak record, and all of a sudden, he's out, and he's rocking with me, in the middle of my DJ set."
Being at home for months, D-Nice has learned that there's nothing like real human energy and connectivity. The Instagram Live numbers and notoriety have all been a crazy whirlwind, and well worth the effort. "But there's nothing like being in front of a crowd, and playing music that actually had people enjoying their night," D-Nice said. "I think the bigger picture is, I finally have a chance to do all the things that I wanted to do, which is be able to hit the room and play the music that I love. That's why I said I would never go back to playing the way I used to. Because if you hire me, that means you understand exactly who I am. I can't be someone else."
Related: "Should I Go Live Later?": Coronavirus, Celebrities, and the Perils of Instagram Live