'Vintage Hoarder' Djuna Bel Can't Wait to Wear Her Furs
The stylist, It girl, and former store owner never goes anywhere without her K-beauty routine and follows NASA on Instagram. See her style notes, here.
---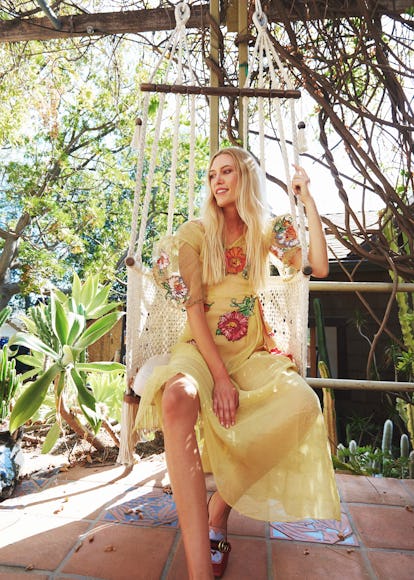 Jake Michaels
Djuna Bel has worked in just about every faction of the fashion industry. The stylist got her start at age 17 as a model; then, when she moved to New York, she opened a vintage store named Fox & Fawn on the Lower East Side — it still exists, though under different ownership, and has since moved to Brooklyn. She moved across the country eight years later: "I fell in love and decided to give L.A. a shot," she explained, adding that she's become a "Cali girl through and through" — right down to her downplayed, effortless personal style. And now, the California transplant is working with chic stars like Léa Seydoux, Sky Ferreira, and Charlotte Gainsbourg.
Despite her career change, throughout she's maintained her abiding love for all things vintage, which makes her an obvious interview subject for the new vintage site Vetta Vintage, the new project from DJ, vintage collector, and newly minted entrepreneur Jasmine Chess. Vetta features interviews with a range of "influencers," who curate their favorite vintage shopping locations, vintage pieces, style icons, and images of their favorite outfits. Here, Bel offers a look inside her closet, revealing her go-to playlist, Instagram follows, and wardrobe essentials while she's at it.
Occupation: Fashion stylist.
Age: 31.
How would you describe your style: '70s tomboy.
Favorite vintage stores in Los Angeles: Painted Bird, Worship, Raquel Allegra, What Goes Around.
Nighttime look: Jane Birkin meets Valley of the Dolls.
Style icons: Jane Birkin, Little Edie, David Bowie, Jerry hall.
Best recent discovery: Earrings.
Style pet peeve: When people follow trends to follow trends and don't wear what makes them feel good.
Last purchase: Gucci loafers.
Lusting after: Basically anything Alessandro Michele for Gucci.
What's something you always carry with you: Three good luck charms on a necklace.
Travel essentials: My Korean beauty regime, Solid and Striped bikini, contact lenses.
Most prized possession(s) in your closet: A leather jacket that Jimi Hendrix wore.
Favorite accessories you own: The three good luck charms on a necklace.
Fashion week go-to: Comfy shoes.
Something you can't wait to wear when it gets cold out: I am a huge fan of vintage furs — my colorful yeti coats that I rarely get a chance to wear in L.A..
Music you're listening to right now: I'm on a Kim Fowley and Brian Eno kick.
Something you're reading right now: Rubyfruit Jungle by Rita Mae Brown.
Instagram accounts you like to follow: @chillwildlife, @laurakitty, @70sbabes, @vintagevogue, @somewhereiwouldliketolive, @nasa, @thehaasbrothers.