Inside Doheny Room, L.A.'s Latest Celebrity Hotspot
Alicia Vikander, Nick Jonas and Winona Ryder have all been spotted at this new Santa Monica Boulevard eatery, that pays homage to the historic Greystone Mansion.
---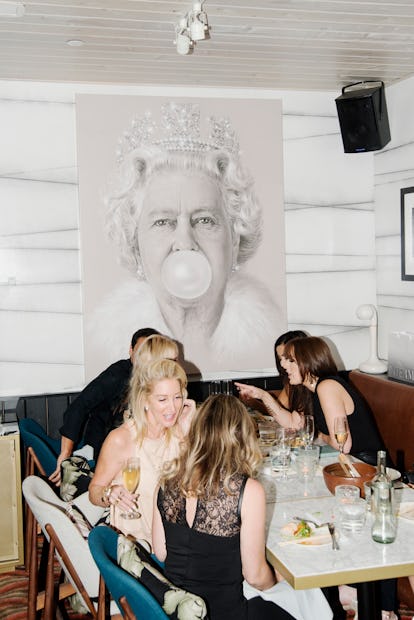 Mood lighting? Check. Celebrity sightings? Check. Bare-legged, high-heeled model types? Check. It's 9 p.m. on a Saturday night inside Doheny Room.
Sandwiched between two landmarks, the Troubadour music venue and Dan Tana's restaurant on Santa Monica Boulevard where West Hollywood meets Beverly Hills, the lounge-like eatery has quickly become the area's newest spot to see and be seen since its soft opening in late April. Alicia Vikander, Chris Brown, Caroline Vreeland, Vanessa Hudgens with Ashley Tisdale – and, fascinatingly, Keanu Reeves with Winona Ryder – have all been spotted.
It's been the setting of choice for various occasions, particularly birthday parties (Malin Åkerman, Molly Sims, Stevie Wonder), as well as special events, like Nick Jonas's secret acoustic show for Creative Recreation's Sole Sessions. Last weekend brought out Kourtney Kardashian; on this particular night, there's David Spade and The Game.
The front entrance is open and airy – almost in the style of a Moroccan riad – and a U-shaped interior balcony overlooks the lower level of the two-story restaurant, where upside down palm tree decorations with twisted rope as tree trunks hang from the ceiling like chandeliers.
"It has a European meets California, farmhouse feel," says Doheny Room's director of nightlife Nick Montealegre of the architecture and decor, designed by Rockwell Group. And somehow, his unusual description makes sense. The exterior feels very art deco, with its bold blue-green, geometric front; but the interior, also rich in colors, features floor-to-ceiling windows and oversized, light wood shutter treatments. There's a mid-century modernist touch with upscale finishes and a profusion of greenery throughout.
The Beverly Hills Hotel's recognizable banana leaf motif can be found on pillows and walls, which are filled with art and photographs, including a trio that's a collaboration between photographer Terry O'Neill and street artist Spencer "Mar" Guilburt, who adds his colorful, hand-painted touch to three of O'Neill's most recognized works – a portrait of David Bowie, Mick Jagger and O'Neill's ex-wife Faye Dunaway.
As for what's on the menu, chef Danny Elmaleh offers an upscale take on a variety of street-food, from lobster poutine to foie gras sliders. There's also more standard options – filet mignon, roast chicken – and for the meat averse, there's vegan sushi. With cocktails like "The Loma Vista" – a mix of mezcal, pineapple, ginger, lime and soda – the restaurant pays homage to the renowned Doheny family. Their Greystone Mansion sits on the corner of Doheny Road and Loma Vista Drive, and was a gift from oil tycoon Edward Laurence Doheny to his son Edward L. "Ned" Doheny Jr., who was found murdered under strange circumstances inside the home in 1929.
On a lighter note, foodies looking for an Instagram moment should save their appetite for the chocolate dome and ready their iPhone for when the server arrives to light the dessert on fire, melting off the top layer and exposing the interior, filled with meringue, chocolate cream, crumble and sorbet.
By 11:00 p.m., Doheny Room's downstairs is packed, as guests with reservations carry on their late-night dinners, and others mingle around the central, open-air bar – a commanding, pièce de résistance of sorts. The main action is upstairs, however, where a DJ spins and bottle service begins to flow – though access isn't guaranteed. Newcomers looking to head up the steps are confronted with a bouncer and told they need a stamp.
"You have to go outside and around," he says, pointing to the front door.
Calling Card Instagram-worthy neon signs by artist Lauren Baker: "I love you to the moon and back" can be found above a table downstairs, while "Everything is going to be fucking amazing" can be seen while descending the staircase.
The Door The upstairs lounge is democratic on most nights except when it's closed for a private party or if it's a Wednesday or Saturday, when you're likely to be asked: "What are you here for?" If you have a table reservation, which starts at $1.5K, you're good. If not, good luck.
Tribes Models and scenesters.
VIPs David Spade, The Game, Alicia Vikander, Chris Brown, Keanu Reeves, Winona Ryder.
Music Nostalgic indie, rock, hip-hop and R&B. The "anti club" playlist: no commercial house or radio hip-hop according to Montealegre, who curates programming.
Drinks $15
The Basics 9077 Santa Monica Blvd., West Hollywood, CA 90069. (424) 777-0266. Monday – Saturday, 7 p.m. – 2 a.m. Kitchen closes at 12:30 a.m.
Watch W's most popular videos here:
Photos: Inside Doheny Room, L.A.'s Latest Celebrity Hotspot