There's Now an E-Commerce Site For Those Seeking a Lavish Dom Pérignon Experience
You can now purchase lavish experiences involving Moët & Chandon, Krug, Veuve Clicquot, and Dom Pérignon from an e-commerce platform.
---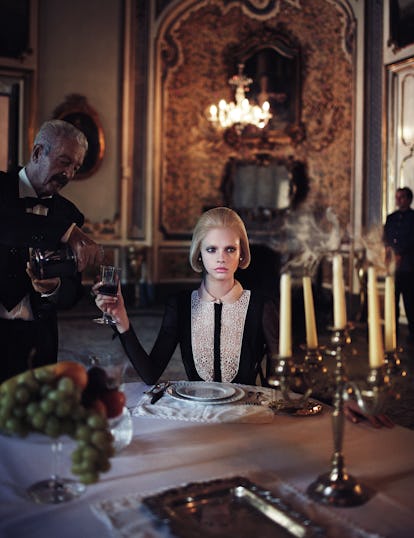 Photo by Mikael Jansson, styled by Edward Enninful. W Magazine, March 2013.
Major changes are afoot for LVMH Moët Hennessy. The luxury company has finalized plans for a new e-commerce platform for its Moët Hennessy wine-and-spirits brands that will sell luxury experiences in addition to the usual array of fancy products. Business of Fashion reports that the offerings of the new platform, Clos19, include wine and spirits from brands, including Moët & Chandon, Krug, Veuve Clicquot, Dom Pérignon, Château d'Yquem, Hennessy, Glenmorangie, Ardbeg, and Belvedere, as well as unique services, such as 24-hour delivery, editorial input, and the aforementioned experiences.
Those experiences will range from low-key affairs, such as intimate dinner parties to be hosted at private homes, to bigger spectacles, such as a luxury trip to Antarctica, in addition to more routine events such as tastings. Crucially, each experience will be linked to Moët Hennessy's wine and spirits.
Stephanie Watine Arnault, the niece of LVMH chairman and chief executive Bernard Arnault, told Business of Fashion of the endeavor, "The whole concept behind Clos19 is around sharing and championing the art of hosting…It gives more immediate and sophisticated access not only to our exceptional products, but also provides the services, accessories and experiences that enable our audience to become the perfect hosts. There is an experience for every type of budget from the tastings to the exceptional ones which are much more aspirational."
Clos19 debuts in the United Kingdom on Wednesday, with plans to expand to Germany this summer and elsewhere in the future. The lowest-price experience is about $230, with the cost of luxury scaling up from there.
The advent of this new e-commerce venture aside, LVMH made another ambitious announcement on Tuesday, taking complete control of Christian Dior in a deal worth an $13.1 billion in cash.
Related: LVMH Purchases Christian Dior for $13.1 Billion
See What's Trending in W Video: