Dominique Fishback, Star of HBO's The Deuce, Is Bringing Women on the Margins Into the Spotlight
Sex workers, incarcerated youths, pregnant teens—the actress is shining a light on their stories.
---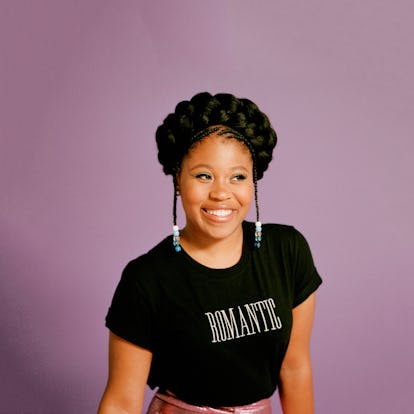 Michael Beckert
"I don't know that I'm drawn to gritty characters; I think they're drawn to me," Dominique Fishback, the actress best known for playing the '70s sex worker Darlene on HBO's The Deuce, said on a recent sunny day in New York. Before stealing scenes in dark roles like Darlene, Angel in the indie revenge flick Night Comes On, or Najja in Terence Nance's genre-bending HBO variety show, Random Acts of Flyness, Fishback, who grew up in Brooklyn, got her start in the theater. "Juliet [of Romeo and Juliet] is a dream role of mine," Fishback confessed. "And even with the love and the romance, I still have that dark side."
When Fishback was just an I Love Lucy–watching 8-year-old, a theater group came to perform at her elementary school. Immediately, she knew that acting was something she wanted to try, and by the time she was 15, she became part of a local organization called the MCC Theater Youth Company, where she saw her first one-woman show. "I don't remember how many characters [the actress] played, but I just remember she was onstage having conversations with herself, and switching," Fishback recalled. "I was like, I want to do that."
It inspired the actress to write and star in her own 2014 one-woman show, Subverted, in which she played 22 characters onstage, and which was meant to ignite a dialogue about systemic injustices with the audience. "Subverted deals with police brutality and incarceration, education, food," Fishback explained. "All of these tough conversations."
While Fishback was working on her Off Broadway production, she landed a small role on the USA procedural comedy Royal Pains, where she met Jordana Spiro, a fellow actress who was making a film called Night Comes On, about a girl released from juvenile detention who plans to avenge her mother's death. As the co-writer and director, Spiro still needed to cast a lead in the film, and when Fishback invited her to a showing of Subverted, Spiro was so impressed with Fishback's performance that she asked her to audition. "Little did I know, when Jordana came to see Subverted, she was looking for her Angel," Fishback said.
In Night Comes On, Fishback plays Angel, a teenage girl on a deadly mission. As she attempts to rejoin the world outside of juvenile detention, Angel finds that the world will not welcome her back—she has nowhere to stay, has no job, and must rebuild her relationship with Abby (played by Tatum Marilyn Hall), her estranged younger sister whom she left behind in the foster care system. The two embark on a journey to find their father, with Angel secretly aiming to kill him. Night Comes On is an intense, slow burn with a thrilling final act, as well as a realistic portrayal of an issue that disproportionately affects black youth in America. Fishback knew she needed to "be an honest vessel" for Angel, so she often stayed in character for the duration of production, sulking about on set (much to the dismay of her young costar).
The film investigates how state systems—the foster system, the prison system, juvenile detention—are stacked against the individuals placed within them, and how even when those individuals attempt to reintegrate themselves back into society, they are set up to fail. "I feel like it's an American experience," Fishback said. "When you age out of foster youth and you get out of juvie and you have nowhere to go, nobody to turn to, what do you do?"
The characters Fishback played in Subverted prepared her for the intensity of the film, and her New York upbringing informed her portrayals of the complex subject matter. "Because I have the authentic knowledge of New York and the gritty side of some things, with training, it gives me a different understanding of how the layers intertwine," Fishback explained. "And my hopeless romantic self influences all of the things, so it all comes together."
In 2015, after Fishback appeared in Show Me a Hero, the HBO miniseries costarring Oscar Isaac and Winona Ryder, David Simon, the showrunner and creator of The Wire, was so impressed with her performance—as a pregnant teen in the 1980s living in one of the public housing developments in Yonkers, New York, that were at the center of a political firestorm when they were built in predominantly white neighborhoods—that Simon decided to create a new character just for her in his next series. That would turn out to be Darlene, the plucky sex worker with a determined mind of her own, in The Deuce, which returns for its second season this Sunday, September 9. "It made me feel extremely good, because Show Me a Hero was kind of my first big TV thing, and I had already changed an idea a writer had in their mind," Fishback said. "Darlene was actually a white girl called Sophie in the very first pilot script, and they changed it for me."
On The Deuce, Darlene is a warm and complex depiction of a sex worker in the graphic world of pimps and pornography. "We don't get voices like that all the time," Fishback said of her performance in the '70s period drama. "We get stereotypes of sex workers, or fluffy versions that just didn't really happen."
Fishback eventually plans to return to the theater when the time is right, but in the meantime she has some big goals to fulfill. The actress recently wrote her first feature film, a "Romeo and Juliet–esque" tale that takes place in 1968 and involves the FBI and the Black Panthers. She is also learning to play the piano with the hope that it will help her with future roles; wants to bring Subverted to HBO; and will star alongside Amandla Stenberg on the big screen in the upcoming police-brutality drama The Hate U Give.
"I've been wanting to do film and TV my whole life," Fishback said. "Now that I'm doing it, I don't want to slow down unless it's something that my soul needs to do."
Related: Katherine Langford, Aubrey Plaza, Evan Peters, and More Stars Who Prove Television Is Better Than Ever