Donald Trump's Proposed Arts Funding Cuts Has Celebrities Speaking Out on Twitter
"Without the arts in America, all we have is…Trump."
---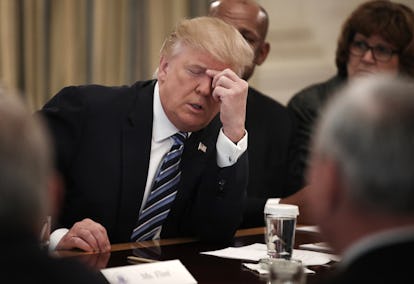 Win McNamee/Getty Images
It's been almost exactly two months since Donald Trump was inaugurated as president, and we now have a better idea of what Trump's America looks like. If his proposed budget cuts for 2018 are approved by Congress, it will include a lot less of the arts. After the POTUS's administration released a preliminary 2018 budget proposal, many spoke out against what was included in it, like the elimination of all $148 million for the National Endowment for the Arts, $148 million for the National Endowment for the Humanities, $230 million for the Institute of Museum and Library Services, and $445 million for the Corporation for Public Broadcasting, an organization that supports public television like PBS and radio like NPR, the _Washington Post_ reports.
Many of the people who took to Twitter to voice their opposition to this plan were celebrities including the likes of Jamie Lee Curtis, Mark Ruffalo, Billie Eichner, Rosie Perez, and Judd Apatow, to name a few.
"Without the arts in America, all we have is… Trump," tweeted Apatow, who has been a vocal detractor of Trump, in the past tweeting, "How are we supposed to work when all of reality is a freeway chase?" He later told The New York Times, "I'm trying to transition from making comments on social media to choosing one or two organizations to work with and support so that I feel like I'm actually being a positive part of the process. You don't want to be a crank."
Meanwhile, Ruffalo painted another picture of Donald Trump's America should the President's proposals be accepted by Congress. "Ignorant, unskilled, sick, hungry, cruel, and violent—what Trump's budget would do for America," Ruffalo tweeted.
Jamie Lee Curtis, however, had more uplifting words. "After all the wars are fought, what remains are people, art, nature, and culture," she tweeted. "Trump can try, but he cannot cut us out of the picture."
Josh Gad, who plays Lefou in the live-action remake of Beauty and the Beast, had a humorous approach. "This picture represents why a healthy budget is so important to the filmmaking process. #crosswalk #beautyandthebeast @latelateshow," he tweeted.
See some of the other celebrity responses to Trump's proposed budget cuts below.
Watch fashion's biggest names stand up on behalf of immigrants: