Donald Trump Could Cause a Big Problem for New York's Ritziest Shopping Area
Far, far down on the list of concerns with a Donald Trump presidency may be the fate of Fifth Avenue. But the stores around Trump Tower are already feeling the repercussions.
---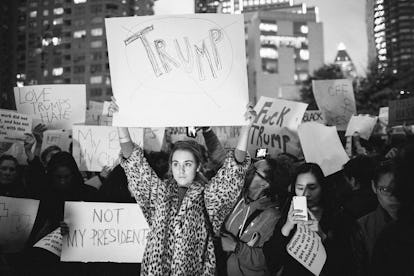 "Where they stop, window shop, and their hopes are so high," Shirley Temple once sang of one of Manhattan's most iconic avenues. "Pricing rings, pretty things that they can't afford to buy. But they smile, they don't care. Ev'ryone's a millionaire when you're strolling on Fifth Avenue."
Of course, over the past week if you've happened to take a stroll along Fifth you're likely to find a whole lot of very angry people with nary a smile in sight, especially around one building in particular: Trump Tower. The skyscraper where President-elect Donald Trump both lives and works was basically ground zero for Anti-Trump protestors over the past week.
This hasn't been good news for many of the luxury stores in Trump's neighborhood, and, as it turns out, any President who happened to keep a home on Fifth Avenue, protest-inspiring or not, would lead to a headache for the exclusive address.
Trump, the man elected on the strength of his support in rural and exurban areas, lives smack dab in the middle of one of the world's most luxurious lanes. His neighbors include flagship locations of some of the biggest fashion and luxury brands in the world, and they pay some of the highest rents in the country to keep shop there. Gucci even keeps a location within Trump Tower. WWD reports that the protests have already cut into some of those boutique's sales. Many have closed up shop early, giving up on doing normal business altogether. Analysts meanwhile are already worried about the potential larger economic implications.
Though demonstrations have already cooled off, the Trump presidency could continue to prove a headache for the neighborhood throughout his term. The New York Times reports that Trump could continue to utilize the tower during his presidency. But, apparently, The Telegraph reports the Secret Service is trying to talk him out if it.
Under federal law, any President is allowed to designate another location as his temporary office. Not all presidents take advantage of the perk. Presidents Barack Obama and Bill Clinton never maintained private residences, but the George W. Bush, Ronald Reagan and Lyndon Johnson all kept ranches. Nixon kept his homes in California as well as a place in an island off Miami. The law allows federal money to be used to make security upgrades to the second office to keep the president safe.
That might not be too much of a concern when we're talking about a ranch in the middle of nowhere, but it gets much more complicated when you figure a Manhattan skyscraper into the equation.
For one thing, the entire building might have to be retrofitted to withstand a terrorist attack. The New York Post reports that the Secret Service is even proposing closing off entire blocks around the tower when Trump is in town. The New York Police Department, however, is said to be arguing for a minimization of any major disruption to the neighborhood (and not to mention Manhattan traffic). In the meantime, dump trucks full of sand have been placed around the tower to protect it.
When you're a store used to catering to a clientele that gets chauffeured around in private cars, that's not exactly great for business, protests or not.
Of course, as those protests attest, the fate of a particular luxury shopping destination is far down on the list of very real fears people have about a Donald Trump presidency. But the comments of a police source who spoke to the Post about the NYPD's plan to minimize disruption does sound especially emblematic.
"It won't be complete normality," the source said. "But it'll be adjusted normality."