Donatella Versace on Michelle Obama: "If She Ran for President She Would Win"
In a new interview with W magazine, Donatella Versace talks about that Michelle Obama dress and why she admires the former First Lady: "She is a woman who knows what she wants"
---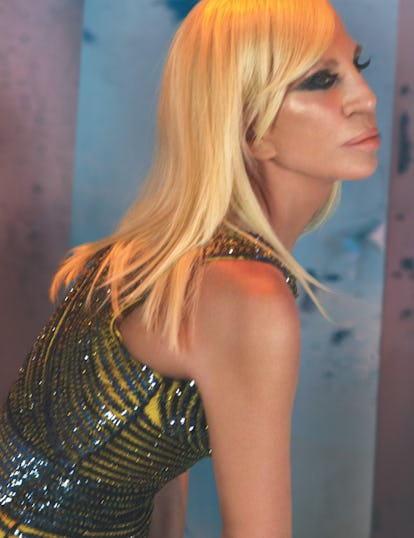 Photograph by Mert Alas & Marcus Piggott, Styled by Edward Enninful; Hair by Kiril Vasilev; makeup by Renato Bernardi; manicure by Adam Slee for Rimmel London at Streeters. Set design by Andrea Stanley and Emma Roach at Streeters. Produced by Across Media Productions; Fashion Assistants Ryann Foulke, Dena Gianni; Hair assistants: Taichi Saito, Sean Mikael, Rebekah Calo, Katie Schember, Cat Wyman, James Oxley; Makeup Assistants: Taylor Treadwell, Lauren Aiello, Anete Salinieka, Sergio Alvarez; Manicure assistant: Chiharu; Set-design assistants: Devin Rutz, Colin Lytton, Nathan Smith, Chloe Park, Amy Bairstow, Philip Doucedame, Warwick Turner-Noakes.
The news is that Donatella Versace, 61, is "woke."
When did this happen? Was it last September, when she presented her defiantly wearable spring collection exploring female strength and set to a feminist soundtrack featuring inspirational sisterhood lyrics? Or in October, when Michelle Obama slayed her final White House state dinner in an Atelier Versace rose-gold chain-mail gown? Was it the moment she joined forces with pouty rock rebel Zayn Malik, inviting him to design a capsule collection for her Versus line? Or when the latest fabulous Versace coffee-table book appeared—except that for the first time it was not about Gianni but all about Donatella? When her Instagram followers reached 1 million, and millennials started calling her fierce?
Whatever the answer, Casa Versace is on a roll.
Retail sales are up, hitting almost $500 million in 2015. Thirty new stores have opened around the globe. Equity giant Blackstone has taken a 20 percent stake in the company. A Palazzo Versace hotel of sybaritic luxe has sprouted from the sands of Dubai. And at the heart of it all is ­Donatella. It's her moment—some say her feminist moment. Visiting her to investigate all this at the Versace headquarters in Milan is like paying court to the tsarina at the Winter ­Palace. She wears silk trousers and a matching shirt: black. (She should always wear black, except when she wears white. Or jungle green.) She is tiny, ageless, with a Minotaur face that is probably on an ancient coin somewhere. Those improbable lips, those eyes—somehow it all works. There is the hair, no longer mermaid-length, now a blunt, wavy bob, but still nuclear blonde. She talks too fast. Unlike the stony icon depicted in her 1990s portraits, she is vibrant, funny, irrepressible. She is also smart as a whip.
What is power to you? Real power means influencing a new generation. People ask what I do in my private life, and I reply, "At this point, there is nothing private in my life." I want to give. Give everything I learned, gained, in the period since Gianni was no more. I try to work as much as possible with young designers, show them our archive, and when I see their expressions—when they see these clothes, this workmanship, as if they were in Wonderland—that is power to me. They see me as…'Wow'! I don't say I understand the language of young people, but I see that on social media they have another way of talking, a kind of dialectical discussion. I understand from this that they are not conformists like we were. It is super­ important for me to have influence in this world, even though I did not grow up with it.
A Salute to 5 Powerful Women: Jennifer Lopez, Donatella Versace, Kate Moss, Taraji P. Henson, and Jessica Chastain
So social media has changed your life? Yes. I used to have this image that was very cold, off-putting. People didn't feel close to me. Now it is different. They see that I can be open, laughing, joking on Instagram. Social media has become essential to my work because fashion is a blend of many things: what young people are doing, what they would like to do, their dreams. I absorb all this information, and then I present it as fashion. Versace clothes are more wearable now because life has changed. I am making clothes for women all over the world. I cast different kinds of models on my catwalk because there is not just one kind of woman. You can't make a revolution for just one woman!
Who chose Michelle Obama's famous Versace dress for the state dinner? She did. She is a woman who knows what she wants. The speeches she made during Hillary's campaign should be written down—they make up a philosophy of life. If she ever ran for president she would win. We are all in mourning about the American election; it preyed upon people's phobias. But we should continue to go ahead as far as possible, with all the women in the world.
Which historical figures do you most admire? Martin Luther King Jr., Coretta Scott King.
What were you like as a little girl? I was never a little girl. My brother Gianni would dress me and I would go out with a ciré jacket, a patent leather miniskirt, and tall boots.
When did you become aware of the power of style? I only truly understood it recently, in the last five or six years. Before that I felt I had to produce the "right" kind of Versace collection. But now I am designing for a woman who works, who has children—or maybe she doesn't work, but she definitely has power. The power to keep on going forward. I have to succeed in showing women that we can do more, that we are stronger than men. Men, well, they get a project in life—say, they want to be CEO—and they get there and it's over. Women are more open. They arrive at a certain point and they still want to go on. Men have other strengths, of course. But we have more courage.
What would you do if you weren't a fashion designer? I would like to be a rock star, if I had talent. But I don't. So maybe an image maker. I would like to take some talented person and make him or her into a star.
What is the first thing you do in the morning? I wake up and check all my devices. Cling cling! E-mail. Italian phone. American phone. iPad. I leave everything on at night. Cling! I want to know what is happening.
A Look Back at Donatella Versace's Blonde Ambition
Atelier Versace fall/winter 2012, July 2012 at the Hotel Ritz, Paris. Donatella Versace backstage with models Zuzanna Bijoch, Ella Kandyba, Vika Falileeva, Nimue Smit, Lindsey Wixon, Stef Van der Laan, Elza Luijendijk, Aymeline Valade, Anna Selezneva, Kate King, Karlie Kloss, and Ginta Lapina.

© Stefano Guindani/SGP
Santo, Donatella, and Gianni Versace photographed at Villa Fontanelle, Moltrasio, Lake Como, 1987.

© Archivio Alfa Castaldi
Donatella Versace, spring/summer 2016.

© Rahi Rezvani
The Versace family photographed at Villa Fontanelle, Moltrasio, Lake Como, late '80s.

© Archivio Alfa Castaldi
Atelier Versace F/W 2014 backstage, Paris.

© Rahi Rezvani
Donatella Versace with the models Scott Barnhill and Ivan de Pineda during the fittings of the Versace men's spring/summer 2016 show.

© Rahi Rezvani
Watch Kate Moss, Jennifer Lopez, Taraji P. Henson and Jessica Chastain Sit for their Revealing Screen Tests