Every Famous Person Joining Jennifer Lawrence's Next Movie
The idea of Timothée and Leo in the same film alone...
---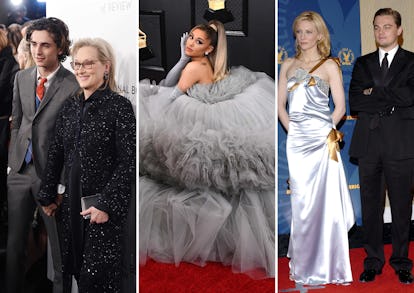 Courtesy of Getty Images
Jennifer Lawrence hasn't starred in a movie in almost three years, and the next time you'll see her on screen, she might not even be the most famous person in the film. Apparently every third A-lister in Hollywood has decided to join Lawrence's next big project. The exhaustive list of her cast mates: Leonardo DiCaprio, Timothée Chalamet, Meryl Streep, Cate Blanchett, Jonah Hill, Kid Cudi, Matthew Perry, Rob Morgan, Himesh Patel, and, just for added emphasis, Ariana Grande in her first major non-musical acting role since Scream Queens.
The very idea of Timothée Chalamet and Leonardo DiCaprio alone linking up for the same picture would be enough to temporarily overload certain portions of the internet, so we can only imagine the reverberations this news will cause.
It almost feels like a formality to even have to explain what the project is, because we're excited about it nonetheless. Directed by Adam McKay, the film is something like a "Chicken Little" for our times. Currently titled Don't Look Up! it follows two low-level astronomers who go on a media tour in an attempt to warn the world of imminent danger. Lawrence has been attached to the film for quite some time, but there was no indication the project was planned as something of a VIP ensemble. It's also a massive coup for Netflix, which is producing the film. Indeed, it will mark the first time that DiCaprio works with the streamer.
One could spend an entire evening with friends over Zoom drinking a few glasses of wine playing a parlor game listing all the ways this cast is connected. DiCarpio and Hill starred together in The Wolf of Wall Street, and DiCaprio also previously linked with Blanchett in The Aviator. Kid Cudi and Chalamet are famously friends, and have both starred in projects for director Luca Guadagnino. Lawrence once beat Streep at the Golden Globes and proclaimed, "I beat Meryl" (apparently there are no hard feelings). Chalamet is scheduled to play Bob Dylan in an upcoming film, but Blanchett has previously played the icon. We guess Perry and Grande are sort of the outliers here, but who doesn't love Friends re-runs and listening to "thank u, next?"
Of course, it remains unconfirmed which actors will actually get to share scenes in the film, but let us hope that by the time this comes out, a traditional red carpet premiere is possible.