Partners in Time
Doo.Ri and Piaget collaborate on limited-edition watch designs.
---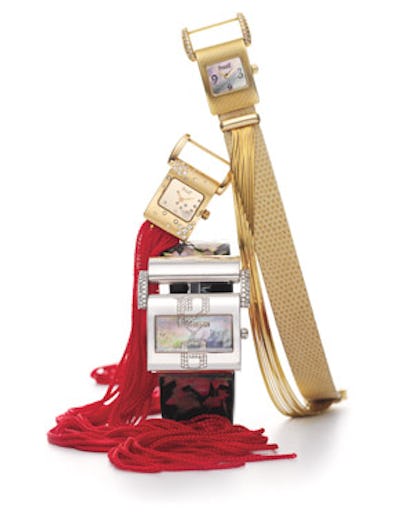 With her fashion career on fire, designer Doo-Ri Chung has recently undertaken a new challenge, designing four watchbands to pair with classic Miss Protocole timepieces by Piaget. The partnership takes the notion of limited edition to its most extreme—only two of each will be produced, which is surprising, given that prices range from $11,400 to $31,500. The idea took shape soon after Piaget sponsored Chung's spring 2007 runway show, providing more than $1 million worth of diamonds and precious stones to pair with her beautifully draped clothes. For Larry Boland, president of Piaget North America, a formal collaboration seemed a logical next step. "Piaget has always been known for its innovative style and bold creativity," he says. "Partnering with a fashion designer, especially someone as promising as Doo-Ri, was a natural decision for us."
Chung, who wore a Piaget necklace and earrings at her wedding in 2006, approached the project by first looking at the artisanal woodwork of Kol Kim, a Korean artist and furniture designer. Inspired by his use of traditional East Asian decorative techniques, Chung designed two bands in lacquered teak with mother-of-pearl inlays. Another version derived more directly from her fashion, this one in tan lizard with an overlay of delicate strands of 18-karat gold meant to cascade freely, much like languid fabric from the body. The fourth design, crafted from silky tassel-like fringe, can be worn dangling or wrapped tightly into a cuff. A handful of diamonds strewn across its yellow gold face provides the ideal complement for what Chung describes as "a real flight of fancy."
From left: Doo.Ri for Piaget's 18k yellow gold and diamond watch with silk band, $11,400, 18k white gold, mother-of-pearl and diamond watch with lacquered wood band, $31,500, and 18k yellow gold and diamond watch with lizard band, $18,900, at Piaget, New York, 877.8PIAGET.