Dynamic Duo
For the powerhouse couple Dorothy Berwin and Dominique Lévy, life is a hectic whirl of culture, travel, business, and family. Linda Yablonsky meets two women on top.
---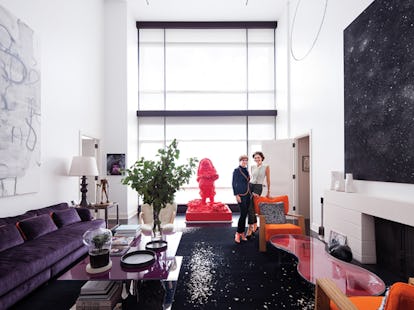 Nothing about the Manhattan apartment where Dorothy Berwin and Dominique Lévy live with their three children says kibbutz. Not the double-height living room or marble bathrooms. Not the artworks displayed on nearly every available surface or the expansive outdoor terrace. Yet, says Lévy, brushing back the errant white streak in her mink brown hair, "Dorothy's always saying that I want a kibbutz. Because I believe in the kibbutz mentality."
That's a shocker. At L&M Arts, the very blue-chip gallery she operates with onetime Goldman Sachs partner Robert Mnuchin, Lévy is a savvy (some say predatory) businesswoman known for her discretion, not for sharing resources. Berwin, a former producer of independent films (On a Clear Day; Walking and Talking) and now active on the Lincoln Center Theater board, has a different take. While she admits that Lévy's "rigorousness" can be challenging, she says her partner's greatest quality is "the extraordinary innocence of her soul."
I see two self-possessed people born to privilege (Lévy comes from a prominent Swiss family; Berwin is the daughter of the late Stanley Berwin, a highly influential corporate attorney in London) who made their way in the world and to each other via separate paths that, in hindsight, seemed destined to converge. On this brilliantly sunny day, however, Berwin, 52, is out of town, and Lévy gives me a tour of the home they share with their children. Caleb, 18, and Samuel, 9, are still at school, and Solal, a curly-blond 2-year-old, is napping.
Striding through the plush living room, Lévy, 45, ticks off signature works by art stars like Cindy Sherman, Paul McCarthy, Christopher Wool, Rebecca Warren, Ugo Rondinone, Nan Goldin, Felix Gonzalez-Torres, Adel Abdessened, and more—many more. A hint of the innocent within emerges when she moves to the wall of windows overlooking a park beside the East River below. With a wistful glance she says, "The view is amazing"—as if she's never paused to take it in.
There's little time for quiet moments. The two women are constantly on the road, either headed to their other home in the Hamptons or bound for Los Angeles, Paris, London, or Geneva on business or to visit family. Lévy keeps a pied-à-terre in Paris. "I'm a real Francophile," she says. Neither likes the Upper East Side neighborhood where they landed three years ago after a decade of loft living in Tribeca. "Everything else we looked at had low ceilings," Lévy notes. Absent of shops and bounded by streets where chauffeured cars outnumber pedestrians, their external surroundings feel cold compared with the welcome within.
The couple's friend Peter Marino, their modernist building's architect, combined two spacious apartments to accommodate the family, an art collection and a library, and the many vintage 1950s furnishings that attract Lévy, a flea-market hound. (Berwin is also a collector.) The couch in the living room was designed by Francis Sultana, a Garouste & Bonetti sofa sits in a salon under a Takashi Murakami painting, and there are Marc Newson pieces scattered about the abode. The whole place is conveniently set up for hosting the circle of European and American friends that Berwin and Lévy gather from the worlds of art, film, theater, and fashion for parties, like their annual Oscar night blowout. "Their ability to put people together is what's so fun," says Brooke Garber Neidich, vice-chair of Lincoln Center Theater. "And they are the magnets."
Lévy says she loves these dinners at home, where she can entertain and be with the kids, though Berwin is the more social of the two. "I'm always introducing people," Berwin says. "It's just something I like to do." Among their core group are Barneys CEO Mark Lee, Whitney curator Chrissie Iles, artist Roni Horn, French curator Caroline Bourgeois, London dealer Maureen Paley, and art-collecting couples like Adam Lindemann and Amalia Dayan and Richard and Lisa Perry. "I like mixing people who are honest about their lives," Berwin says. "Not that American sort of thing where you pretend that everything is perfect. There's no such thing as perfect."
If there are chinks in the Berwin-Lévy armor, generally they don't show, even if Berwin worries about appearing "overprivileged and bratty." Their lives are organized with the help of a support staff, and when Lévy wants to buy an artwork that Berwin doesn't, "I don't tell her," Lévy says.
However, Lévy did let her partner know that she was purchasing a former bank building on Madison Avenue, breaking away from L&M Arts to establish the Dominique Lévy Gallery, which will open next spring. "It's an adventure," Lévy says, clearly exhilarated by the idea. "I think nothing is more enriching and stimulating than spending an hour or two with an artist. Buying a work and living with it is like oxygen in my lungs." At the new gallery, she will alternate the historical exhibitions of 20th-century art that she orchestrates so expertly at L&M with equally focused contemporary shows by living artists. She will also remain partners with Mnuchin in L&M's two-year-old branch in Venice, California, a converted one-story power station Lévy opened after realizing that artists like Barbara Kruger, Jenny Holzer, and Robert Irwin had no West Coast representation.
Levy's passion for art was first stoked in 1970, when she was just 3 and her mother, a Belgian-born collector, took her to Art Basel in Switzerland. She hasn't missed one since. At 21, she organized an exhibition with young artists in a borrowed 18th-century manor outside Lausanne. After a brief stint in acting (her first job was as a clown at parties), she studied art history and sociology in Paris. Then she went to New York for an internship at Christie's, which she followed up with a gig at Sotheby's in Geneva working for the auctioneer Simon de Pury. "My father was very clear," Lévy says. "If I wasn't willing to take on his business, I had to make it on my own."
She had the genes for it. Andre Lévy was a cotton merchant who left Cairo in 1958, during the exodus of the Jews from Egypt that followed the belligerent Gamal Abdel Nasser's election to president. After joining family members in Lausanne, Lévy became a very successful currency trader. But prosperity did not leave him kindly disposed to her career choices.
After working for the legendary gallerist Daniel Malingue in Geneva in her early 20s, where she dealt in postwar works, Lévy struck out on her own, setting herself up as an independent curator. But by the mid-nineties, she had relocated to London, where she was a director of the storied Anthony D'Offay Gallery—"the most significant in Europe during those years," says the art consultant Mark Fletcher, who worked there with her. "It was the ultimate finishing school for talent."
De Pury, now chairman of Phillips de Pury, believes Lévy was born to the trade. "I remember her speaking to a client on the phone her first week on the job, and it was as if she'd been in this business forever," he says. "What was so impressive was how passionate she was. It's kind of uplifting to deal with her because of her enthusiasm and charm—she is the ultimate charmer."
One client, François Pinault, the mega-collector and luxury-goods magnate who owns Christie's, was so charmed that he chose Lévy to create a private sales division for the auction house in New York. In 1999, her first year, she brought in $100 million. Now auction houses are her gallery's toughest competitors for the resale market in prized postwar art. When she's not navigating her way through the art world, she devotes herself to the family. Which looks complicated.
In 1994, when Levy was a rising star among dealers, she developed a close friendship with a Spanish advertising executive who, after Lévy got together with Berwin in 1998, fathered Lévy's two sons Samuel and Solal. "I always wanted children—badly," Lévy says. "But I met Dorothy." Berwin had her own independent film company in London at the time and was just getting her feet wet as a collector. Mutual friends introduced the two women at a benefit screening. Berwin was three years out of her marriage to an expat American architect with whom she had Caleb, who has become a heterosexual gay-rights advocate at his school, Columbia Grammar and Prepatory.
"I really hooked up with Dominique," Berwin says. "That was a decision I made, and I was comfortable with it. I can't explain it, but I never felt self-conscious. I felt excited about discovering this part of myself, having always been with men. I was lucky it was nearly 2000." She moved to New York the following year.
The relationship may have surprised some people in London, but all of Berwin's friends stayed in her corner, and Caleb, whom Berwin calls "a more attractive version of me," didn't object either. By the time Lévy had Samuel, who answers her in English when she speaks to him in French, Berwin's ex-husband had remarried and supplied the boys with a step-brother and a half-brother. "When Caleb was younger, he decided he needed to draw a family tree, because it was so…interesting," Berwin recalls. "And that helped him. It really helped us all."
Samuel and Solal's father recently moved to New York from Madrid to spend more time with his sons. "He is a wonderful and loving dad" is all Lévy will divulge. In other ways, she and Berwin appear to be just another couple of well-off homemakers raising their children in a protected bubble of wealth and accomplishment.
One of the family's most important bonds is the secular Judaism they observe, chiefly by treating Sabbath dinners as sacred. "I would never make a social date on a Friday night," insists Berwin, who says the tradition anchored her childhood, when her parents attracted an array of celebrated figures in politics and the arts to their table. With regard to Israel, however, Lévy takes a position that Berwin places to the right of former prime minister Ariel Sharon's. "We have bread fights over Israel," Berwin admits. "So that's always amusing."
Earlier this year, Berwin, started out as an entertainment lawyer, earned a master's degree in mental health counseling and wellness from New York University. "I always thought I'd be a therapist," she says. "But now I don't know." Even when she was a film producer, her true passion was theater. "If you can't find me on a Wednesday afternoon," she chirps, "it means I'm at a matinee." And now, with Mark Lee, she's launching the Berwin-Lee Theater Foundation to support young playwrights.
"She always takes me to the family dramas, like Death of a Salesman or Tribes," Caleb says. "That's her typical way of getting across that our family isn't so bad."
Berwin (left) and Lévy in their Manhattan living room, standing next to Paul McCarthy's sculpture White Snow Dwarf (Doc), 2010

Stylist: Patrick Mackie
Banks Violette's Portrait of Bela Lugosi, 2005, and Ahmed Alsoudani's Untitled, 2011, in the TV room

Stylist: Patrick Mackie
Objets on the dining room table, including Kent Henricksen candlesticks from 2009 and Tony Marsh's green vase, 2010

Stylist: Patrick Mackie
Berwin (left) and Lévy in their dining room with Robin Rhode's series Typing Steps, 2011.

Stylist: Patrick Mackie
The couple's son Samuel with the family dog, GB, in the kitchen, which features Mickalene Thomas's A-E-I-O-U and Sometimes Y, 2009

Stylist: Patrick Mackie
Martin Kippenberger's Evan Euch (Einer von Euch), 1976, in the foyer.

Stylist: Patrick Mackie
The living room's focal point is Christopher Wool's Untitled, 2005

Stylist: Patrick Mackie
Sherrie Levine's False God, 2007, bronze skeleton stands watch over objects by Ritsue Mishima in a hallway.

Stylist: Patrick Mackie