The Next Art Frontier? Doug Aitken Takes On the Sky
Doug Aitken's latest art adventure soared high above Monte Carlo—and then disappeared into thin air. But you can see the exclusive video premiere of "Modern Soul" here.
---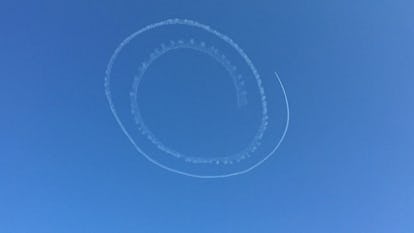 Doug Aitken is an artist who sees no reason to limit where he might work. He's done projects in Bollywood, in Namibia, and on the Greek island of Hydra. Wherever he is, he has a special gift for orchestration—when he put on his massive cross-country project "Station to Station," for which he sent a nine-car train from New York to California bearing the likes of Ariel Pink, Eleanor Friedberger, and Beck, he also brought in local performers at each stop, like a Chicago marching band or an organic farmer in Napa.
So when he was asked to take part in Monaco's Nuit Blanche, an exhibition of work around the principality on April 29, Aitken decided to aim high. He sent a pilot into the sky above Monaco to write his art in the sky, a trail of white smoke that spiraled out from a tight center until it eventually grew to more than eight miles wide. The few artists who have ventured into skywriting in the past have stuck to text-based work, but Aitken went for something that was more like land art up in the air, a spiral jetty reimagined as a spiral stream.
And as always, Aitken grounded his piece, called "Modern Soul," with his local audience. This time, it was in the form of a 10-piece percussion team, who drummed in circular synchronicity with the plane high above. "With 'Modern Soul' I was looking to create a landscape work, connecting the earth to the atmosphere," Aitken explained. "It was fascinating to feel the connection between the sound and rhythm on the ground with this ephemeral drawing above, which started very sharp and precise and was gradually blown into abstraction." The performance lasted for 20 minutes, stopping when the smoke had cleared overhead, disappeared by the wind. But you can see the video of "Modern Soul" here, exclusively.
<Watch W's most popular videos here: