THE SUBLIME IS HARD TO SEE
The 7 Saddest Instagrams at Doug Wheeler's No-Phones Guggenheim Exhibition
Museum visitors are having a hard time documenting the artist's transcendental experience, which happens to have a strict phone ban.
---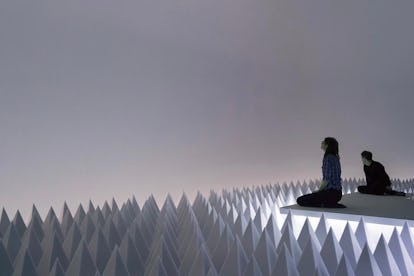 Courtesy of @guggenheim
Nearly 50 years ago, when Doug Wheeler first dreamed up his so-called "infinity environment," known as "PSAD Synthetic Desert III," there was no such thing as smartphones or Instagram. That's something you can be just as sure of as the fact that, in the intervening years of planning before his "hermetic realm" could actually be mounted this month at the Guggenheim Museum, Wheeler, 77, has done nothing to accommodate their invention. This is, after all, the artist so exacting that little of what he's dreamed up since the '60s has amounted to more than unrealized—and therefore perfect—concepts and sketches.
Still, Wheeler, who established himself as a pioneer of the Light and Space movement alongside James Turrell decades ago in Southern California, has made some concessions: rather than the one, phone-less person he'd intended, five, phone-less people at a time are allowed to enter the anechoic silent chamber that is the exhibition. It can be found inside a room within a room, separated from the rest of museum to remove itself as much as possible from the institution's noise.
That separation, along with a series of sound locks, industrial polymer cones, and a strict phone ban, has allowed Wheeler to create one of his most successful "infinity environments" to date, somehow transplanting the profound silence he experienced at, say, Arizona's Sonoran Desert to the nonstop bustle of New York. Much like the museum's recent Agnes Martin retrospective, though, Wheeler's success has brought, along with some rave reviews, a bevy of befuddled Instagrammers, coping with the fact that the sublime is hard to see on your phone by posting photos of plain white walls, wall text, and ticket stubs in an effort to document the experience. This is the only proof that exists, sadly.