Downsizing Teaser Trailer: Watch Matt Damon in a "Live-Action Pixar Movie on Acid"
Matt Damon and Kristen Wiig start in the teaser trailer for Alexander Payne's "Downsizing," a film that's getting rave reviews.
---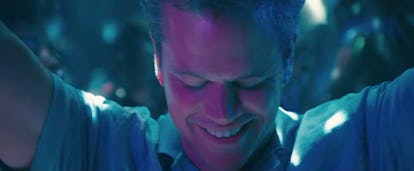 Downsizing, one of the most hotly anticipated movies of awards season, premiered Tuesday night as the opening film of the Venice Film Festival. The early consensus: it is absolutely bonkers, but also absolutely wonderful. Variety's review called it "a kind of live-action Pixar movie on acid," and that's a compliment.
Directed by Oscar favorite Alexander Payne (of Election and Sideways fame), the film concerns itself with Matt Damon and Kristen Wiig as a couple who decided to shrink themselves down to about six inches tall to live in an experimental village. The idea is that smaller-scale humans mean less waste and pollution and need for resources. Thus, they're better for the environment. As an added bonus, everyone in the village gets to live the good life in pristine mini-mansions they wouldn't be able to afford otherwise. Though, and maybe this is the one thing about the film's premise you can see coming, shrinking in size doesn't necessarily mean shrinking away all your problems.
Sounds strange? Indeed. It's a film Payne has wanted to make for over a decade (indeed Reese Witherspoon and Paul Giamatti were once attached), but has always found hiccups along the way.
The film will also play in September at the Toronto International Film Festival before premiering nationally in December, but a teaser trailer for the flick was released to coincide with its festival premiere. It's scored by The Talking Head's "Once in a Lifetime," and it ends pointedly on the "and you may ask yourself, 'My God what have I done?'" lyric before Damon's character is wheeled in for his shrinking "surgery."
Judging from the reviews it was well worth the long journey to the screen.
"Captivating, funny and possessed of a surprise-filled zig-zag structure that makes it impossible to anticipate where it's headed, this is a deeply humane film that, like the best Hollywood classics, feels both entirely of its moment and timeless," raves The Hollywood Reporter. "It was a risky roll of the dice, but one that hits the creative jackpot."
"Payne, working from a script he co-wrote with his regular partner, Jim Taylor, has made that rare thing: a ticklish and resonant crowd-pleaser for grown-ups," adds Variety. "The result should prove to be a major draw at the box office and a leading awards contender."
"Many of its protagonists may be only a few inches tall but the film itself is on a far bigger scale than anything Payne has done before," adds The Independent.
In addition to Damon and Wiig, the film has an all-star cast that includes Christoph Waltz, Jason Sudeikis, Neil Patrick Harris, Margot Martindale, Niecy Nash, Kerri Kenney, Laura Dern, and Udo Kier.
Though, it's actress Hong Chau (whom you might remember as one of the members of the Greek chorus of police-questioned neighbors in Big Little Lies or from her work on Treme) who appears to have the true breakout role.
Related: Downsizing, The Movie Where Matt Damon Shrinks Himself, Has Finally Been (Kind of) Explained
Kristen Wiig & Jane Fonda as Hannibal Lecter will Chill Your Bones: