The Downton Abbey Movie Is Officially Happening
The "Downton Abbey" BBC TV series is being turned into a movie, with filming and cast announcements to begin in September.
---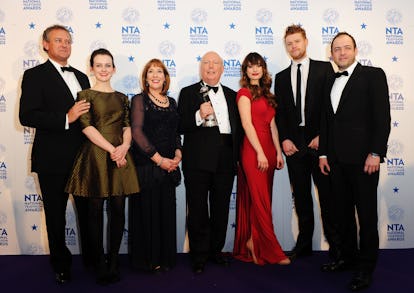 Dave M. Benett/Getty Images
Fans of the beloved period drama Downton Abbey will be pleased to hear that two years after the series ended its six-year run, a Downton Abbey movie is in the works, with casting announcements and filming to begin in the fall, as reported by WWD.
Julian Fellowes, the writer from the Downton Abbey series, has also been tapped for the screenplay as well (so yes, you can exhale that odds are good the film will be as good as the original Masterpiece Classic series was on the BBC), with Carnival Films heading up production.
Though Downton stars like Michelle Dockery have occasionally hinted to being open to a movie, telling The Telegraph in August 2016, "I think there is potential for a film. That is something I would wholeheartedly consider…", Dame Maggie Smith seemed less sure. According to the The Sun, Smith, who played Violet Crawley, the Dowager Countess of Grantham, revealed in an interview at the British Film Institute, "I just think it's squeezing it dry, do you know what I mean? I don't know what it could possibly be."
Fellowes has reportedly already written a script, though there's no word yet on what plot twists await or which stars will return for the film, but hopefully some of the show's more influential style stars, like Dockery, who played Lady Mary Crawley on the series, and Lily James, who played Lady Rose MacClare, are in the mix. Both characters showcased memorable signature fashion so much so that fans often spotted influences from the characters' looks in the actors' own sartorial choices.
"I think from doing Downton Abbey, my style really changed," James told WWD in 2016, "because I understood accessorizing, because every morning I'd go into my trailer and there'd be different necklaces and earrings and gloves and handbags, and depending on my outfit, I'd pick what I would wear with it. So I learned a lot from Rose's fashion, actually."
No word on when the movie will begin casting let alone hit theaters, so the world will have plenty of time to pick out different gloves and handbags to wear to the theater to see it.
Update: According to the Associated Press, Michael Edelstein, president of NBCUniversal International Studios, says the film is definitely in the works and production is slated for 2018.
"We are working on getting the script right and then we've got to figure out how to get the [cast] together," the exec said. "Because as you know, people go on and do other things. But we're hopeful to make a movie sometime next year."
Related: Inside Giovanna Battaglia's Downton Abbey Getaway
See WHat's Tending in W Video: