Meet Dr. Kevin Sands: The World's Most Connected Dentist
Dr. Sands' clients include all the Kardashians and Jenners (even Blac Chyna). Plus Britney, Bieber, and a Baldwin.
---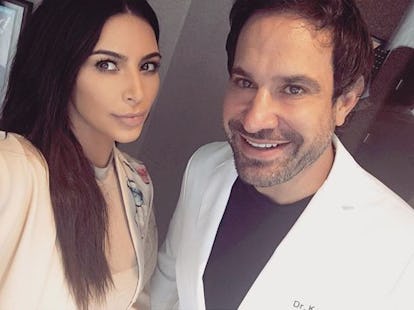 It's true: Everyone including Britney Spears, Justin Bieber, and the Kardashian-Jenners have to go to the dentist. But not just any dentist, of course. These days, A-listers all go to Dr. Kevin Sands. After Hailey Baldwin and Kim Kardashian posted Instagrams with him on the same day, Dr. Sands became worth investigating. Turns out, he's not paying them to attend. They just really love going to the dentist (especially one with killer gift bags and 46,000 followers).
Where are you from and what year did you open your practice? I'm from Los Angeles. I was born and raised here. I opened my practice in 1999.
Who was your first A-list patient? Britney Spears was one of my first patients. She just came here out of the blue.
In your own words, why do so many A-list clients come to you? Because I'm really good at what I do. I make people happy. I'm very honest. What you get from me, you can't get from any other dentist. I've imported the best artists from around the world. I have an eye and a knack for what makes a good smile and I don't compromise anything. I do this for fun. I'm also from this town, so all my friends are celebrities and became all the top agents, directors, and producers. It's what happens when you grow up here.
When did the Kardashians become your clients? Kim [Kardashian] came in like five or six years ago.
You have such a huge following now. Has Kim given you Instagram tips? She taught me how to take pictures better, like the angles and how to edit. She actually just called me the other day to be on her app and give away my products.
How does it make you feel that Kim never smiles in her selfies? [Laughs] I don't know I've never noticed.
Are your posts sponsored? No. I don't even know what that means.
Do your patients get paid to post? No.
What does your waiting room look like? Are there celebrities waiting together ever? All the time. There are always deals being made between producers, directors, actors, and agents.
Braces are having a fashion moment. Do models ever come in asking for braces? No. I don't know what to say about that, sorry! [Laughs].
What's the secret to an A-list smile? Keep up with your regular cleanings, floss, put more milk in your coffee so it's not so black, drink clear colas, and put a drop of water in your soy sauce.
What's in your gift bag? Do you have really good prizes? My gift bag is like a five-star hotel. It's the best looking bag. You'll be walking down Rodeo Drive and you'll see Chanel, Prada, Gucci, and Dr. Kevin Sands. I include my signature whitening treatment — I have a special formula — and we just like to fill it up with candles, lotions, and obviously floss and all the regular stuff.
So getting your teeth cleaned is like a real luxury experience? Yeah I want you to feel like you're going to the spa.
Watch W's most popular videos here:
Photos: Meet Dr. Kevin Sands: The World's Most Connected Dentist
Kim Kardashian and Dr. Kevin Sands.
Dr. Kevin Sands holding Yeezy sneakers from Kim Kardashian.
Justin Bieber and Dr. Kevin Sands.
Blac Chyna and Dr. Kevin Sands.
Kendall Jenner and Dr. Kevin Sands.
Wiz Khalifa and Dr. Kevin Sands.
Hailey Baldwin and Dr. Kevin Sands.
Ashley Benson and Dr. Kevin Sands.
Carmelo Anthony and Dr. Kevin Sands.
Paris Hilton and Dr. Kevin Sands.
Amber Rose and Dr. Kevin Sands.