Drake Goes on $175,000 Charity Spree Paying For Groceries and College Tuition For Total Strangers
In the past week, he dropped $175,000 on everything from a women's shelter to college tuition to strangers' groceries.
---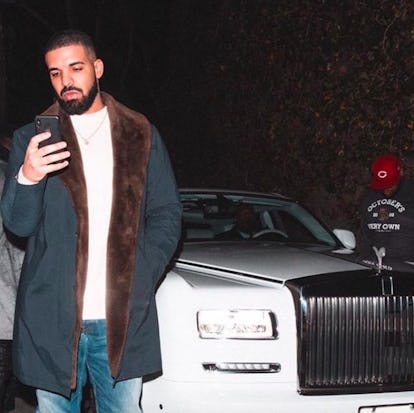 instagram.com/champagnepapi
Drake may be living lavishly, as he's rapped about, but one thing the artist spares no expense for is charity. The actor turned rapper has a history of making generous donations, and this past week he's been on a charitable spree. Yesterday, while in Miami to film the music video for his latest chart-topper "God's Plan," he randomly showed up at a grocery store, Sabor Tropical Supermarket, got on a megaphone, and announced that he would be giving away $50,000 in groceries, as E! News reports.
While it was rumored within the store that Drake was showering shoppers with gifts as part of the video, it was nonetheless appreciated by those on the receiving end, as many later took to social media to thank Drizzy. "A real king when out and paid for everyone's groceries in the store, all the while encouraging people to buy more lol. BE GOOD AND IT'LL COME RIGHT BACK AROUND!!! so much love and bless this man 100 times over for all his generosity," wrote one fan who was also able to get a selfie with Drake.
Among the items Drake gifted were baking supplies and, apparently at the rapper's insistence, beer. "Leandro passed by our local supermarket yesterday & Drake @champagnepapi was there paying for people's groceries ? ," wrote another fan. "We appreciate his generosity & his support for @baguetteplus without knowing it! We now have A LOT of #butter #chocolate #nutella #raisins #guava & plenty of other baking necessities ? Drake insisted on the beer ?? Thanks a million, Drake!!! ?????? "
In addition to paying for $50,000 worth of groceries for strangers, Drake has also dropped $`125,000 on other causes this week alone, including the $50,000 he donated to the Lotus House Women's Shelter.
He also donated $25,000 to Miami Senior High School, as well as new uniforms designed by his record imprint turned lifestyle brand October's Very Own. Plus, he surprised a student at the University of Miami with a check for $50,000.
On Tuesday, Destiny James shared that Drake had presented her with the check. "This happened today," she wrote on Instagram. "I applied to scholarships last year for which I had to write an essay. I received those scholarships and thought that was the end of it. Apparently, my essay and my story made it to other departments. I was contacted this weekend about doing a video speaking about where I come from, things I've been through, and why it is so important for scholarship donors to continue to donate. This was the surprise the whole time. Drake told me that he has read great things about me and appreciates how hard I've worked through so many trials and decided to give me $50K for my tuition. @champagnepapi THANK YOU SO MUCH!!' You don't understand what this means to me! I would've never imagined this happening to me. I'm just a girl from Denmark, SC that wants to MAKE IT and be somebody and for you to see my hard work means the world. Thank you so much. God I thank you. You are so great and amazing! Thank you for blessing me when I thought my hard work was going unnoticed. I'm living out my dreams. God's Plan ??"