Drake Invited Chris Brown Onstage at His L.A. Concert
He also recently joked about starting a family with Rihanna, so what's going on?
---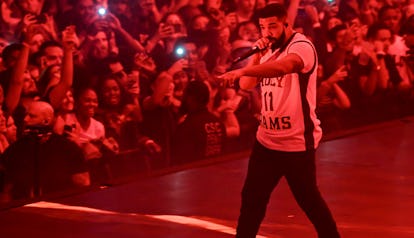 Photo by Kyle Gustafson / For The Washington Post via Getty Images
On Friday, the world caught glimpses of two different versions of Drake. On the premiere episode of LeBron James's new HBO show, The Shop, the actor and rapper seemed self-aware, even humble. He discussed his potential retirement someday, saying, "I just don't ever want to be that guy that's addicted to the feeling of victory," per Complex. He joked about his tumultuous private life, quipping, "I don't have the fairy tale, 'Oh, Drake started a family with Rihanna…so perfect'" (watch the clip here). And he fan-boy'd over Adele on Instagram, writing about how excited he was that she came to his concert in Los Angeles after she praised him on Twitter: "Oiiiiiii don't fucking get me gassed right now I love this woman and she came to the show ??‍♂️?????? Thank god nobody told me I would have been SHOOK."
That same Los Angeles concert came with another surprise guest: Chris Brown. Drake's history with Brown is long and complicated (if you want a timeline broken down into 25 separate moments, here you go), but suffice it to say that, in terms of rap beefs, Drake was being the bigger person by giving Brown a bit of his spotlight. He wrote on Insta, "This is not a fan edit ?Last time I was on stage with Breezy was 2009 at Virginia Commonwealth University…tonight I got to reconnect with him for the first night at Staples! I love a good full circle moment. Thank you." But in terms of general human decency—we're not so impressed. When it comes to Drake's favorite lady, Rihanna, and Chris Brown, well, the past isn't so easy to forgive and forget.
[#twitter:https://twitter.com/jtylerconway/status/1050928087133773824]
After the 2009 Grammys, Brown assaulted his then-girlfriend, Rihanna, while driving her in his car. She suffered multiple injuries; the details in the publicly available warrant are honestly gruesome. None of this is "alleged" or even disputed, by the way! Brown admits what he did.
Some sources say that Rihanna and Brown are still in friendly communication (a friendship that is entirely her prerogative, if she so chooses). We don't know the details there, and we can't speculate on what message, if any, Drake meant to send in inviting Brown onstage to perform two songs. However, the message we are receiving is that, a year into the #MeToo movement, when women including Rihanna are publicly advocating for equal societal treatment and opportunity, and despite positioning himself as a sensitive guy in touch with his feelings, Drake thought it was a good idea to surprise his audience with a known abuser.
Drake. WYD.
Related: Drake Not Dating a Teen After All