Drake Fan Looks for Concert Date on Tinder, Confirms Worst Fears of Modern Romance
An experiment Drake would appreciate didn't go as planned, but our hero learned a lot about dating along the way.
---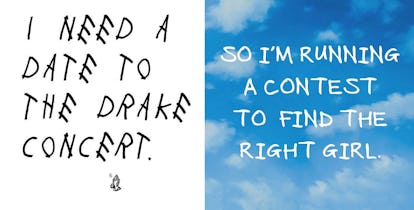 Chris Liu recently bought two tickets to see Drake perform at Madison Square Garden on Monday evening through his job at an ad agency. The only problem was, he didn't have a date.
It being Drake and all, Liu thought it was only right to bring a female companion. So, some weeks ago, he turned to Tinder, changing his profile picture to "I need a date to the Drake concert," written in the "If You're Reading This It's Too Late" album font. In his bio, he listed the section number and row, (101 and 16), followed by: "This is real. And so am I."
In the span of a week, he made over 100 matches by swiping right on every girl he encountered. Somewhere around 20 of these matches led to back-and-forth conversations, though at the end of the day only 10 felt meaningful.
"It's like my own mini 'The Bachelor,' without the roses," said Liu over the phone. He explained the project as a "fun social experiment" and, if anything, a "good conversation starter." Having been on-and-off Tinder for the past two years, he was interested in taking extreme measures to find someone he "clicked with," in the sense that they were not only a Drake fan, but also curious and open to trying new things.
He had one concern: "I didn't want to go with a girl who was just thirsty for a ticket," he said.
Originally from New Jersey, Liu, 27, looks harmless in his pictures, where he usually sports a sweet smile and a friendly button-up. He acts and does hip hop on the side, and been a fan of Drake's forever. "He's 100 percent real," he said. "He's not afraid to make fun of himself and he's really open to sharing his emotions, which I think is why he connects with people my age and the whole millennial generation." In this way, Liu was inspired to put himself out there too. Despite everything, he was still optimistic about romance. His favorite Drake lyric is: "Know yourself / know your worth." It's what he would tell a girl he was dating.
The irony is that many of the girls Liu matched with didn't believe his proposition was real. Or they didn't think he would actually pick them. "I feel like a lot of these girls were protecting themselves," he said. "Like why would this guy want to give away a ticket? What's the catch? And it's understandable why girls wouldn't trust me. My guy friends swipe right more often, but my girl friends are super selective because they might have had bad experiences or guys sending dick pics or whatever. Or maybe they just heard stories. Either way, they're not going to take a chance unless they trust that this person is truly special."
By Sunday morning, Liu still hadn't found a date. Out of the 10 girls he was talking with, all of them flaked. One gave her aunt's heart surgery as an excuse. When it came down to the, 'Let's meet up,' part of the equation, no one would commit. Maybe it felt too formal, maybe they didn't trust him. Or maybe they just weren't big enough fans of Drake. Whatever the reason, the results of Liu's little experiment were bleak.
"In the beginning, it was about being my own matchmaker," said Liu. "But over the past five days or so, it really became about the state of dating in 2016. We like to think we're putting ourselves out there and casting this net, but everyone is still protecting themselves, in a way. There are a lot of trust issues."
In the end, Liu asked a longtime, platonic female friend to come with him to the Drake concert instead of someone from Tinder. She was a fan of hip hop and they hadn't seen each other in months. They had a great time, but he was left standing alone because she had to leave early to catch a train home.
So, Liu's Tinder experiment didn't go as planned, but he walked away with a clearer understanding of romance in the digital age. His takeaway? "Dating sucks!"