Drake Is Back with More Merch, Britney Is Back with a New Record
But Ryan Lochte's clothing line still hasn't emerged.
---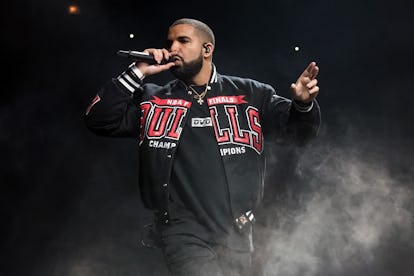 Getty Images
Drake Jumping on that merch trend for four days in New York. Don't tell Kanye. Or Bieber.
Janowitz, Tama Early riser, writer, and one-time downtown It girl whose forthcoming memoir, Scream: A Memoir of Glamour and Dysfunction, drops next week.
Lochte, Ryan The long, tortured history of Olympic swimmer Ryan Lochte's rumored clothing line. But we're in the era of Lochte 2.0, right?
McGrath, Pat Legendary makeup artist responsible for Rihanna's futuristic glamour. Here's how she and her team of minions did it.
New Romantic, Starchild and the Twenty-three-year-old musician Bryndon Cook has released a moody new music video for his Porches cover, "Mood."
Prize, Mercury The British-Irish music prize for album of the year released its shortlist Thursday morning, with nominees including Radiohead for A Moon-Shaped Pool, Laura Mvula for The Dreaming Room, Anohni for Hopelessness, and a posthumous nomination for David Bowie.
Spears, Britney Releasing her comeback album, Glory, at the end of the month.
Trump, Donald If recent polls are any indicator, his already not-great week is about to get even worse.