Meet Drake's A-Team: His Trainer and Choreographer Speak Out
Drake's "Hotline Bling" choreographer Tanisha Jones and celebrity trainer Jonny Roxx open up about what it's like to get the musical icon moving.
---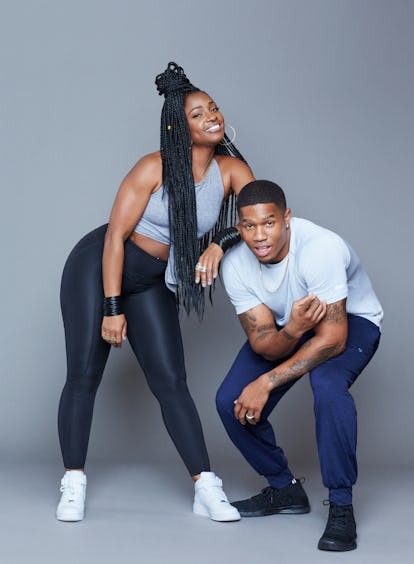 Mohamed Sadek
Behind every great celebrity is a team of people keeping them employed, looking their best, organized, out of trouble, sane, and physically fit, among other celebrity needs. Enter Tanisha Scott, Drake's go-to choreographer and one of the masterminds behind "Hotline Bling," as well as Jonny Roxx, Drake's trainer and the man who helped him get that "swoll" body—a term proliferated by the internet to describe the musician's beefy-yet-toned figure, which he likes to flaunt on Instagram.
Scott was born in Toronto to Jamaican parents, and got her start working with Sean Paul on his "Gimme the Light" video (2002). She's since gone on to work with Rihanna, choreographing, "We Found Love," (2011) and "Rude Boy," (2009) as well as Beyoncé's "Upgrade You" (2006).
Roxx was born in Barbados but grew up in Toronto. (Of course Drake's A-Team has Canadian roots.) He first started working with Drake in 2004 and travels with him on tour. He also retains a few other celebrity clients including professional athletes like Brandon Jennings of the Washington Wizards, Amir Johnson of the Boston Celtics and British Formula One racing driver Lewis Hamilton.
This month, as Drake's More Life enters its third week atop the Billboard charts, both Scott and Roxx teamed up with GapFit and GapFit Sculpt for women, opening up about how they get the musical icon moving and their favorite songs from "More Life." Roxx even shared his fitness mantra in the form of a Drake lyric.
How long have you worked with Drake? How do you keep someone motivated for that long?
We've been working together for about five years now. Results keep clients motivated. We keep the workouts fun and change our approach to keep it interesting.
Drake's body has been referred to on the internet as "swoll"? What does that even mean and do you even like that word?
[Laughs.] I'm not a fan of that word. But I would say people use that term to brag about getting some size with their gains.
If one wanted to get "swoll" like Drake, where would you suggest they start?
Start by sitting with a professional and developing a program that is going to help you get to your goals. Be committed and be consistent.
I'm guessing cheesecake is not part of Drake's routine. Do you guys work together on diet?
We have a nutritionist come in and work with his personal chef to create a menu that works for him.
Do you tour with Drake? If so, how do you work on the road?
Yes I do. We have a set up that follows us on tour, so we are able to keep our workouts consistent.
Does "arm day" and "leg day" matter to Drake? Does he have a focus or goal when it comes to his body?
We do a little bit of bodybuilding to create an aesthetic look, but we don't really do bodybuilding splits.
Do you guys do Zumba or SoulCycle or anything like that to mix it up, or is it mostly cardio and weights?
We mix it up with sports, basketball, paint-balling, boxing—anything to get the heart rate up and keep it interesting and fun.
What are your personal favorite fitness songs from "More Life?"
"Can't Have Everything," is one of my favorites to workout to. It gets me in my zone.
Your fitness mantra in the style of a Drake lyric:
"My weight up / I refuse to wait up / I started a new race." (From Drake's "5 a.m. in Toronto.)
At what age did you start dancing and what was your first experience as a choreographer?
I've been dancing since I came out the womb. My father is a DJ, so you put on music and I'm jumping around. My first experience as a choreographer was on Sean Paul's "Gimme the Light." It was nerve-racking, but it felt right and went extremely well.
Drake's dancing in "Hotline Bling" is iconic now. What kind of direction did you give and what was his response?
I told him to be himself and to take influences from what he usually does on a regular basis in sports, such as basketball which he plays all the time. He was really comfortable with it.
It must have been difficult to choreograph something so authentic. What was it like working with him on set? What were you inspired by for that video in particular?
The only way to choreograph something authentic is to have that person be authentically themselves. I was inspired by him 100 percent.
Favorite places to go out at night and dance:
I love Max Fish in New York because the DJ plays the best music; all sorts. In Toronto, I go to any club where Starting from Scratch plays.
Songs you're listening to right now that make you want to move:
I love "Perm" by Bruno Mars, DJ Khaled's "Let's Go", and Rihanna's "Bitch Better Have My Money."
Favorite Drake song to dance to from his new album, More Life:
"Fake Love" and "Rhythm."
Most challenging dance move that you've choreographed for a celebrity:
The bed choreography that I did in Matt and Kim's video, "It's Alright."
Related: Drake Wants to Stretch Your Mind Like a Canvas
Drake: View From the Five
Drake, by KAWS. Photographed by Caitlin Cronenberg. Drake wears the Elder Statesman sweater.
JIM JOE The mysterious Canadian-born artist known only as JIM JOE has built a persona on anonymity. Refusing to reveal his/her gender, biography, or identity, JIM JOE gives interviews only by e-mail and sends riddle-me-this replies spelled out in all capital letters—the same format the artist uses for his/her moniker on Twitter and in images the artist posts on his/her website. JIM JOE first came on the scene around 2010, when his/her distinctive chicken-scratch graffiti and gnomic phrases began appearing in chalk, marker, and spray paint on Dumpsters, fire hydrants, and buildings all over downtown New York. The artist has shown paintings and installations at galleries in New York (the Hole) and Toronto (Cooper Cole) but is best known for the artwork that covered Drake's surprise 2015 "mix-tape" album, If You're Reading This It's Too Late. JIM JOE's sloppy, slanted handwriting went viral, launching countless memes spoofing it, as well as a website that allows visitors to make their own Drake album cover using a look-alike jim joe font and style. "A tumbleweed connector," as the artist Mark Flood calls his friend, JIM JOE has also worked as a visual advisor to Kanye West, creating the sketch of West wearing a mask for his Yeezus iTunes page. When asked about the work So I Shot Myself, at left, JIM JOE, who photographed Drake in Toronto the day after the rapper Meek Mill launched his feud with Drake on Twitter, replied: THE ATTACHED WORK WAS DONE IN AN AIR-CONDITIONED ROOM WITH A FAN. THE TEXT WAS INSPIRED BY A LADY WHO YAWNED ON THE SUBWAY AND THEN EVERYBODY FOLLOWED SUIT. THE STORY WAS INVERTED AND NOW EXISTS AS A DARKER POEM THAT CASTS A SHADOW OVER DRAKES LARGE GRIN. IT IS EQUAL PARTS ENGAGEMENT AND IRREVERENCE. CRY NOW AND LAUGH LATER. THERE IS SOME HUMOR IN THERE TOO.
So I shot myself, by JIM JOE.
KAWS The art world's most visible populist, the artist Brian Donnelly, who is known as kaws, has long mined mass consumer culture and its proliferating platforms for his own ends. Taking a page from his teen-hood hero, the Pop artist Keith Haring, kaws works inside, outside, and well beyond the white cube, seeing art object and product, museum, shop, and street as part of his creative universe. In his hands, iconic cartoon characters like Mickey Mouse and the Michelin Man are reimagined as Everymen you're as likely to find in the form of a vinyl toy or a Macy's Thanksgiving Day Parade balloon as you are to see in a gallery or museum. Meanwhile, his paintings, such as the cover image for this issue, nod to the zonked-out style of Peter Saul, with their exploding neon palette and graphic punch. The 40-year-old New Jersey native got his start in the '90s as a graffiti artist, tagging trains and billboards. After studying at New York's School of Visual Arts, he began lifting ads from bus shelters, painting in figures, and then putting them back where he found them. In Japan in the late '90s, eager to see his work in 3-D, he collaborated with the company Bounty Hunter to produce his first collectible toy: a gray vinyl Mickey Mouse figure with x-ed-out eyes who looks as if he's in the throes of an existential crisis. (Companion, as he's known, has been a recurring character in KAWS's work.) Later on, KAWS designed streetwear for the hip brand a Bathing Ape. These days, with a résumé that includes a Kanye West album cover, commissions from Pharrell Williams, and a growing fan base of blue-chip collectors and museums, the shy, unassuming artist creates monumental sculptures in bronze and wood that he hopes "feel and look like the toys I started out making." His project for W plays with that shifting scale: KAWS placed tiny 3-D-printed action figures of Drake at the bulbous feet of prototype models for his gigantic "Companion" sculptures. (The double figure at far right is a model for Along the Way, an 18-foot-tall work currently at the Brooklyn Museum.) KAWS arranged and photographed the tableau atop a wooden shipping crate in his Williamsburg studio; the Drake figurine's poses, he says, were inspired by the selfies he's seen on social media of visitors interacting with his sculptures in public spaces. "I've always been interested in different ways of reaching an audience," says the artist, whose paintings and sculptures will be on view at the Yorkshire Sculpture Park, in England, in February 2016, and will be followed by a retrospective at the Modern Art Museum of Fort Worth, in Texas, next fall. "You go into a museum and the gift shop is full of products made around dead artists' stuff, and usually it's pretty badly done," he observes. "And I just think, I want to do that while I'm alive, so if my stuff gets reproduced, it'll be good."
Artwork by KAWS; special thanks: Gentle Giant and 3D Imaging.
Mark Flood For much of his career, the Houston artist Mark Flood, 58, has taken swipes at the art establishment. When he was a musician in the underground '80s punk band Culturcide, he also made provocative paintings and collages that critiqued media brainwashing. Around that time, when a painting of his that read eat human flesh ended up in the custody of the Houston police following a drug raid, the burst of notoriety spurred Flood to sell ad space on his canvases. Flood shot to art world prominence in 2000 with his "Lace" paintings—colorful acrylic pieces richly patterned with traces of torn fabric—but before that, he had barely sold any work. His day jobs, however, provided plenty of source material for his art. When he was an assistant in the records department at Texaco, he says, he would spend all day delving into files on industrial literature and advertising and making collages at his desk. At Houston's Menil Collection, where he was an exhibitions assistant for 18 years, he made miniatures of artworks for the museum's scale model, which the curators would use to plan shows. Flood's current exhibition at Stuart Shave/Modern Art gallery, in London, through November 14, introduces his "Rothko Derivatives," computer-generated paintings inspired by the Mark Rothko canvases Flood saw daily at the Menil. In 2016, a survey of the past 15 years of Flood's raucous output opens at the Contemporary Arts Museum Houston. Over the years, Flood has made collages dealing with celebrity culture, reassembling iconic images to absurd effect. This assignment allowed him to explore the nature of a famous face firsthand. "I said to Drake, 'I want to see how much we can put in shadow or distort and still have it be you.' " Flood snapped Drake through a lattice of fabrics in an effort to obscure him. "What's intriguing to me about our obsession with celebrity is how ancient it is," Flood says. "Whether it's Zeus staring at you from a Greek temple 2,000 years ago or Drake gazing at you from the cover of a magazine, there's this continuity in our hunger for images of people who stare back at us."
Artwork by Mark Flood; Photography assistant: Ryan Morris.
Henry Taylor Henry Taylor didn't sell his first portrait until he was well into his 40s. A late starter, he spent a decade working the night shift as a psychiatric technician in a California state hospital and took painting classes by day. His first subjects were the patients he tended to. "They would act out, and I'd paint them while they were in restraints, since they couldn't go anywhere," says the Los Angeles artist, who graduated from the California Institute of the Arts in 1995 and had his breakthrough show in 2007 at the Studio Museum in Harlem. All along, he has painted whoever is around: his cousin, a guy who slept on his porch, a 60-year-old female crack addict he met on the street. But his cast also includes those he considers members of his wider community, whether it's the Olympic jumper Carl Lewis or Sean Bell, the unarmed black man who was shot 50 times by police in Queens in 2006. Taylor, 57, paints quickly and exuberantly, usually on canvas but also on cereal boxes, suitcases, and cigarette packs. Recently, he began making a short film about his grandfather, who kept horses in East Texas during the Depression and was shot and killed during a robbery. The first time Taylor heard Drake's 2013 song about his early years, "Started From the Bottom," he recalls thinking, "That's the story of my life. I, too, tell a story in my paintings." The youngest of a brood of eight, Taylor, like Drake, was raised by a single mother. As a kid, he dabbled in poetry. "Growing up, you didn't let everybody know your aspirations, because maybe they weren't considered cool," he says. For his W commission, Taylor talked to Drake on FaceTime and grabbed a few screen shots. Several days later, Taylor was looking at some pictures he'd taken while driving in Marfa, Texas. He was struck by one, in particular, of the landscape above his dashboard. "There it is: 0 to 100," he remembers thinking, referencing Drake's 2014 track about his bid for the hip-hop throne. "I'm putting that in there." Another lyric, "Wrist bling, got a condo up in Biscayne," from Drake's 2011 "The Motto" led Taylor to place his subject on Miami's Biscayne Boulevard. "I played the songs and tried to make something that he might look at and say, 'Yeah, you know, that motherfucker is listening to my shit. He's paying attention.' "
Artwork by Henry Taylor.
Katherine Bernhardt Katherine Bernhardt's wildly dynamic paintings reflect her ever-changing obsessions. She started out making Expressionist portraits of the fashion models she was transfixed by as a teen, dashed off with slashing strokes in lurid colors. A trip to Morocco in 2008 sparked her love of that country's rugs and inspired canvases full of riotous abstract patterns and forms. (With her Moroccan-born second husband, Youssef Jdia, she cofounded Magic Flying Carpets in 2009, a website and pop-up that sells rugs to support the traditions of Morocco's Berber women.) Next came commonplace consumer items like bananas, hamburgers, and basketballs set against saturated backdrops. And, lately, the tropical lushness of Caribbean life has her spellbound. "I've made about 10 trips to Puerto Rico; I want to move to San Juan," says Bernhardt, 40, who was born in St. Louis and works out of a studio in Flatbush, Brooklyn. Not surprisingly, her fall show at Venus Over Manhattan gallery in New York "was all about Puerto Rico. So there are sharks, sea turtles, plantains, and papayas." The graffitied wall in this photograph of Drake, taken at her behest in front of a West Indian variety store in Toronto, references Fruit Salad, her eye-popping mural on the facade of Venus Over Manhattan's recently opened Los Angeles outpost. (Her first public work, it's become something of a hit on Instagram, with its hodgepodge of color-block watermelons, toucans, and cigarettes.) When Bernhardt learned that Drake wanted to be photographed in his hometown of Toronto, she immediately thought of her Guyanese-born first husband, who also lived in that city. As a couple, she recalls, they spent a lot of time in Toronto's West Indian neighborhood: The patterns and colors of its markets had just the kind of wallpapered backdrop she wanted for her depiction of Drake. Other works of this kind are surely in Bernhardt's future—she says that as a result of Fruit Salad, she's now entertaining more offers than she can accommodate to paint murals all over the country. "I get to pick what I want to do," she says in disbelief. "My dream is to paint Cafetería Mallorca in Old San Juan. Now that would the ultimate."
Artwork by Katherine Bernhardt: photograph by Caitlin Cronenberg; digital technician: Al Quintero; photography assistant: Jeffrey Glaab; painting by Katherine Bernhardt.
A portrait of Drake by Katherine Bernhardt.
A portrait of Drake by JIM JOE.
A portrait of Drake by Mark Flood.
Watch Drake's "Hotline Bling" Get Reimagined by 13 Celebrities