Drew Barrymore Will Play a Quirky Flesh-Eating Zombie in New Netflix Show
Drew Barrymore's Santa Clarita Diet is not, as it turns out, about any sort of diet scheme.
---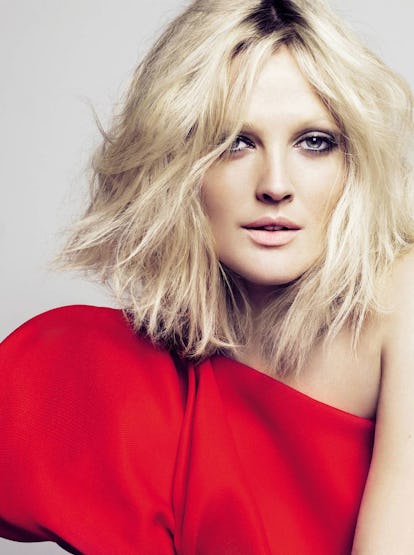 Photographed by Mert Alas and Marcus Piggott, styled by Alex White.
News broke that Drew Barrymore was headed to Netflix for her first regular television series role early last year, but maybe any excitement got lost in the deluge of other announcements of A-list, formerly film-only actresses headed to the small screen (there's just so, so many).
The show was originally plugged as a comedy in which she would star alongside Timothy Olyphant as a married couple living the life of Southern California realtors, that is until Barrymore's character "goes through a dramatic change." A traditional sitcom seemed plausible enough.
While Netflix shines with its prestige and often high concept fare, it has more than a few traditional comedies on its servers like The Ranch and Grace and Frankie. Barrymore, for her part, is a queen of Hollywood romantic comedies.
Both the title, Santa Clarita Diet, and early promo for the show suggested the possibility of Barrymore's character getting involved in some sort of wacky "get thin quick" diet scheme, which seemed like it could be fertile ground for a show in the right hands. There's nothing more relatable than wishing for weight loss, especially around the new year.
Netflix even paid Instagram influencers to hock the show in the style of a Kardashian promoting one those various healthy teas.
Meanwhile, Barrymore and Olyphant are starring in ads in glossy tabloids that seem like they too are hocking an actual diet product.
Yet, as Jezebel noted yesterday, if you look really, really closely at Drew Barrymore's weight-loss miracle smoothie, you'll see some things that look like a human finger and eyeball.
As it turns out, the "dramatic change" Barrymore goes through is not that she suddenly become the diet scheme queen of SoCal, but rather that she dies and comes back as a zombie. Her diet seems to be actual human flesh. USA Today confirmed the speculation today.
"While they tend to their open houses and teenage daughter, the couple must sate Sheila's unbridled id and undead hunger, first with raw meat and, eventually, the human kind," reports the newspaper.
Barrymore, who has been choosier about taking on any roles since the birth of her children and has instead concentrated on production, said she was drawn to the part because, well, she sort of related to the zombie, as one does, and asked show creator Vincent Fresco to flesh out, no pun intended, the story arc out a bit more.
"What if she finds herself, and we do this sort of Cro-Magnon type of evolution with her over the course of the 10 episodes. No gimmicks, no prosthetics, just an awakening," Barrymore said. "I just really enjoyed just shedding a snakeskin with her, so it became a really fun obstacle that I wasn't even planning for but seemed so conducive and fun and healthy for my own life."
Barrymore, who recently finalized her divorce with art consultant ex Will Kopelman, also said she was drawn to the show because, despite the unplanned changes of death and resurrection, the series' central couple still remains loving and supportive of each other.
Apparently, the scene portrayed in this promo released by Netflix doesn't lead to any major marital fights.
The full 10 episode first season debuts on Netflix on February 3rd, just in time for when you'll need an excuse to start avoiding your new resolution-inspired diet.