Dua Lipa Confirms the Hadid Family Farm Is Heaven
The singer, who is dating Anwar Hadid, offers a glimpse behind the pasture gates.
---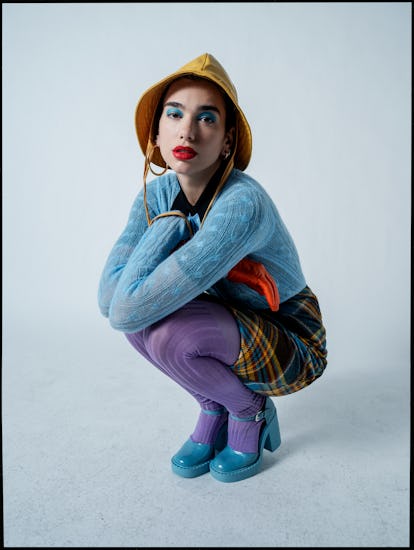 Photographed by Tim Walker; Styled by Sara Moonves.
Somewhere in rural Pennsylvania, there exists an oasis populated by majestic horses, adorable sheep, mischievous goats, and supermodels at complete ease. We're referring, of course, to the farm that is the lifeblood of the Hadid family, where Bella Hadid frolics with her beloved stallions and Gigi Hadid safely carried out her pregnancy. "In terms of getting to know and how to fulfill yourself, and learning how to find strength," Gigi once told W, "I've really learned that for me, that's going to the farm and kind of shutting off and not putting on hair and makeup and not worrying about that kind of stuff."
Only a select few, like Gigi's "Zaddy Baba" Zayn Malik, have been lucky enough to join the Hadids in their natural habitat. And now, one of them, Dua Lipa, has offered a glimpse at what life is like behind the pasture gates. From the sound of the daily routine she detailed to Rolling Stone, the singer—who is dating the youngest Hadid model, Anwar—it's just as idyllic as you'd expect.
"Wake up around 9:00, 9:30, shower, get dressed, have a bit of breakfast," Lipa told the writer Alex Morris. "Take the dog out on a really nice long walk, maybe do some yoga, make some lunch, hang out, watch a movie, play with the animals." The animals in question include cows, horses, and two pygmy goats she gifted Anwar for Christmas. "You can take them inside," Lipa said of the Bam-Bam and Funky. "They love a cuddle." (Bella, who previously summed up farm life as "really just chill[ing] all day," has proclaimed herself the goats' "auntie.")
Despite her best efforts, Lipa hasn't evolved into a full-on Hadid farm girl just yet. The singer is still learning how to partake in Bella and Gigi's longtime favorite activity: riding horses. "I can do it gently," Lipa said. "I'm not good." If anyone can teach her, it's Bella; the supermodel-slash-equestrian once came close to competing in the Olympics.
Related: A Visual History of Iconic Celebrity Horse Girl Moments