Dua Lipa's Producer Shares the Story Behind 'Don't Start Now'
Ian Kirkpatrick describes the collaborative process that went into the "Future Nostalgia" track and shares his ideal quarantine playlist.
---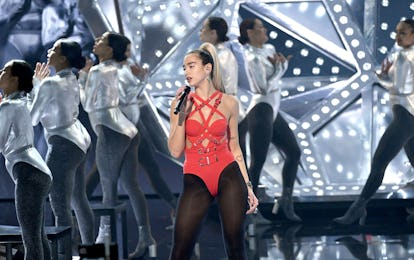 Ian Kirkpatrick began production work on Dua Lipa's song "Don't Start Now" in January 2019, months before it morphed into a hit blasting out of car radios around the country, and eventually, into a source of momentary escape from the stress of a global pandemic.
The track is the lead single on her latest album, "Future Nostalgia," which dropped on March 27, during the early days of shelter-in-place orders. "Future Nostalgia," is firmly a disco record, rooted in today's genre-less pop sound; and "Don't Start Now" invites listeners to remember a time when people could go out to clubs and music venues to dance and hear a live show.
Kirkpatrick, who's based in Los Angeles and spoke to W on the phone last week, had no idea that the song he produced with Caroline Ailin and Emily Warren would become the cultural benchmark that it did.
"At the time we were writing it, the urban format was taking over the radio waves," the 37-year-old producer said. "It was very prominent. We had no idea disco would have any sort of place."
It makes sense, though, that a genre like disco—which tends to see spikes in popularity during and after times of political and socioeconomic strife—would pop back up in the midst of the pandemic. Disco songs by the Bee Gees and Sister Sledge got big in the wake of youth uprisings and conflicts of the 1960s. The sound also saw a resurgence after the financial downturn in 2008. "Don't Start Now" became Dua Lipa's highest charting song in the U.S. ever, and has continued to hold sway during the coronavirus pandemic.
Kirkpatrick, Ailin and Warren were also on the production and writing team for Dua's first major hit, 2017's "New Rules." The processes behind creating each of the two tracks, however, existed in two entirely different worlds.
Kirkpatrick said he'd originally made "New Rules" at a writing camp for an unnamed girl group. When their label decided that the track wasn't a good fit, the song "existed for a while on a hard drive" until Kirkpatrick's manager sent it to Dua Lipa, "as a 'might as well,'" the producer said. In a stroke of pure luck, Dua was into the song and picked it up.
The process for "Don't Start Now," which was written specifically for Dua, was a fundamentally collaborative one. Kirkpatrick spoke with her at length before, during, and after writing and recording. They considered emulating Madonna, taking sounds from the '70s and the '80s, and made at least 10 different reference tracks for the singer to sample and choose what she liked. Although she wasn't in the room when Kirkpatrick first got to work, Dua Lipa's personality banged around inside his head while he tinkered with various sounds and styles.
"We were thinking, 'This is the confidence, the sass she has,'" he said. "She might do this. When she cut the song, made her changes, and put her kind of baritone voice on it, while also hitting these high notes, just using her huge vocal presence, it was like, holy shit. This is incredible."
Since "Future Nostalgia's" release, Dua Lipa has spoken publicly about the difficult course she traversed to finish her sophomore album. Kirkpatrick said he witnessed the strife firsthand, especially as it pertained to Dua's newfound, intense status as a celebrity. Because of this recent superstar status, she was inundated with choices from all kinds of producers, who sent her songs hoping to be included in "Future Nostalgia."
"Imagine her going from obscurity to having huge amounts of popularity and fame," he said. "When an artist first comes around, they don't have as much control until they land a hit. Then, all of a sudden, people trust them."
Dua took a hard line when it came to her steady involvement in the making of this album, from top to bottom. But she also struggled to find direction for her sound, vacillating between a pure disco record, or something that interweaved the excess, electronic mood of the 1980s. Where she ended up settling was somewhere in between. Against the landscape of a pandemic, the "nostalgia" part of "Future Nostalgia" suddenly started to hit different.
Kirkpatrick, for his part, has spent his days in quarantine getting up early to maintain some semblance of a schedule, working out, then combing through Soundcloud and Hype Machine to find new music. He's listened to Disclosure's new EP "Ecstasy"—"I swear to god, if you're in a bad mood, put on this song called 'Expressing What Matters,' and it is the cure."— D'Angelo's "Voodoo," Apex Twin, and some gospel tracks from Sister Rosetta Tharpe. He's included some of these songs on his go-to playlist that's been on repeat during his time at home.
But the one tune that's been the object of his obsession lately is "Say So," by Doja Cat—a track that, he said gives "Don't Start Now" a run for his money, with upbeat disco influences and all the makings of a timeless record. "That is the sound I wish I could have made 'Don't Start Now' sound like," he said. "I mean, I love 'Don't Start Now.' I stand by it. But doesn't that record sound so classy and beautiful?"
Related: Dua Lipa Has The Best-Reviewed Album of 2020 So Far