In the First Dune Trailer, Timothée Chalamet and Zendaya Go Full Epic Sci-Fi
The first trailer for Denis Villeneuve's upcoming sci-fi film is here.
---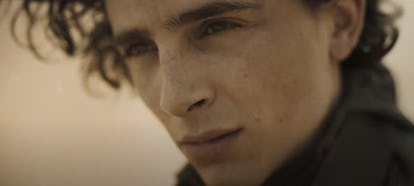 The wait is over: the first trailer for Denis Villeneuve's adaptation of Frank Herbert's classic sci-fi novel Dune has arrived.
Timothée Chalamet stars as the unlikely hero Paul "Muad'Dib" Atreides, alongside Zendaya, who will play his wife Chani. Jason Mamoa, Oscar Isaac, Rebecca Ferguson, Josh Brolin, and Javier Bardem also appear in the film as the various characters living on the desert planet Arrakis, better known as Dune. The storyline centers Atreides, who travels to Dune as a teen royal, but quickly becomes something of a savior figure for the residents there, called Fremen. Dune is central to an intergalactic fight taking place among Fremen and other entities—it's a pivotal location because it's the only place known to source spice melange, which is necessary for immortality and space travel.
The trailer depicts Atreides' ascent to power in spectacularly dramatic fashion—typical of Villeneuve, who previously directed Arrival and Blade Runner 2049—while a version of Pink Floyd's song Eclipse plays in the background.
Chalamet has broken his enigmatic streak on social media to promote the film, teasing a version of the trailer on Instagram last night and posting a shout out to spice on Twitter today.
In the past, Dune has been turned into a TV series and multiple video games—but it was most notably adapted by David Lynch, who made his own Dune film in 1984, then quickly disowned it after it flopped at the box office. This time around, Dune is split into two parts: the first movie, tentatively scheduled to come out on December 18, will handle the first portion of the first book, followed by a sequel, release date TBD.
Related: Wes Anderson's Timothée Chalamet Film Is Delayed Indefinitely