Dustin Lance Black, Oscar Winner and Tom Daley's Boyfriend, Signs With a Modeling Agency, Too
Dustin Lance Black is the latest addition to the Wilhelmina Celebrity Division, where he joins Nicki Minaj, Shawn Mendes and Nick Jonas, amongst others.
---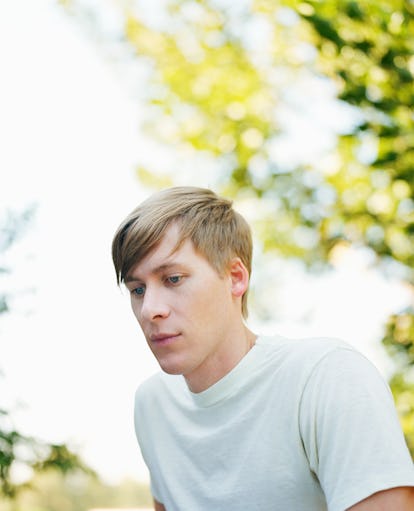 Jessica Haye And Clark Hsiao. Grooming by Robin Glaser for Redken at Celestine Talent.
Dustin Lance Black is the latest celebrity—and we use the term loosely—to garner the attention of a modeling agency. The 42-year-old Oscar-winning screenwriter behind the biopic Milk is the latest to join Wilhelmina's ever expanding Celebrity Division (he'll supplant Nicki Minaj as the board's most recent addition).
He joins a roster that also includes Shawn Mendes, Nick Jonas, Demi Lovato and Leona Lewis. Black, however, obviously stands out from those names for being best known for his work behind the camera. After toiling in the writing room of Big Love for a few years, Black's breakthrough came for his award winning work on the script for Gus Van Zant's 2008 biopic of LGBT rights crusader Harvey Milk. Since then he directed the film Virginia, wrote the play 8 (based on the battle over California's anti-gay marriage Proposition 8), and mostly recently produced, wrote and directed ABC's LGBTQ activist miniseries When We Rise.
Though, unusual for a screenwriter, he's managed to become a star in his own right. Few winners of the Academy Award for Best Original Screenplay have appeared shirtless in a Vogue Hommes International feature. He's also appeared on the cover of magazines like Out, The Advocate and Attitude. Of course, his relationship with young British Olympic diver Tom Daley hasn't hurt his profile either.
"In a time when too many are using our differences to divide us, I want to help lift our differences up as what make us magnificent, what make us powerful," said Black in a statement. "Fashion has the potential to help our individuality roar, and right now, we must use every tool in our arsenal to amplify that roar."
Black's addition to Wilhelmina doesn't mean he'll be hitting up casting calls with his book or walking the runways anytime soon, though. The Celebrity Division specializes in securing editorial opportunities and potential fashion campaigns for its clients. It's something like a matchmaker between celebs with chiseled cheekbones and the VIP-hungry fashion world.
Though, Black isn't the only filmmaker on the board. The division also includes Miles Joris-Peyrafitte, the longhaired 24-year-old director of Sundance hit As You Are.
While having a famous last name thanks to your parents may be the easiest way right now to get a modeling agency's attention, having a famous name of your own making isn't necessarily a detriment either.
6 Rising Male Models from Famous Families Share Their Biggest Pet Peeves:
Meet the Celebrity Scions Class of 2017, From Paris Jackson to Hailie Scott
Anais Gallagher is the daughter of Noel Gallagher, a member of the English rock band Oasis. She is signed to Select Model Management.

Hamlin wears an Alexander Wang dress. Photo by Pier Nicola Bruno, styled by Caroline Grosso. Produced by Biel Parklee. Hair by Mirka Mysicka at Saint Luke, makeup by Grace Ahn. Model: Delilah Belle Hamlin at Elite Models. Digital Technician: Alessandra Bagnera.
Clara McGregor is the daughter of actor Ewan McGregor. She is currently signed to Wilhelmina and is studying ay NYU.
Destry Allyn is the daughter of director Steven Spielberg. She is currently signed to DT Model Management and walked Dolce & Gabbana.
Hopper Penn is the son of actor Sean Penn. He is currently signed to Wilhelmina and has only done editorials.

Getty Images
Paris Jackson is the daughter of singer Michael Jackson. She is currently signed to IMG and sat front row at Paris Fashion Week.

Getty Images
Will and Nicola Peltz are the children of investor Nelson Peltz and former-model Claudia Heffner Peltz. They are signed to IMG.

Getty Images
Anwar Hadid is the brother of Bella and Gigi Hadid, as well as they boyfriend of Nicola Peltz. He is signed to IMG.

Getty Images
Levi Dylan is the grandson of Bob Dylan. He is currently signed to Next and walked for Dolce & Gabbana.

FilmMagic/Getty Images
Hailie Scott is the daughter of the rapper Eminem. She is currently unsigned and a student at Michigan State University.

@hailiescott
Lori Harvey is the daughter of actor and TV-show host Steve Harvey. She is currently unsigned but walked Dolce & Gabbana and sat front row at Chanel.

Getty Images
Dakota "Cody" Lohan is the brother of Lindsay Lohan. He is currently signed to IMG but has done no major campaigns or shows.

Courtest IMG
Roberto Rossellini is the son of the Italian actress Isabella Rossellini. He is currently signed to Ford Models and has done no major campaigns or shows.

Photo by Biel Parklee, Model: Roberto Rossellini at Ford Models.
Nyima Ward is the son of former model Trish Goff. He is currently signed to DNA and has done presentations for Polo Ralph Lauren.

Photo courtesy Hadar Pitchon/DNA models.
Rocco Ritchie, the son of Madonna and Guy Ritchie is currently unsigned but starred in the Alexander Wang Adidas campaign.

Courtesy Alexander Wang
Blue Lindeberg is the daughter of fashion designer Johan Lindeberg. She is currently signed to IMG and also dabbles with photography.

Getty Images
Rafferty Law, the son of Jude Law, is currently signed to TESS London. He DJs and has his own art collective called "Something to Hate On."

Getty Images
Brandon Thomas Lee is the son of Pamela Anderson and Tommy Lee. He is currently signed to Next and walked Dolce & Gabbana.

Venturelli